Monday, May 7, 2012
France, But for the Grace of God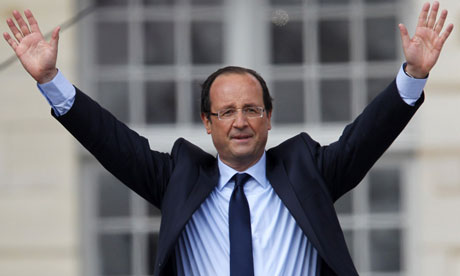 And there, but for the grace of God, goes France.
Two things to take away from last night's debacle. First, in electing Francois Hollande over Nicolas Sarkozy by a margin of 51.63 to 48.37 (closer than many of those who observe the French political scene predicted, though I if it counts for anything, never believed that Hollande might win in a landslide), the French people have done everything possible, in effect, to destabilise the European Union, the single currency, and the Franco-German relationship.
Already, Hollande is speaking of ripping apart the vital fiscal pact that will guide Europe along a necessary path to financial balance and responsibility — this will surely only frighten and weaken international markets, further chipping away at a single currency with already crumbling foundations.
Second, in his victory speech, Hollande said:
France chose change in electing me president.
It seems evident, however, that in turning down austerity and a messy renegotiation of the social contract, the French people have in fact flat out rejected any sort of change (if Sarkozy was genuinely offering that, I suppose we will never know), in favour of more of the same: tax hikes, artificial job creation, and deficit spending. In this respect, plus ça change, plus c'est la même chose.