Tuesday, July 24, 2012
The Manifesto That Never Was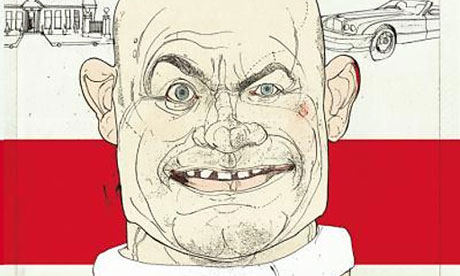 State of England: The subtitle is regrettable. The latest offering from Martin Amis, author of The Rachel Papers, Money, and London Fields, is far from a fully-fledged state of the nation novel, incomparable to the mammoth works produced by Gore Vidal, Tom Wolfe or other practitioners of the so-called Great American Novel who seek to say everything about the condition of their country in 700 or more sparkling if insistent pages.
In spite of his self-proclaimed mid-Atlanticism and attempts to inject the expansiveness of the modern American novel into the slimmer postwar British form, with Lionel Asbo Amis gives us something more akin to the collected works of Ian McEwan which try to say only something about where England and its people are in any given moment. In Saturday, McEwan focused on incidences occurring in one day in February 2003, set against the backdrop of a demonstration where hundreds of thousands poured onto the streets of London to petition against the liberation of Iraq, in order to make wider points about fear, rationality, and the state of politics in an England touched by September 11.
Amis injects his sentences with a good deal of rumble and fuzzbox, in contrast to the cooler style of McEwan, yet he is not as successful in striving to give us a little something to linger over as we chew our merry way through the tale of a unruly criminal who gains renown and status in the tabloid media as the winner of a sizeable sum on the National Lottery. His theme is one of decline – England's seventy-year slide from Great Power to second-in-command, the consequences of which are not only political but cultural. The land of Shakespeare, Dickens, and Austen has been so dismal and parochial that they are willing to be enthrals by the antics of Asbo, the Lotto Lout, and his celeb concubine 'Threnody', a glamour model turned poet.
The aforementioned absence of success derives principally from his device – the central idea or narrative is far too slight and meagre to sustain itself throughout a novel of just shy of three hundred pages. Yet, perhaps because of its thin quality, its feeling of light and froth, the novel is not suffocated by the weight of some grander idea Amis wishes to make. Of Amis' previous two novels, House of Meetings was flat and without life, stuffed full of such self-congratulatory lines as, History did it, as he stressed the everyday quality of the horror and tragedy experienced in the GULag. What followed, The Pregnant Widow, was a noticeable improvement and not without its comic moments, as it make an excellent central point, namely that the sexual revolution was not without its losers. But in its thirst for seriousness it transformed this wild rebellion against social norms into something altogether more turgid and ponderous.
Lionel Asbo drags Amis well and truly back into the realm of the comic and of what might now be termed 'lad culture': smoking, drinking, fighting. It is crafted with a degree of air and humour, some if it snort-worthy, that has absent from Amis' work for at least the past ten years; since he decided it was his duty in wallow in all forms of totalitarianism, be it Stalinism or Islamism. He has forged in Lionel Asbo wonderfully funny villain, one which is satisfactorily supported by a cast including the abovementioned 'Threnody', his nephew Des and his other half Dawn, Asbo's grandmother Grace, and his brothers John, Paul, George, Ringo, and Stuart.
At the same time Amis, in striving to shame the dilapidated condition country's national culture (the state of England), is occasionally prone to slips, to gaffes. From time to time he falls into Daily Mail-dialogue that sounds like the last gasp of someone who has come to be portrayed in the media as Britain's foremost grumpy old man, an author who will say pretty much anything to sell a few hardbacks. Take as an example the following exchange between Des and Dawn:
"She knows what she's going to call it. Boy or girl. Lovechild."
"Lovechild?"
"Lovechild. And she's going to do what we're doing with the middle name."
"…Lovechild 'Threnody' Asbo?"
"Lovechild 'Threnody' Asbo? State of England."
"State of England."
Replace State of England with Broken Britain, and Amis finds himself one xenophobic slur away from a weekly column in the Daily Express, better suited to the repugnant company of Richard Littlejohn than a fulfilling friendship with Ian McEwan. And, whilst on the subject of odd phrasing, we are, as Leo Robson noted in his review for the New Statesman, invited at one stage "to smile at the rhyming of 'yardie' with 'jihadi'". In both instances, it is difficult to tell whether or not such utterances stem from the characters or the author himself, but that there is doubt at all is slightly alarming.
In defence of Amis, what Lionel Asbo does not do, as Owen Jones – doe-eyed poster-boy for urban, middle-class Guardianistas prone to whooping fits of self-righteous indignation – claimed in his review for the BBC's The Culture Show, is sneer at England's working class. Even a cursory reading of the opening exchanges and descriptions would reveal that this novel is not about the working class, or what has become of it. Rather, Lionel Asbo is set within the ranks of what was once deemed the underclass or criminal class – people who, in Asbo's case, have fallen through the strata of mainstream society and its social conventions such as the value of hard work and respect for the rule of law. In Lionel Asbo, Amis has fashioned a character with monstrous tendencies, and the fictional London borough of Diston Town (where "everything hated everything else") is wasted by criminality and social decay.
Moreover, whilst Amis is occasionally prone to sneering in tabloid-ese, what he has given us in Lionel Asbo is a kind of fairytale, satirical with elements of farce that stands opposite to McEwan's sharpened realism. The novel is surprisingly affectionate and affecting: not only due to its depiction of Des and Dawn and the family unit they create together, but because we are even cajoled into feeling a degree of sympathy for Uncle Li, as he becomes trapped in the emptiness of the fame that is initially thrust upon him. If anything, Amis' feelings of contempt are directed not towards the famous, but rather those who feed off it: the agents; the consultants; and most of all the press.
His urban fairytale might even have a moral too, and a perfectly innocent one at that – that the underclass have been left and abandoned the state and the other social classes, and that anybody can be redeemed through education and the support of a stable and loving family unit. But the unfortunate subtitle suggests that, somehow, this isn't anything Amis wanted to tell us or scold us for. Lionel Asbo has for all its boons ended up as a slender if comical manifesto that never quite was.