Wednesday, August 1, 2012
Gore Vidal: From the Obituaries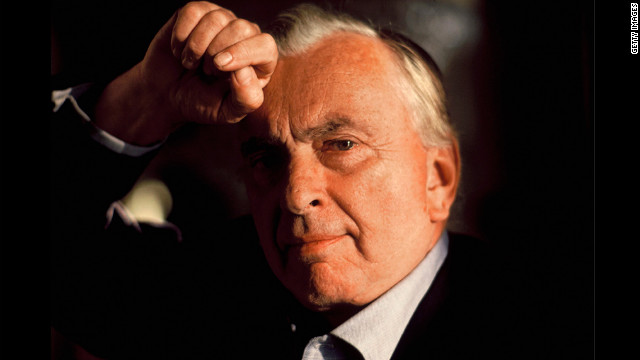 Novelist, essayist, and political commentator, Gore Vidal passed away at his home in Los Angeles on Tuesday evening, the cause of death believed to be complications from pneumonia. He was someone who meant and continues to mean a great deal to me because of his contribution to American letters as well as the novelistic form through Julian, Myra Breckinridge, and Lincoln, yet from whom I was frequently forced to distance myself from politically during his final years which were not kind to him.
There were few subjects for which he could not muster a bon mot, memorably dismissive phrase or cutting aside. Chat show hosts knew they could rely on him to be entertaining about almost anything – history, politics, art, journalism, theatre, sex, morals or celebrity. And for every problem, once diagnosed, Vidal had a simple remedy: "I am at heart a propagandist, a tremendous hater, a tiresome nag, complacently positive that there is no human problem which cannot be solved if people would simply do as I advise."

The breadth of his learning was impressive. Though he never attended university, his wide reading in Greek and Roman history showed in the allusions to the ancient world that peppered his novels on Washington, and in the parallels he liked to draw between political life in Classical times and in modern America. Indeed, Vidal combined the two worlds in his own life, spending much of his adult life in Italy, surveying the Aventine Hill from his flat in Rome, while writing about America.
Perhaps without intending it, Mr. Vidal had set a pattern. In the years to come his greatest successes came with historical novels, especially what became known as his American Chronicles sextet: "Washington, D.C.," "Burr" (1973), "1876" (1976), "Lincoln" (1984), "Hollywood" (1990) and "The Golden Age" (2000). He turned out to have a particular gift for this kind of writing. These novels were learned and scrupulously based on fact, but also witty and contemporary-feeling, full of gossip and shrewd asides. Harold Bloom wrote that Mr. Vidal's imagination of American politics "is so powerful as to compel awe." Writing in The Times, Christopher Lehmann-Haupt said, "Mr. Vidal gives us an interpretation of our early history that says in effect that all the old verities were never much to begin with."
Vidal spoke in a radically different voice in "Myra Breckinridge" (1968), a graphic satire about a sociopathic transsexual who goes to California to become a Hollywood star. Called "repulsive" and "brutally witty" by the New York Times, it became a massive bestseller. The 1970 movie, which critics panned, starred Raquel Welch as Myra.

In a similarly savage vein were "Myron," a sequel to "Myra Breckinridge"; "Duluth" (1983), which spoofs America in the Reagan era; and "Live from Golgotha: The Gospel According to Gore Vidal" (1992), which was denounced by the Vatican for its scathing view of Jesus and his followers. "If God exists and Jesus is His son," novelist John Rechy wrote in a Los Angeles Times review, "then Gore Vidal is going to hell."
Despite his output as a novelist and playwright, many critics considered Vidal's witty and acerbic essays his best work. Often published first in such journals as the New York Review of Books and the Times Literary Supplement, they were collected at regular intervals between the novels. In 1993, his volume United States: Essays, 1951-91, received the National Book award. As Stephen Spender wrote in a review, "Vidal's essays celebrate the triumphs of private values over the public ones of power. They represent the drama of the private face perpetually laughing at, and through, the public one. At the same time, their seriousness lies very largely in his grasp of the conditions and characteristics which make up the public world." Vidal liked to present himself as an insider – a man who understood the world and how it worked. This knowing quality, registered in the tone of his prose, permeates the essays. Their edge and vitality derive from his complete mastery of the scene he described, whether ridiculing Ronald Reagan as "a triumph of the embalmer's art", reassessing the presidency of John F Kennedy, outlining the theory of the French "new novel" or reconsidering the importance of Montaigne or Somerset Maugham.
As Vidal announced in the opening sentence of his memoir "Point to Point Navigation": "As I now move, graciously, I hope, toward the door marked Exit, it occurs to me that the only thing I ever really liked to do was go to the movies."

His passion for the films of the 1930s, in particular "The Mummy" and "The Prince and the Pauper," shaped his imagination, as did some of the stars: "Margaret Sullavan," he once wrote, "never simply kicked the bucket. She made speeches, as she lay dying; and she was so incredibly noble that she made you feel like an absolute twerp for continuing to live out your petty life after she'd ridden on ahead, to the accompaniment of the third movement of Brahms's First Symphony."

As a screenwriter in the 1950s and occasionally afterward, Vidal contributed to many films, often without screen credit. He wrote a teleplay that provided the inspiration for "The Left-Handed Gun" (with Paul Newman as Billy the Kid); he was called in to doctor "Ben-Hur" (and tweaked the script to suggest a homosexual subtext to explain the relationship between the epic's hero and his enemy Messala); and he worked with Tennessee Williams on the hothouse melodrama "Suddenly, Last Summer" (featuring a troubled Elizabeth Taylor and an even more troubled Montgomery Clift). In his later years, Vidal appeared with some frequency in films, notably Federico Fellini's "Roma" (1972), in which he played himself.