Monday, September 10, 2012
Defending Blair from Tutu's "J'Accuse…!"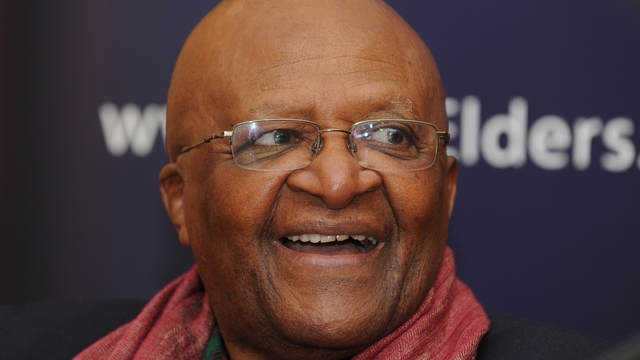 Desmond Tutu is the possessor of a moral authority comparable only to Nelson Mandela or the Dalai Lama, one which transcends political and religious boundaries. His stature is derivative not only of his clerical authority (or, in spite of it) but because of his activism against apartheid and in favour of universal human rights, including religious freedom, gay rights, and access to contraception in Africa.
Thus when he speaks, the world listens, which in the case of his recent comments regarding Tony Blair and the liberation of Iraq is a privilege he ought to have taken heed of. First, Tutu elected to violate one of the essential principles of Enlightenment thinking by refusing to share a stage with Blair at a leadership summit in Johannesburg. As John Stuart Mill noted in his essay On Liberty, as important as the right to speech is the duty of everybody else to listen:
There is always hope when people are forced to listen to both sides; it is when they attend only to one that errors harden into prejudices, and truth itself ceases to have the effect of truth, by being exaggerated into falsehood. …Every opinion which embodies any fraction of the truth, not only find advocates, but is so advocated as to be listened to.
Judging by the tenor and substance of his remarks in a subsequent article in The Observer concerning this decision, it would appear that listening to the former Prime Minister and receipt of a short course of revision on war, history, and international relations might have been of some use to him. Tutu makes a succession of very nasty accusations and insinuations that deserve to be repudiated and met head on, premier among them the hoary argument that Blair and Bush lead the world to war under a false pretence.
What Tutu actually said was this, that the liberation of Iraq was "premised on the lie that Iraq possessed weapons of mass destruction". But as Blair himself stating in his memoir A Journey, there was no lie, no diabolic scheme. Rather, "the stated purpose of the conflict was to enforce UN resolutions on Saddam's WMD", based upon intelligence collected by the CIA and MI6. In the end, coalition forces "found no WMD after taking control of the country", but as the Duelfer Report concluded, Saddam Hussein aspired to have sanctions against Iraq lifted in order to recreate their weapons capacity, a conclusion corroborated by the Butler Report.
This baseless and debasing charge comes in the opening paragraph of Tutu's J'accuse…!, and from there he only descends deeper into the intellectual favelas. The removal of Saddam Hussein "destabilised and polarised the world to a greater extent than any other conflict in history", he blurts. Even more so, apparently, than the Seven Years' War, the French and American revolutions, the Napoleonic Wars, the Crimean War, the colonial wars in Asia and Africa, the First World War, the Bolshevik Revolution and the Russian Civil War, the Second World War, and the Cold War conflicts in Korea, Indochina, and the Middle Eastern theatre.
But perhaps Tutu's most outrageous gesture is his suggestion that Blair deserves to be dispatched to The Hague and be placed on trial for war crimes and crimes against humanity. "On what grounds do we decide that Robert Mugabe should go the International Criminal Court, Tony Blair should join the international speakers' circuit?" He goes on to add that "in a consistent world, those responsible for this suffering and loss of life [in Iraq] should be treading the same path as some of their African and Asian peers who have been made to answer for their actions in the Hague".
The first remark is merely shameful and shows all the signs of a failing mind. Surely Tutu cannot be serious in attempting to draw a moral equivalency between Blair and Mugabe? The latter, as Tutu knows all too well, is directly responsible for the total ruination of Zimbabwe: for its transformation into a condition of beggary and bankruptcy; for organising a corrupt, racist, and homophobic autocracy; for the slaughter of 20,000 civilians in Matabeleland in the early 1980s; for the violent and murderous takeover of farmland; for the expropriation of that land for the ruling elite; and, for turning an agriculturally-productive state into one of scarcity and starvation.
Then again, perhaps he really does believe the two leaders are comparable. After all, he holds both Blair and George W. Bush solely responsible for the up to 118,000 civilian deaths that have occurred since the commencement of Operation Iraqi Freedom, and for the fact that "an average of 6.5 people died there each day in suicide attacks and vehicle bombs". Tutu poses the question, "Has the potential for terrorist attacks decreased?" to which one can only assume he wishes us to answer in the negative.
What Tutu is doing here in effect, it should be noted, is taking away the sins of those who commit these horrific acts of zealous mass slaughter in Iraq – the blowing up of mosques and planting of explosives in crowded squares on market day – transferring them onto two world leaders who ordered them not as to accuse them of murder. It is as if to say that we, the West, are responsible for the phenomenon of Islamic terror, that we suborned the destruction of our cities and the massacre of our citizenry by our deeds, that in the words of another man of the cloth, Jeremiah Wright, our chickens have come home to roost.
The sheer number of civilian deaths at the hands of terror gangs in post-Saddam Iraq is frequently used as a stick with which to beat down Blair and Bush, as part of a larger point that in their opinion life in Iraq is far worse now than it ever was when Saddam was in power. Indeed, as Tutu winds his way towards a conclusion, he does his level best to say as much without having to actually write it, even going so far as to argue that, "the question is not whether Saddam Hussein was good or bad or how many of his people he massacred".
Yet this is precisely the point, is it not? The liberation of Iraq was and is not just merely a legal question but an ethical one, whether the removal of Saddam Hussein was necessary in order to secure a safe future for the people of Iraq and maintain a workable international order. Is it possible, as Blair worded it in a speech to the Chicago Economic Club in April 1999, to "turn our backs on conflicts and the violation of human rights within other countries if we want still to be secure"? Or, to posit the proposition in Christopher Hitchens' terms, should we accept "coexistence with aggressive regimes or expansionist, theocratic, and totalitarian ideologies"?
To these conundrums, Tutu would do well to consider what life was like in Saddam Hussein's Iraq, where everyday existence, unless one happened to be a member of the al-Tikriti clan, was stunted and miserable, a wretched summation of the awful possibilities of the human experience. Irrational and unhinged, Saddam elevated himself to the position of being the core of political, social, and cultural life in Iraq, rigging elections and targeting ethnic and religious groups perceived as threats to his crime family with persecution and extermination. Over 180,000 Kurds were liquidated during the late 1980s using chemical weaponry; he starved the Marsh Arabs into the grave by draining their bread basket, the southern wetlands. Shi'ite residents of Dujail, including dozens of children, were slaughtered in 1982 in retribution for a failed assassination attempt.
Life in a post-Saddam Iraq is far from easy, and it would be immoral in and of itself to ignore the failures of the post-combat reconstruction efforts nationwide in the absence of adequate planning on the part of the Americans. But it needs to be said that after governance by sultan, king and dictator, the Iraqi people now possess the right to vote and to free expression and assembly. They have access to free markets and a free press. Iraqis can petition the courts in search of justice, use mobile phones, and take to the internet. The removal of Saddam Hussein and the liberation of Iraq have, at the very least, given the people of that country the chance of having a normal existence.
And we have witnessed a good deal of success in the Kurdish Autonomous Region in particular, where in the late 1980s, its residents were subject to a systemised campaign of genocide, al-Anfal, in which up to 100,000 civilians were slaughtered, via mass executions and concentrations camps. Moreover, some 4,000 villages were strafed with chemical and biological weapons in a campaign of Arabisation.
Iraqi Kurdistan was under the security umbrella of coalition forces in the wake of the Gulf War, but since Saddam Hussein disposal, per capita income is 25pc higher in Kurdistan than in the rest of the country, and as a result 20,000 workers have moved there since 2003. The Regional Government has remained stable, and has reconstructed 65pc of the villages destroyed during al-Anfal. Furthermore, they have invested in infrastructure projects such as air transportation, as tourism begins to develop in this relative safe haven where no foreign visitor has been kidnapped since the liberation.
"The trouble with debating Iraq", Blair proposes, "is that, by and large, people have stopped listening to each other". Worse still, in the case of Tutu, he doesn't even seem to wish to consider the most basic questions anymore, preferring instead to fall back on lazy herd thinking and the clapped-out supposition that Blair and Bush "fabricated the grounds" for war in order to "behave like playground bullies and drive us further apart". Tutu would have been well served to have followed the advice of Mill, and indeed of John Milton and Thomas Paine, and fully grasped his right to hear and to listen, for he might have received the education it seems he so truly needs.