Tuesday, October 2, 2012
There Was More That Must Be Said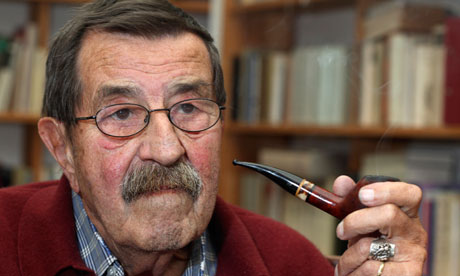 Evidently, Günter Grass had not said all that needed to be said.
The first time Grass said "What Must Be Said" in a poem first published in the Munich broadsheet Süddeutsche Zeitung earlier this year,  he drew an equivalency between the atomic programmes of Israel and Iran, stating that "Israel's atomic power endangers / an already fragile world peace." He went onto add that German aid to Israel in the form of nuclear submarine "will not be expunged by any / of the usual excuses". What he meant by this is rather explicit, as was his intent.
But this was not Grass' final word on Dimona. In his new collection of poetry, Eintagsfliegen (roughly, Ephemera), Grass praises in a ode called "A Hero in Our Time" Mordechai Vanunu, the whistleblower who revealed the machinations of Israel's highly secretive nuclear programme to The Sunday Times in October 1986. The Guardian reports that Grass describes Vanunu as a "role model" who "hoped to serve his country by helping to bring the truth to light". Israelis, Grass argues, should "recognise as righteous" a man "who remained loyal to his country all those years".
Upon the publication of the first poem, the Israeli government was nothing short of hysterical in its reaction. "Grass' poems are an attempt to ignite the flame of hatred against the people and the state of Israel and thereby promote the idea he was publicly a part of when he wore the SS Nazi uniforms," Interior Minister Eli Yishai stated in his irrepressible, hyperbolic manner. "If Grass wishes to proceed with his distorted and false creations, I suggest he does so in Iran, where he can find a supporting audience." Grass was then proclaimed persona non grata by Yishai.
It would have been far better to recognise that, at this stage, Grass is in essence little more than a daft old man and a lame provocateur, whose powers as a novelist and prose writer have greatly diminished since the publication of the famed, fantastical Danzig Trilogy. Moreover, his status as a paragon of virtue for his work which aided Germany's attempt to come to terms with its past was greatly undermined by the revelation, delayed until 2006, that he had been a member in 1944 of the Waffen-SS when he was 17.
A more apt riposte, in such circumstances, would have taken a form slightly more suited to the silliness of the saga:
There once was a poet called Grass,
Who wouldn't give Israel a pass,
The Tin Drum, a great book,
But with old age he took,
To talking straight out of his ass.