Friday, October 19, 2012
The Law Must Not Permit Christian Homophobia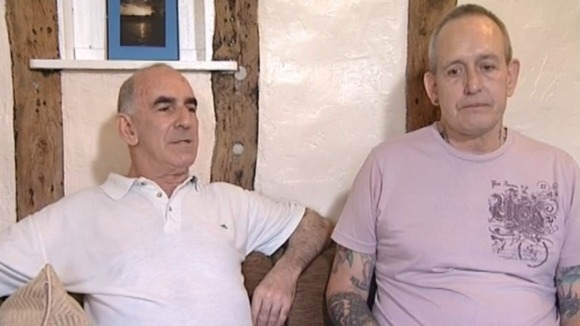 Closure, almost. The Christian owner of a bed and breakfast has, The Guardian reports, been ordered to pay £3,600 in damages after a court found Susanne Wilkinson's refusal to let Michael Black and John Morgan, a gay couple, stay in one of her double rooms. This act was deemed to have amounted to direct discrimination and a breach of equality law — and, rightly so.
I say closure, almost, because Ms Wilkinson and the good people at the Christian Institute — an organisation of charlatans and blaggards which seeks to send the United Kingdom back into the dark ages via "the furtherance and promotion of the Christian religion" and promotes the teaching of lies to children in schools — are considering an appeal, her religious rights supposedly having been infringed. And, their new found ally and BNP leader Mad Eye Griffin, the last crusader against the forces of heterophobia, has weighed in too, tweeting Mr Black and Mr Morgan's home address, threatening them with violence, and moaning, "Why don't left & gay activists confront Muslims instead of picking on meek & forgiving Christians?" That's always how I've thought of Mr Griffin — meek and forgiving.
This sort of nonsense has to stop. Liberty, an organisation I don't usually care for a great deal, had the right line on this issue. James Welch, legal director of Liberty, said in a statement the following:
Liberty defends the rights of religious groups to manifest their beliefs, even when we disagree with them. But it is simply unacceptable for people running a business to refuse to provide a service because of someone's sexual orientation. Hopefully today's ruling signals the death knell of such 'no gays' policies – policies that would never be tolerated if they referred to a person's race, gender or religion.
If Ms Wilkinson doesn't want to let homosexuals — or indeed blacks, Muslims, or atheists — into her home, then fine. Be prejudicial in private, for all I care. Indeed, if Ms Wilkinson wanted to stand out in the street, ranting and raving with a cardboard sign reading, "God Hates Fags", then she is well within her rights to do so. Her right to speak, in such an instance, would be and must be protected.
But as the legal proceedings concluded, Ms Wilkinson was exercising her free speech nor her right to religious freedom. She was operating a business, and under the law in this country as a service provider, she is not entitled to discriminate on grounds of sexual orientation. The law of the land is paramount and at unity, and all are equal under it. Ms Wilkinson is not entitled to an exemption nor to be bigoted in his manner merely because of the fantastical claims of holy books, and the aura of respectability believing in them seems to grant people.
Salman, The Messenger [September 13, 2012]
Protecting Free Inquiry from Religious Bullies [September 24, 2012]
Notes
coffeeonthekeyboard likes this
youngcontrarian posted this