Monday, February 6, 2012
Thinking about Hitch and the crisis in Syria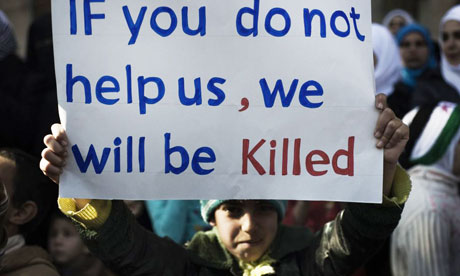 The West is correct to express its outrage over the Russian-Chinese decision to veto a resolution in the United Nations Security Council, which would have called for Syrian president Bashar al-Assad to remove himself from power. After all, if the Security Council can not agree on something as simple and obviously necessary as this, then what on Earth can it do?
But the resolution's failure covers up for the fact that the Western tiger stomps on paper feet. France, the United Kingdom, and the United States oft states that it wishes to see the end of the al-Assad regime — a long-postponed act — but does not wish to undertake the one act which would guarantee such a conclusion: liberal intervention, a la Libya, Kosovo, or Bosnia-Herzegovina.
The question is, of course, should it? When the debate was very much raging over the liberation of Iraq, Christopher Hitchens set down four clear criteria by which a nation could be determined to have lost its sovereignty, and therefore be ripe for intervention. These were, if a nation:
Could potentially misuse weapons of mass destruction;
Were known to be harbouring terrorists;
Was occupying or had occupied another member of the United Nations; and
Was committing or had committed an act of genocide.
Friday, January 27, 2012
by Charles Duhigg and David Barboza, The New York Times, January 25, 2012
In the last decade, Apple has become one of the mightiest, richest and most successful companies in the world, in part by mastering global manufacturing. Apple and its high-technology peers — as well as dozens of other American industries — have achieved a pace of innovation nearly unmatched in modern history.

However, the workers assembling iPhones, iPads and other devices often labor in harsh conditions, according to employees inside those plants, worker advocates and documents published by companies themselves. Problems are as varied as onerous work environments and serious — sometimes deadly — safety problems.

Employees work excessive overtime, in some cases seven days a week, and live in crowded dorms. Some say they stand so long that their legs swell until they can hardly walk. Under-age workers have helped build Apple's products, and the company's suppliers have improperly disposed of hazardous waste and falsified records, according to company reports and advocacy groups that, within China, are often considered reliable, independent monitors.

More troubling, the groups say, is some suppliers' disregard for workers' health. Two years ago, 137 workers at an Apple supplier in eastern China were injured after they were ordered to use a poisonous chemical to clean iPhone screens. Within seven months last year, two explosions at iPad factories, including in Chengdu, killed four people and injured 77. Before those blasts, Apple had been alerted to hazardous conditions inside the Chengdu plant, according to a Chinese group that published that warning.

"If Apple was warned, and didn't act, that's reprehensible," said Nicholas Ashford, a former chairman of the National Advisory Committee on Occupational Safety and Health, a group that advises the United States Labor Department. "But what's morally repugnant in one country is accepted business practices in another, and companies take advantage of that."
Wednesday, November 23, 2011
Previewing the CNN Debate
It seems odd to have to put the candidates through another debate on foreign policy, not only so soon after the last CBS/National Journal debate, but also given the events taking place (or rather not taking place) in Washington with regard to the supercommittee. That, combined with the economic meltdown in Europe make it a sweet time to talk about economics (again).
But, given that it's my thing as it were, I would be remiss if I turned my nose up at a second chance to delve back into international affairs. And, in any case, given that Syria is headed for conflagration, given the fluid situation in Egypt and given the formation of a new government and the arrest of Saif al-Islam al-Gaddafi in Libya, now is a critical moment for the American public to hear what the candidates think on these things.
In fact, it might be argued that if one throws in the spectre of a nuclear Iran, the ongoing war in Afghanistan, the shaky situation in Iraq, the transformation in Pakistan into a failed state, and the economic and military rise of China, there has been no more important a moment since the conclusion of the Soviet Union for a Republican president candidate with a clear and dynamic foreign policy.
This evening, suffice to say should I manage to stay awake, I shall be looking out for the following from the candidates:
Mitt Romney: He needs to be nailed down on a single issue, particularly in terms of foreign affairs. He loosely agreed with Perry on the zeroing out of foreign aid, and was ignorantly bold on China in the last debate to his discredit. He needs to give the voters and pundits something to chew on.
Herman Cain: It is inevitable that the moderator will throw to Cain on the question of Libya. He needs to give a clear, concise and terse response to any remark, and not laugh his gaffe off as a by-product of the lamestream media with their gotcha questions. (I hold out little hope on this — it'll be a car crash).
Rick Perry: He performed more-than-adequately in the last debate, providing the star quote of the evening on moralistic foreign policy. I'd like to hear him talk more and with greater specificity on his foreign aid programme, and moreover not divert back to the matter of energy independence whenever he is stumped.
Michele Bachmann: She needs to be more consistent. In the last debate, she was lucid on Pakistan and terrorism, then provided a clanger on China as a model for the United States in terms of reforming its social security and welfare.
The others: Ron Paul to highlight the moralistic side of his foreign policy (and I'd like someone to nail in on the consequences of his isolationism, other than Santorum); Jon Huntsman to provide light on China, and go after Romney for his brazenness in the last debate; Rick Santorum to speak authoratively on Iran at this critical juncture (and if possible to clarify his stance on Israel).
I suspect and fear however that the attention and focus will be on Newt Gingrich, or as Paul Krugman put it recently, the stupid man's vision of what a clever person sounds like. On Gingrich, I expect nothing: simply more guff and bluster, snipes at the media, and competent, perfunctory, and unremarkable answers which sound full of wonder and fuzzbox to the layman.
Wish me luck!
Sunday, November 13, 2011
CBS/National Journal Debate: Perry Up, Cain Down, But a Lack of Vision Haunts All
Perhaps I expected too much of a Republican presidential debate. I had hoped, after what seems like fifty or so discussions on the economy, on jobs, on Obamacare, that this foreign policy in South Carolina would act as a delicious interlude overflowing with analysis and big ideas.
Sadly, the format prevented it. The CBS/National Journal debate was anchored by two great journalists, and Major Garrett in particular was tenacious, but they were hindered by the strict time format and the brevity of the event in general. Only sixty minutes on primetime, network television on the some of the biggest questions of our time? plus thirty minutes on the web? If it's not important enough for two hours on CBS on a Saturday, then they shouldn't have hosted it at all.
But, they did, so here are some thoughts. To rattle off some of the other candidates, Mitt Romney and Newt Gingrich were competent, if perfunctory and unremarkable. Ron Paul was correct to say that waterboarding is torture, that it is illegal under international law and that it is immoral, but in general he was as mad and unhinged as ever.
Jon Huntsman and Rick Santorum were able to shine through in the moments that they were given. Sadly, they wasted too much of their allocated segments complaining about how they had so little time, and in the case of Huntsman, merely listing his past experience. Santorum was essentially correct on the two most important questions of the evening: Iran, and Pakistan. Were he not a homophobic, napkin-waving lunatic, he might be more electable.
Which brings us to Herman Cain, who easily gave the weakest performance of the evening. Whilst in the economic debate, his stock answer is "9-9-9! Grow the economy!", in this forum, every response was coloured with, "I'd assemble a great team and ask them". Cain seemingly prepared an answer on Iran, but had little knowledge (or rather no knowledge) of the Arab Spring, or Afghanistan, or Gitmo.
It was embarrassing, and he ought to be shamed by the fact that his entire 'peace through strength and clarity' schtick was exposed in one brutal and naked exchange with Garrett. He was asked, point blank, is Pakistan friend or foe? After a pause, his best answer: "We don't know."
Michele Bachmann displayed signs of lucidity on matters of foreign intelligence, particularly with regard to Pakistan, and the termination of bin Laden and others. But her grasp of the issues remains blinkered and decidedly ignorant, and she seems unable to speak without reaching for the old tropes on President Obama. And, if there's any justice, her clanger of a comment on China as a model for the United States in terms of reforming its social security and welfare programmes, will loom over her until the end of all things.
But it is Rick Perry who, once the make-up is removed, will feel most pleased with his performance at the CBS/NJ debate. It was — up until the invention of the word, 'forwithall' — like we were witnessing the second coming of a more articulate and clear-minded candidate. He will, more likely than not, receive some blowback in the form of some negative ads from his comments on Israel — even though they were decidedly in favour of maintaining "substantial" aid links with that nation.
Rather, it was Perry who made the most salient remark of the evening. Speaking on China, and after some rambling preliminaries on Reagan (who else?), Perry stated:
I happen to think that the communist Chinese government will end up on the ash heap of history if they do not change their virtues. It is important for a country to have virtues.
Whilst the grammar of the remark is off-kilter, the essence of the comment is on-the-mark. Nations which do not afford their citizens rights and freedoms, and governments absent of virtues, values, and a decent moral compass will inevitability implode, crumble, or be dismantled by their own peoples. Witness the Arab Spring.
The problem the Republican Party has, based on the debate, is that there exists amongst any of the candidates no actual credible foreign policy to back this up. Romney, for example, nearly declared war on the Chinese for currency manipulation and fictional trade offences. The candidate who can seize Perry's sentiment, and formulate a moralistic yet pragmatic foreign policy which will appeal to the American people's sense of their own especial place in the world, will ease their passage to capturing the nomination, and maybe even the White House.
Tuesday, July 5, 2011
Israel's Future in a Multipolar World
"Israel has no better friend than America, and America has no better friend than Israel. In an unstable Middle East, Israel is the one anchor of stability. In a region of shifting alliances, Israel is America's unwavering ally. Israel has always been pro-American. Israel will always be pro-American." - - Benjamin Netanyahu, May 24, 2011
Netanyahu's "speech of his life" may have been damaging for an already weakened peace process, but it did hit the mark in its analysis of the special relationship between Israel and the United States – two exceptional nations that compliment each other like gin and tonic. As Netanyahu put it in his speech to Congress: "We stand together to defend democracy. We stand together to advance peace. We stand together to fight terrorism".
Their relationship has been beneficial for both parties, for indeed the United States has been able to rely on Israel as the "one anchor of stability in a region of shifting alliances". American presidents haven't had to nation-build or construct democracy in Israel – these are things the Jewish people achieved for themselves, along with the capacity to fight their own battles in a region flush with nations none too pleased at their presence.
Going the other way, and as Netanyahu recognised in his speech, the United States has always been "very generous" in giving them the "tools to do the job of defending Israel" on their own. The most recent deal of note came when economic aid came to an end in 2007; President Bush signed a ten-year deal which gave Israel $30 billion in military assistance.
This past of unwavering fiscal support during a time of (to a minimal degree) American economic expansion is now a forgotten season, as the nation turns inward to confront its crippling national debt (at a level of, as near as makes no difference, 100pc of GDP). The rise of the Tea Party would indicate that, when the time comes for the budget to be slashed, foreign aid and the Defence Department might have to bear the brunt. The spirit might be willing in most quarters, but the body will be weakened to a point where Washington can no longer afford to be so charitable to even its best of friends.
The consequences of relative American decline are clear, and will have very real consequences for the State of Israel. For, by decade's end, it is evident that the world will no longer be unipolar, with the United States at its axis. Rather, it will almost certainly be bi- if not multipolar – the direct result of the economic rise and neo-colonial expansion of China, and other nouveau riche nations like India and Brazil. Over the course of the next ten years, the power of America and Israel's eternal bond as a mechanism for dictating the nature of global politics will evidently diminish.
Therefore it seems clear that, in order to secure Israel's continuation not only as a player on the world stage but as a nation-state in and of itself, she must continue to nurture its ties with China on one level, whilst maintaining its unique marriage with United States on another.
Israel and China will never have the same transcendent bond the former has with America. After all, unless the waft of jasmine gets carried across mountains and seas as to perfume the polluted Beijing air, these two nations will not be standing side by side in advancing the cause of democracy and human rights. Apparently, when a dove flaps its wings in Cairo, the people of China feel nothing of it.
Nonetheless, they do share some common economic and political interests which will mature their relationship to a level of healthy cooperation. For a start, both nations would appear to face similar existential threats, namely the struggle for the control of natural resources – in particular, water – and also the looming spectre of Islamic terror.
Professor Aron Shai of Tel Aviv University argues further that China has adopted a balanced view towards Israel, since she seeks to be a player in negotiations for a resolution to the Israeli-Palestinian conflict. Israel has the potential to manipulate this desire in their favour, provided they demonstrate that their position is concurrent with China's ultra-realist foreign policy doctrine. Al-Jazeera speculated for instance that it was Israel who above all persuaded China to vote in favour of another round of sanctions against her long-time ally Iran.
Thus when the world becomes bipolar by 2020, Israel could find itself in the position of having good relations with both of the world's superpowers. Israel will always be pro-American, yet above all, Israel's foreign policy must be guided by the realisation that its existence depends not only on its ability to defend itself, but on the will of the world's superpowers to champion their interests on the world stage. Thus in the coming years the State would be wise not to follow blindly Europe and America in their path of closing themselves off to the dragon stirring in the east.
Israel and the United States have a special relationship today. Israel and China must have an essential relationship for tomorrow.
Monday, July 4, 2011
The State of the Union — The State of the World
For Americans and Yankophiles alike, this Independence Day is most bittersweet. As its guardians revel in their hard-won liberty in a festival of feasting and firecrackers (of lights and light beers), we are in possession of a most awful truth that the sun is setting on the unipolar moment. She is not going to become a second-rate power, but certainly by decade's end the United States will be in the position of being one power among many, as opposed to the world's sole hyperpower.
America's dominance following the collapse of the Soviet Union – framed as the unipolar moment by Charles Krauthammer – was based on the assertion that she would be the only nation with the military, diplomatic, political and economic strength to dictate solo the course of world events. Krauthammer argued that the UN was the "guarantor of nothing" and that Europe did not "qualify as a player on the world stage". The best and only alternative therefore to chaos was "American strength and will to lead in a unipolar world".
Krauthammer was careful to label this a 'moment', for its conclusion was then and is now an inevitability. No hyperpower has been able to sustain hegemony indefinitely be it Athens or Rome, and more recently Paris, London and Moscow. Not only were these nations and empires consumed by internal tension and international overreach, but as their strength diminished new powers arose to assume their role in the world. After all, the United States rose to prominence after 1945 on the back of British decline.
So it is that after decades of decadence – specifically expensive and cost-ineffective welfare programmes, repeated extensions of hard power across continents and a slew of unfunded tax cuts by Republican administrations – America is being moderated in the world by her lead-weight national debt (currently at a level of, as near as makes no difference, 100pc of GDP). As she sinks, China is rising to the surface on the back of not only astonishing rates of economic growth but her soft power, exercised via the buying up of U.S. Treasury bonds and vast reserves of raw materials.
If history were cyclical, then it would appear as though we have seen this tragic opera before. Just as Washington superseded London and then Moscow, Beijing will wax as Washington wanes; China, thus, would be the new hyperpower. This does not have to be, should not have to be, and hopefully will not be the case, provided the American people and the government which represents them get serious about the crisis they face.
First and foremost, it can not be repeated enough that Washington needs to reduce the size of its national debt, or at least devise a long-term solution for doing so. The Simpson-Bowles plan was a more-than-satisfactory starting point, yet this seems have been cast aside as Republicans refuse to discuss tax increases whilst Democrats block cuts to Medicare and Social Security. Any plan will require a combination of the two to be viable, in addition to a diminution of the defence budget and a simplification of the tax code in order to increase global competitiveness and reduce costly evasion.
The current partisan impasse is a reflection of the corruption of the political class and the polity en masse. As Benjamin Franklin remarked at the Consitutional Convention, "the people shall become so corrupted as to need despotic Government, being incapable of any other". Not only are the two wings so entrenched that any deal seems out of reach, but more pressingly the political system the Founding Fathers created to ensure their republic did not slide into absolutism has led to a tedious rancour and impasse. The Constitution is a living document: some minor revisions ought to be considered (depoliticisation of the judiciary; greater separation of the executive and legislature) in order to refresh and rejuvenate it.
In terms of foreign policy, the United States needs to adopt a new attitude towards not only China, but future geopolitical poles such as India and Brazil. The Trump doctrine of slamming the table and threatening other nations with f-bombs and trade tariffs will fail when America is no longer the single dominant force. It is right that the West challenge countries like China over human rights and their African agenda, but it is better to have them as part of a family of nations than as a Soviet-style enemy. Transnational cooperation through institutions like the G20 would ease the transition into multipolarity and aid the prevention of the kinds of armed conflict which usually stain such changes of the guard.
Finally, Americans must above all recall on Independence Day that they owe their existence and prominent position in the world to generations of immigrants who helped to construct this most precious of unions. In order for the nation to thrive instead of merely survive in an age where they must at once compete and coexist with China, the United States must welcome a new generation of innovators and job creators, be they from Europe, Asia or across the Rio Grande.
This July 4 is bittersweet, but it is not without hope.
Thursday, June 23, 2011
by Timothy Garton Ash, The Guardian, June 22, 2011
With the eurozone in intensive care, countries like Greece, Spain and Portugal would also love China to buy some of their forlorn government bonds. While we don't know the exact figures for Chinese bond purchases, we do know that China's sovereign wealth managers have been quietly diversifying out of US treasury bonds. Its political leaders are making sympathetic noises about helping the eurozone. Plainly, the Chinese economy would suffer if the European economy went into a tailspin.

With the world's largest foreign reserves – currently around €3 trillion – China could buy half of Greece's privatisable public assets at the drop of a hat. Should Greeks beware of Chinese bearing gifts? Well, beggars can't be choosers. As a leading Chinese geostrategist told one of the authors of the forthcoming ECFR report, with exquisite delicacy: "You need our money."

One must not be too paranoid about this. If we believe in free trade and markets, then we must practice what we preach. (I'll soon be driving a Chinese car. It's called a Saab.) The problem is not that it's too easy for the Chinese to invest here but that it's too difficult for outsiders to invest there. There is, however, no doubt that Chinese economic power is already reaching deep into Europe – and translating into political influence.

Some of China's Asian neighbours have felt a much harder edge to China's rise. As China stakes its expansive claim to control the South China Sea, defining this as one of its "core interests", Chinese naval boats have in recent weeks twice cut the cables of Vietnamese oil exploration ships. While some in Europe still dream of a postmodern world of shared sovereignty, in which the EU becomes a model for global governance, the geopolitics of Asia increasingly resemble those of late 19th-century – rather than late 20th-century – Europe. Restless sovereign powers vie for supremacy, building up navies and armies, disputing control of land (such as Kashmir) and sea. National interests and passions trump economic interdependence.
Saturday, May 7, 2011
"Donald Trump has said he's running for president as a Republican, which is surprising, because I thought he was running as a joke." - - Seth Meyers, White House Correspondents' Dinner
Didn't we all? But like the veteran performer who no matter what cannot be forced off the stage, through good times and bum times, Donald Trump has hung on and he's still here. He's run the gamut from A to Z, and now, he's running for President, again, just as he's pretended to do before. But this time, the nation is beginning to take note of him, as he dominates the airwaves on matters from China, to OPEC, to, of course, the birth certificate.
Riding into the political battlefield on the back of the 'birther' issue renders him incredible to most Democrats, but in turn it indicates that he's serious about trying to capture the Republican presidential nomination. After all, even after the release of the long form birth certificate, a SurveyUSA poll showed that some 51pc of Republicans either still have doubts as to whether Obama was born in the United States, or are certain that the new certificate is a forgery and the President is illegitimate.
This is Trump's constituency, and hence when the certificate was released, The Donald was careful to say that he 'hadn't seen it yet' and would have to make sure it 'checked out' before delivering a verdict. And, without missing a beat, he moved onto the next skeleton in the closet: Obama's academic career. "I heard he was a terrible student. How does a bad student go to Columbia and then to Harvard? Let him show his records".
Trump's persistent attempts to undermine the authority of the President amounts to little more than race-baiting, and it's what's forced parts of America to question his sincerity. Amongst the Republican base, it's a winning issue, but in any head-to-head race with Obama, it'll be an albatross about his neck. At the Correspondents' Dinner, Meyers joked in Trump's presence: "Donald Trump recently said he has a great relationship with the blacks; unless the Blacks are a family of white people, he's mistaken".
The other factor that calls Trump's candidacy in question is his fuzzy policy positions. On China, in order to prevent them from deliberately devaluing their currency, Trump wants to slap a 25pc tariff on all Chinese goods. On OPEC, he has said he will 'make them' keep oil at under $100 a barrel, though he didn't say how. Rather, Trump states he knows the exact tone in which to speak to them, and judging by a recent Las Vegas stump speech, it wouldn't be suitable for younger audiences.
With all this in mind, American talking heads are split on whether or not to take Trump's campaign seriously. Lawrence O'Donnell – host of the left-leaning cable show The Last Word on MSNBC – is adamant that this sideshow is aimed at attracting attention to help The Donald's dying show The Celebrity Apprentice. Conservative Washington Post columnist Charles Krauthammer has labelled him a clown and the 'Republican Al Sharpton'; an embarrassment, in other words. Comedian Bill Maher on the other hand thinks this time it's for real, as this could be his last shot at the big time after so many false starts.
Fox News seems to be endorsing Trump, not only as a candidate but as a credible human being. After all, they've given him a ten minute window every Monday morning – "Mondays with Trump" – on their before noon show Fox & Friends to spout off about the issues of the day, and any more facts he's unearthed about Obama from reading The Onion, cracking open fortune cookies, and conversing with Meat Loaf and LaToya Jackson on his reality show.
Trump is also seen, rather worryingly, as a viable candidate by a sizeable section of the Republican base. A PPP poll of national Republican voters showed that if Trump were to run, 26pc of those asked would vote for him, compared to 17pc for Mike Huckabee and 15pc for Mitt Romney. A Rasmussen poll gave a smaller margin of victory, but Trump still gained 19pc, coming out on top over Romney by 2pc, and Huckabee by 4pc.
At the White House Correspondents' Dinner – or the 'nerd prom' as observers were calling it this year – Meyers, seizing upon Obama's plummeting approval ratings, turned to the President and fired: "I'll tell you who could beat you: 2008 Barack Obama". Donald Trump faces a similar problem. A recent PPP poll in Iowa showed that he has a 40pc unfavourably rating amongst likely Republican voters. This might only increase if they were to find out about former incarnation: 2000 Donald Trump.
That year, Trump was contemplating running on the Reform Party ticket, which to put into context is a party once backed by the former pro-wrestler, conspiracy theorist and 9/11 'truther' Jesse Ventura. In a hastily-published book The America We Deserve, Trump argued that America "must have universal healthcare", praising the Canadian system which "helps Canadians live longer and healthier [with] fewer medical lawsuits, less loss of labour to sickness, and lower costs to companies paying for the medical care of their employees."
Trump also proposed a one-time 14.25pc tax on individuals and trusts with a net worth of over $10 million, predicting that it would raise $5.7 trillion, which the government would use to pay off the national debt and fund social security. Were 2000 Donald Trump running today, he would be unelectable in the present Republican Party. 2000 Donald Trump was more radical than 2008 Barack Obama. This move to the fringe of the crackerjack right is necessary, then, in order to cover up his previous liberal leanings.
Donald Trump is a burdened beast, saddled with decades of strange behaviour, ludicrous statements, crooked property deals, multiple seasons of The Apprentice and a haircut that's ripe for ridicule. "If you can't finish your entrée, don't worry," Meyers told the crowd, "the fox on Trump's head will eat it". The jabs Trump received at the Dinner were brutal, and a weaker man might have been finished by them. But Obama would be a fool to underestimate this buffoon, for time and again, The Donald has surprised us all. As strange as it may seem, that he might yet trump us all and win the Republican nomination in 2012 is far from out of the question.
Monday, February 14, 2011
Geography: boring and irrelevant?
Geography is "boring and irrelevant." Not my words, I ought to say, but the words of the schools' inspection body Ofsted. More than 100 secondary schools do not enter a single pupil for a GCSE exam on the subject. Students' are so cartographically inept that some could not locate Kenya on a map of Africa! "They were not able to locate countries, key mountain ranges or other features with any degree of confidence," The Independent reports.
While there are of course many other facets to geography other than merely locating nations, seas and mountains on a globe, such as human geography and climate studies, the current crop of pupils' geographical paucity does speak to an evident and certainly worrying trend in the study of the humanities.
Part of the responsibility for this Gibbonesque downfall rests with the teachers themselves. Ofsted labelled their efforts 'uninspiring' and absent of challenge. Just over half of the schools surveyed failed to take advantage of fieldwork, even though results show that such outdoor, interactive activity inspired "a love of the subject."
Stuck in the confines of the classroom, teachers have turned the subject into an oversimplified object of ridicule. Those reading the subject now are more likely to require a cornucopia of colouring crayons than any classical geographical implement, as to shade the seas, lacquer the land and blush the borders on their incorrectly-labelled maps to the best of their artistic abilities.
This government and the last have set their sights firmly on improvements in maths and science scores as the be all and end all of the nation's education system. In part, there is something very worthy and earnest about their efforts. British pupils are currently obtaining grades and results below the OECD average for mathematics, and lag far behind nations like China (Shanghai), Hong Kong, Taiwan and Singapore.
On the other hand, this focus on the more directly applicable subjects is a by-product of the commercialisation of our education system. No longer does learning exist for learning's sake. Successive governments have destroyed the vision of the classroom as a forum for pupils to grow, to accomplish, to change the way they see the world through exploration of the arts, humanities and languages.
Rather, in a desperate bid to play catch-up with the East, the school has become a factory, constructing functionally-literate monsters on a production line managed by idiots. The quality control, so to speak, are endless lists of GCSE grades now rendered meaningless by the ease of their attainability.
Funding has collapsed for subjects not deemed profitable. Ofsted found that in one in 10 of the primary schools visited, geography was more or less disappearing. Moreover, in approximately half the primary schools visited, pupils in some classes were taught no geography at all.
The decline in the standard of geography teaching is therefore the result of the state's neglectful and in some instances deliberately reckless humanities policy programme. Blame must be placed upon the practitioners of course, but it too ought to rest with the enablers. How can teachers carry out fieldwork exercises with no funds for equipment or for transport?
When the world's attention finally turns towards dealing in a coordinated manner with the great ecological questions of our time - climate change; population growth; natural disasters - geography will be as essential as science to those seeking the answers.
Dr. Rita Gardner, director of the Royal Geographical Society, stresses that "all young people should have the opportunity to experience a good quality geography education so they can understand the world's places, people and environments." The government and the teachers need to recognise that such a notion has never been more correct and more relevant.
An edited version of this article was published in London Student, February 14, 2011.