Thursday, October 25, 2012
After Monday's debate, many took note of the way in which Mitt Romney shifted his foreign policy towards what constitutes the center on Syria, Afghanistan, and Iran. It was as if the previous ten months or so had never happened, with The New York Times editorial page suggesting that Romney now "does not actually have any real ideas on foreign policy beyond what President Obama has already done, or plans to do". His relative moderation also led some, including The Forward's Gal Beckerman to ask, "So Romney seems to have ditched the neocons tonight. Where was Dan Senor's influence?"

Senor's name has been thrown around a good deal during this campaign. As a senior foreign policy advisor to the Romney/Ryan ticket, it was suggested infamously and rather insidiously by Maureen Dowd that Senor was in fact a "neocon puppet master", moving the lips of his candidates. Aside from the obvious problem with her imagery, Dowd (and indeed Gal's) statements are based upon a fundamental misconception: that Senor is a neoconservative at all.

This false impression of Senor derives in the main from two things we know about Senor's career, such as it is. The first is that he has been a very strong advocate not only for Israel and its absolute right to defend itself but for the military option to prevent Iran from going nuclear. The other and more significant one perhaps (since the former is the consensus view in the United States) is Senor's association with the liberation of Iraq as spokesman for L. Paul Bremer, who as head of the Coalition Provisional Authority in effect ran the country in the year after the liquidation of the Ba'athist regime.
Read more: http://blogs.forward.com/forward-thinking/164857/dan-senor-is-no-neocon/#ixzz2AEKfxbvR
Monday, September 10, 2012
Defending Blair from Tutu's "J'Accuse…!"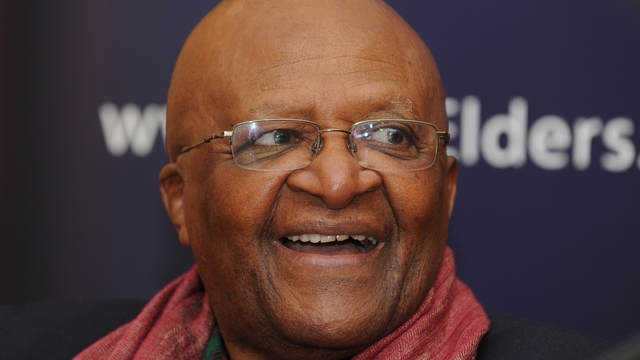 Desmond Tutu is the possessor of a moral authority comparable only to Nelson Mandela or the Dalai Lama, one which transcends political and religious boundaries. His stature is derivative not only of his clerical authority (or, in spite of it) but because of his activism against apartheid and in favour of universal human rights, including religious freedom, gay rights, and access to contraception in Africa.
Thus when he speaks, the world listens, which in the case of his recent comments regarding Tony Blair and the liberation of Iraq is a privilege he ought to have taken heed of. First, Tutu elected to violate one of the essential principles of Enlightenment thinking by refusing to share a stage with Blair at a leadership summit in Johannesburg. As John Stuart Mill noted in his essay On Liberty, as important as the right to speech is the duty of everybody else to listen:
There is always hope when people are forced to listen to both sides; it is when they attend only to one that errors harden into prejudices, and truth itself ceases to have the effect of truth, by being exaggerated into falsehood. …Every opinion which embodies any fraction of the truth, not only find advocates, but is so advocated as to be listened to.
Judging by the tenor and substance of his remarks in a subsequent article in The Observer concerning this decision, it would appear that listening to the former Prime Minister and receipt of a short course of revision on war, history, and international relations might have been of some use to him. Tutu makes a succession of very nasty accusations and insinuations that deserve to be repudiated and met head on, premier among them the hoary argument that Blair and Bush lead the world to war under a false pretence.
What Tutu actually said was this, that the liberation of Iraq was "premised on the lie that Iraq possessed weapons of mass destruction". But as Blair himself stating in his memoir A Journey, there was no lie, no diabolic scheme. Rather, "the stated purpose of the conflict was to enforce UN resolutions on Saddam's WMD", based upon intelligence collected by the CIA and MI6. In the end, coalition forces "found no WMD after taking control of the country", but as the Duelfer Report concluded, Saddam Hussein aspired to have sanctions against Iraq lifted in order to recreate their weapons capacity, a conclusion corroborated by the Butler Report.
Friday, July 27, 2012
It is far too easily forgotten that, in 1992, Bill Clinton ran against George H.W. Bush from the right on Israel. Bush had opposed a $10 billion loan guarantee program for Israel on the basis that the money could be used to further continue settlement construction in the West Bank and Gaza, which peaked at 7,750 new homes per annum at the fag end of the hardline Shamir administration. By August 1992, Bush relented. But the damage was done: his share of the Jewish vote collapsed from 35 percent in the victorious 1988 election to an abysmal 12 percent in 1992, a ballot he lost.

Now Mitt Romney – who is due to arrival in Israel on Sunday to fundraise and later dine with Benjamin Netanyahu at the breaking of the fast for Tisha B'Av – is Xeroxing the Clinton playbook, attacking Obama for having "thrown Israel under the bus," to use his favorite refrain. Romney told the Veterans of Foreign Wars National Convention in Reno, Nevada on Tuesday that the "people of Israel deserve better than what they have received from the leader of the free world. And the chorus of accusations, threats, and insults at the United Nations should never again include the voice of the President of the United States."

In his platform, Romney pillories Obama for having "repeatedly and unilaterally created new preconditions for restarting peace talks," and for believing that "distancing the United States from Israel was a smart move that would earn us credits in the Arab world and somehow bring peace closer." Rather, he says, the United States "needs a president who will not be a fair-weather friend of Israel" for she is America's "closest ally in the Middle East and a beacon of democracy and freedom in the region." The intent is clear: Romney wishes to make Obama appear weak on Israel in order to nibble away at the Jewish vote, one of the latter's strongest and most steadfast bases of support during his transformative 2008 electoral campaign.
Read more: http://blogs.timesofisrael.com/on-israel-exposing-romneys-dirty-tricks/
Friday, February 24, 2012
Sarkozy and the "Jewish vote"
Statistics released by the SPCJ in France present a mixed picture for the country's Jewish community. 2011 witnessed a 16.5% drop in the number of reported anti-Semitic incidences from 466 to 389, the lowest figure in ten years. But the number of violent attacks levelled out, and there was in fact an upturn in terms of the severity of the violence exhibited.
With the presidential election two months away, the progress and concerns displayed in the SPCJ report ought to play into the hands of Nicolas Sarkozy. And, if he is to be re-elected, given recent polling data demonstrates he is some 15 points behind his main rival François Hollande, he will need to re-enliven France's Jewish community, one of the constituencies which helped elevate Sarkozy into office in the first place.
Of course, the French do not vote in blocs by race, religion, or creed, and there is no 'Jewish vote' to speak of. Nevertheless proportionally, France's Jewish community is more conservative when compared to the nation as a whole. 40% claim to identify with the values of the UMP – the party of Nicolas Sarkozy – whilst only 26% of Frenchmen nationwide feel able to say the same. After Roman Catholics, Jews have proven over time to be the second most reliable constituency for the French right.
Friday, December 16, 2011
On Hitch
I was jolted out of my half-sleep this morning, by the awful news that many of us who love him ought to have been preparing for for some time. At the age of 62, Christopher Hitchens has succumbed to the oesophageal cancer he was diagnosed with in June 2010.
Not too long after word of his malady spread, I felt an obligation to note my feelings about the man who – more than any other – influenced and determined the course I wish my life to take (in spite of the fact I now realise I shall never have the gift of word or speech Hitch was granted). In a post called, "Why Hitchens Matters," I concluded:
Hitchens, then, for aspirational contrarians, free-spirits and independent minds will forever remain the gin in the Campari. In a political world which is becoming ever more diluted by pragmatists and opportunists, his radical and unwavering stances on matters from The Satanic Verses to the fate of Iraq are auroras borealis piercing leaden, darkening skies. May his words be an undying beacon in the darkness, when all other lights are out.
The liberation of Iraq, as an issue more divisive than any other in the past decade, was the culmination of all his efforts in this respect. Having in my younger days been a Michael Moore liberal, who considered (and still to an extent consider) George W. Bush to be the most incompetent and ineffective president in modern history, Hitch's defence of the war as a righteous, moral endeavour – centred on fostering the universal values of democracy, liberty, and human rights in a land which had experienced them not – totally transformed my outlook on the campaign. This, from The Weekly Standard, is a perfect and succinct summation of it all:
Coexistence with aggressive regimes or expansionist, theocratic, and totalitarian ideologies is not in fact possible. …It is not desirable, either. If the great effort to remake Iraq as a demilitarized federal and secular democracy should fail or be defeated, I shall lose sleep for the rest of my life in reproaching myself for doing too little. But at least I shall have the comfort of not having offered, so far as I can recall, any word or deed that contributed to a defeat.
Again, shortly after the proclamation that Hitch was not long for this world, I felt the pressing need to write to him to explain not only this, but also just how elemental he was to my decision to explore the possibility at least of replicating his career as best I could.
Whilst, I noted, I have a tremendously weak constitution when it comes to imbibing liquor, and taking into account my disagreements with him on issues from Israel to the worthiness of socialism as a cause, I told Hitch in a letter that it was his prose, and his force of argument, which inspired me to write in turn, and try carve out an existence where words and speech are not just work, but indeed are one's life.
Hitch remarked in Letters to a Young Contrarian – perhaps rather flippantly now, in retrospect – that, "Seek out argument and disputation for their own sake; the grave will supply plenty of time for silence". His legacy, however, will be this spirit, and those who embody it. It will be those who continue to "beware the irrational, however seductive", and "shun the 'transcendent'", by continuing to speak out and challenge the forces of subordination and subjugation – clerical or otherwise – in spite of whatever opposition or hostility they encounter.
In spite of the year of knowing what was to come, those who have adored Hitch have been engaged in a kind of magical thinking (or at least I have, at any rate). Although his death was an inevitably, as he himself said, I put no thought to what I might say, or how I might react, when the solemn, black day finally arrived.
Now it is here, I feel ever-so-slightly paralysed, having been hit with the news that all I had admired and idolised in the literary and journalistic worlds has gone in body and mind, and that from his point forward, those who adhere to the anti-totalitarian line have no-one to turn to for immediate advice in our hours of need.
Perhaps, then – amidst a moment where all other words fail me or seem insignificant – it might just be best leave it with:
To Hitch!
Friday, November 25, 2011
by George Eaton, New Statesman, November 24, 2011
The second notable intervention came from Hitchens himself. "More Bosnia, less Iraq," he wrote in a text message to Fry. It felt as if he was trying to edit his own obituary. As he told the New Statesman, though he is unrepentant about his support for the invasion of Iraq and believes that history will vindicate him, he does not want to be "defined by it". His reference to Bosnia was an attempt to place his support for the war in the context of a wider commitment to anti-totalitarianism. It was also a reminder that he supported a war that saved Muslim lives, rather than ended them.

Hitchens was already preoccupied with his legacy when I interviewed him. He spoke of his desire to write a memoir before it was "too late", almost as if he knew even then that something was wrong. Now, as he prepares for death, he is determined to ensure that he is not remembered simply as a "lefty who turned right" or as a contrarian and provocateur. Throughout his career, he has retained a commitment to the Enlightenment values of reason, secularism and pluralism. His targets - Mother Teresa, Bill Clinton, Henry Kissinger, God - are chosen not at random, but rather because they have offended one or more of these principles.

The tragedy of Hitchens's illness is that it came at a time when he enjoyed a larger audience than ever. Of his tight circle of friends - Amis, Fenton, McEwan, Rushdie - Hitchens was the last to gain international renown, yet he is now read more widely than any of them. The great polemicist is certain to be remembered, but, as he is increasingly aware, perhaps not as he would like.
Wednesday, October 26, 2011
Iraq and Libya: Two Missions, With Much Accomplished
"We have been waiting for this historic moment. I would like take this opportunity to call on Libyans to put aside their grudges and proclaim one word: Libya. Libya. Libya" – Mahmoud Jibril

"The last American soldier will cross the border out of Iraq with their heads held high, proud of their success" – Barack Obama
The day after the Libyan civil war was in essence brought to its rightful if not preferable conclusion, via the slaughter of Muammar Gaddafi – the man with the golden gun – in the city of Sirte, President Obama announced the effective conclusion of the liberation of Iraq. American troops will withdraw in toto from Iraqi soil by the end of December, and Iraq will be a self-governing democratic state, at unity in itself. And, come October 31, allied forces will cease their operations in Libya.
A combination of mission creep and war fatigue – the West having been on the front foot for some ten years or more now – has resulted in disillusionment at best, and contempt at worst, for our missions in Libya and Iraq. The so-called anti-war movement has gained strength since Operation Iraqi Freedom began, and isolationism is back in vogue, particularly where the new Republican field is concerned.  The consensus seems to be, in this age of austerity and depression, that the only nations we need to be building now are our own.
But as Tony Blair noted in his speech to the Chicago Economic Club in April 1999, this is a choice which no longer exists, for globalisation has not only altered the economic landscape, but the political and security spheres as well. "We are all internationalists now, whether we like it or not," Blair argued. "We cannot turn our backs on conflicts and the violation of human rights within other countries if we want still to be secure".
It is on this basis that our interventions in Iraq and Libya are in part vindicated. We removed from power two tyrants who moulded states in which their subjects experienced all the most awful possibilities of the human experience. These men were not only dangers to their own people – having used in the case of Saddam chemical and biological weapons as a tool of retribution and extermination – but they were legitimate threats to the international order and global peace and stability.
Gaddafi's links with international terror were notorious – he aided, abetted, and funded such operations the Lockerbie bombing, the 1986 Berlin discotheque slaughter, and the Munich massacre, and organisations including the IRA, ETA, and PFLP. Saddam Hussein offered inducements to Palestinian terrorists on the West Bank during the al-Aqsa intifada, and gave shelter to the Abu Nidal network (including after September 11 and the liberation of Afghanistan). He repeatedly defied United Nations resolutions with regard to his WMD and ballistic missile programmes, and the Duelfer Report concluded that Saddam had both the capacity and desire to reconstitute his deadly arsenal.
Coexistence with such shady individuals – who were both armed and unhinged — not was an option. The removal of Saddam Hussein and Muammar Gaddafi were therefore long overdue – it is surely better that we conducted these missions on our terms, than allow the commencement of some awful conflagration, out of which little could be salvaged.
The gross cost of the liberation of Iraq – some $1 trillion – is the result of our collective failure to remove Saddam earlier when we had the golden opportunity after his forces were driven out of Kuwait. Tony Blair was correct to state in his Chicago speech, "If we let an evil dictator range unchallenged, we will have to spill infinitely more blood and treasure to stop him later".
Our second source of validation is that we have given forces committed to democracy, liberty and human rights in Libya and Iraq the opportunity to construct a free and civil society. Witness what has happened in Iraq through the mist of internal strife, particularly in the Kurdish north, and you will see what is possible once the shackles of totalitarian rule are removed: the opportunity in elections to select from amongst a multitude of candidates; the opening up of the press; the beginnings of free debate and inquiry. The difference betwixt pre- and post-Saddam Iraq is one of night and day, and so it will be in Libya too.
That said, if Iraq and Libya in their own distinct ways have given unto us one unifying lesson, it is that whilst great powers can remove oppressive structures and replace them with new models, what we cannot do is mould societies to utilise them effectively. Whilst we might be able to accelerate the process with appropriate inducement, this is an entirely organic process, one which is the responsibility of the people themselves. In this respect, this notion of "nation-building" is a misleading one.
Thomas Jefferson once remarked that, "The tree of liberty must be refreshed from time to time with the blood of patriots and tyrants". Nearly 5,000 coalition troops have laid down their lives in Iraq since 2003, not to mention the 110,000 civilians who have died at the hands of thugs and terrorists amidst the chaos. Now, the people of Iraq and Libya possess the chance to begin life anew, free from single-family rule, from pain and torture, and from the presence of an omniscient one-person state. Whatever the cost, of this, I believe we can be legitimately proud.
(Source: hackeryblog.wordpress.com)
Tuesday, September 13, 2011
9/11 and the Success of the War on Terror
"The notion of a world, not just America, confronted by a deadly evil that had indeed declared war on us all was not then dismissed as the language of the periphery of public sentiment. It was the sentiment. Thousands killed by terror – what else should we call it?" – Tony Blair, A Journey
9/11 did not revise the world – it alerted the United States to its place in it, central to an already existing dynamic.
Fascism with an Islamic face had been waging war against free thought, inquiry and expression for a number of years prior to that clear September morning. Salman Rushdie was forced to reside in hiding under the cloud of a fatwa, issued by a senile cleric in Tehran for the crime of writing a novel he had not read. In between Valentine's Day 1989, and September 11, 2001, the bombing of the USS Cole and the American embassies in Kenya and Tanzania were seen incorrectly as isolated assaults, in the manner of Oklahoma City bombing.
But the attacks on the World Trade Centre, on the Pentagon, and on United 93 marked a clear and bloody escalation of Islamo-fascism's conflict of terror and mass murder against the free world. In this war, there can be no middle ground. President Bush was correct to state that, after 9/11, on this issue of Islamic terror, you are either with the United States or against them.
And, the Bush administration was right to declare the United States would fight back, and begin not only a War on Terror, but on totalitarianism as a protector and inculcator of terror. 9/11 had viscerally demonstrated that, if we did not fight them 'over there' – wherever 'there' might be – al-Qaeda or other Islamist terror organisations would come here: to New York; to Madrid; to London. To have withdrawn from the world then, to have retreated in hermit-like fashion into a condition of isolationism, would have been reckless and flat-out immoral.
Pop theory states that this War on Terror has been a failure, since we find ourselves ten years moved from the event, with United States troops still in Iraq and NATO forces in Afghanistan, battling a resurgent Taliban. Moreover, liberating two nations at once has cost the United States over $2 trillion, at a time when, convention argues, that money could have been spent better at home.
This is plainly false: the War on Terror has been a success, to the extent that it has weakened al-Qaeda to the brink of near-collapse, eliminating its leader with a bullet in his left eye in the process. Not only that, but American and British armed forces – in cooperation with her allies – removed not one but two brutal, sadistic and totalitarian regimes from the map, in turn eliminating regimes which provided shelter and respite to terrorist crime syndicates.
Thanks to the work of our brave servicemen and women, Afghani and Iraqi societies have been transformed. Prior to our intervention, Afghanistan was run by an Islamist gang who fashioned out a society where little girls could not receive an education, where women were second-class citizens, and rape was not a crime but a punishment. On the matter of punishment, or rather torture, one common sentence was to have a noose tied around your neck and for it to be attached to the barrel of tank, whereafter it was ever-so-slowly raised, suffocating the victim.
In Iraq, unless you happened to be a member of the al-Tikriti clan, life under Saddam was a torturous summation of the awful possibilities of the human experience. Irrational and unhinged, he targeted ethnic and religious groups perceived as threats to persecution and extermination. Over 180,000 Kurds were liquidated during the late 1980s using chemical weaponry. Saddam starved the Marsh Arabs into the grave by draining their bread basket, the southern wetlands. Shi'ite residents of Dujail, including dozens of children, were slaughtered in 1982 in retribution for a failed assassination attempt.
The difference between pre- and post-Saddam Iraq, and before- and after-Taliban Afghanistan, is a distinction as clear as light and shade. Not only were al-Qaeda driven out of Afghanistan, reduced to inhabiting caves and botching attacks on the West, but for the first time in their respective histories, Iraqis and Afghanis now possess the constitutional right to vote and to free expression and assembly. They have access to free markets and a free press. They have a right to a normal existence.
All this has come at a price, not only for the peoples of these nations who have been subject to campaigns of terror from within their own borders, but for the United States armed forces too. To the families who have lost, all that can be said it that those who fell in pursuit of tyrants, in pursuit of liberty for those who did not yet possess it, fell as a reminder to people across the globe that freedom, as the United States expresses it, is a most beautiful and precious thing, but that Jefferson's words, as curdling as they are, have a chilling air of truth to them.
On the lesser financial question, for a nation as powerful both economically and military as the United States, building nations abroad and bridges at home is not an either/or decision. The country had then, during what was between 2001 and 2008 a period of relative economic boom, the option to do both. Instead, the Bush administration pursued a bread-and-circuses tax cutting agenda, placing the bill for homeland security on the national credit card.
But it must be asserted that not only was the War on Terror a necessary war, but the battle against totalitarianism was and is a battle worth waging. International coalitions not only liberated the people of Iraq and Afghanistan, but spared the world of two regimes that harboured terrorists and as such represented not just a threat to their citizenries, but their neighbours and the international community.
Vitally, the War on Terror and its totalitarian sponsors is a war we are winning. The Arab Spring was made possible, in part, by the removal of Saddam and the Taliban. But that it is happening at all is because our ideals – democracy, liberty, and justice – continue to be stronger and more powerful than those propagated by sadistic clerical tyrants.
(Source: hackeryblog.wordpress.com)
Friday, June 10, 2011
MIDEAST MEDIA ROUNDUP: June 10, 2011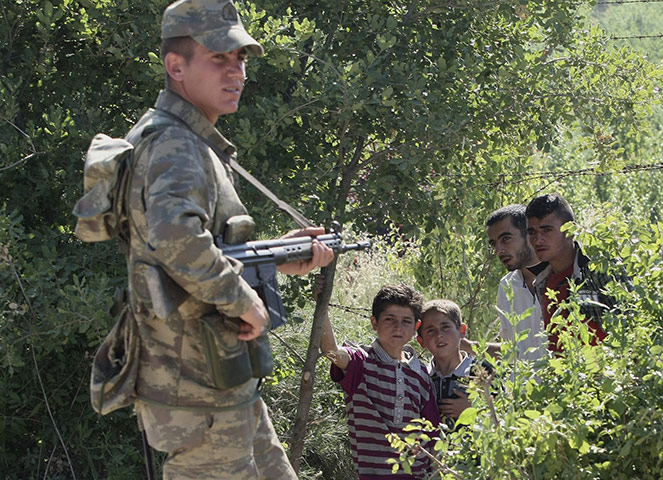 Syria
Libya
Turkey
Israel/Palestine
Yemen
Egypt
Iraq
(Photograph: Burhan Ozbilici/AP)
Friday, June 3, 2011
MIDEAST MEDIA ROUNDUP: June 3, 2011
Yemen
Syria
Libya
Israel/Palestine
Bahrain
Iraq
Jordan
(Photograph: Reuters)