Monday, May 13, 2013
Monday, December 3, 2012
Thursday, November 1, 2012
Wednesday, October 10, 2012
The Holidays End — The Election Begins
So it begins. For real this time, probably. Not like last time when we all thought it was beginning, only for a certain former defence minister to rain on everybody's parade. From Ha'aretz:
Prime Minister Benjamin Netanyahu announced early elections on Tuesday.

In a televised statement, Netanyahu said  that, as his coalition government would not be able to agree on a national budget for 2013, he had "decided, for the benefit of Israel, to hold elections now and as quickly as possible."

The elections would take place within three months, the prime minister said.  

"In a few months, the tenure of the most stable government in decades will come to an end," Netanyahu said. "This stability has helped us achieve the two main objectives we promised the citizens of Israel – to strengthen security at a time when a dangerous upheaval is gripping the Middle East, and [to fortify] the economy during…a  financial turmoil."

"We must maintain a responsible economic and defense policy," Netanyahu added, "to ensure that Iran does not have a nuclear bomb." He said that early elections are a "national interest," and thanked the citizens of Israel for the privilege they have granted him.
Obviously, this is terribly exciting in theory, except that's it's not in fact. Or at least, not at the moment. It is possible that a good deal might change in between now and February — will Ehud Olmert return? or Tzipi Livni? and what might become of Ehud Barak? — but at the moment, Likud will more likely than not return to power with a healthy plurality, granting them the privilege of creating the exact same coalition, with possible cosmetic adjustments, that they have forged during this Knesset:
And in line chart form:
Need it be said, plus ça change, plus c'est la même chose. More thoughts on the election to come…
Wednesday, May 9, 2012
by Ari Shavit, Ha'aretz, May 9, 2012
The Likud-Netanyahu government speaks of four goals: Changing the system of government, passing a new law governing Haredi conscription, creating a new social order and initiating a responsible peace process. But its real goal is Iran. For Netanyahu, bringing Mofaz into his government is like Levi Eshkol's bringing Menachem Begin and Moshe Dayan into his government in 1967. It creates a firm political foundation on which to conduct the strategic sparring with Ayatollah Ali Khamenei.

The national unity government provides domestic and international legitimacy to the anticipated confrontation. Now the Iran decision will not be the decision of the reviled messianic duo from Caesarea and Akirov Towers. Now the Iran decision will be the joint decision of Netanyahu, Defense Minister Ehud Barak, Mofaz and Vice Prime Minister and Strategic Affairs Minister Moshe Ya'alon. Instead of pre-Iran elections, we get pre-Iran unity, which does the same thing. Instead of a two-month window of opportunity (September-October 2012 ), we get a four-month one (July-October 2012 ).

A new and surprising political move brings Netanyahu to exactly the same place he had hoped to reach through an early election. The only difference is that our summer is a goner. The Iranian crisis could erupt any day - or night - between now and November.
Tuesday, April 3, 2012
Where Does Kadima Go Without Tzipi?
If Tzipi Livni's defeat in the Kadima leadership contest results in her diminution in Israeli public life, then Shaul Mofaz's victory will prove to be entirely Pyrrhic. If Livni merely heads towards the door marked exit and retires from public life, Israel's domestic scene and the international community will be all the poorer for it, for Livni is a first-rate politician whose intellect and vision for her country is equal only to her striking beauty and grace.

It is not unreasonable to place her philosophically in a line of Israeli leaders which runs from David Ben-Gurion through Yitzhak Rabin and Ariel Sharon, who came to the necessary conclusion that in order to secure a Jewish and democratic state for future generations, Israel would have to relinquish lands gained in war beyond the Green Line, and forge some kind of peace with the Palestinian leadership.

"The dispute," Livni remarked on the anniversary of Rabin's assassination, "is around the question of whether you can have it both ways – maintaining Israel as a Jewish state and keeping the entire Land of Israel". The answer, she concluded, is that you can't.

Her flaw, and what may indeed have resulted in her defeat to Mofaz, is that once the decision was made to take Kadima into opposition as opposed to coalition with Likud in 2009, she appeared lacking when it came to articulating a powerful and gripping counter-narrative to the more hard-line stance Benjamin Netanyahu has adopted towards both the Palestinians and Iran. Whilst Livni remains popular amongst the international community and in particular within the U.S. State Department, at home recent polling data before the primary showed that though Likud would stand to gain seats in the next election, Kadima under Livni would see their chunk of seats in the Knesset slashed in half.
Tuesday, January 10, 2012
Prior to his announcement that he was leaving Israel's Channel 2 to run for the Knesset, Yair Lapid, a popular Israeli media personality and son of the late Yosef (Tommy) Lapid, must have been encouraged by a Geocartography poll that placed an unnamed, hypothetical party led by him second, with 20 seats, behind only a diminished Likud party.

Whether he starts his own party or joins with an existing one like Kadima, Lapid represents a mainstream political position held by the kind of cosmopolitan Israelis galvanized last summer by the social justice protests and concerned about the erosion of the religion-state divide.

But the metamorphosis from journalist to politician is fraught with difficulties and has had a mixed history, even during periods when — as in Israel and the United States today — confidence in elected officials could not be much lower.
Saturday, October 29, 2011
by Yossi Verter, Haaretz, October 28, 2011
Since the social protest started, the polls have been been murderous for Livni and her party; the election of Shelly Yachimovich as Labor leader tore another chunk out of Kadima's flesh. Livni's silence during the Shalit deal and her speech earlier this week were not to her advantage. The alleged corruption involving the Kadima treasurer hasn't helped her either, although she was the one who discovered it and complained to the police. Even the special session Kadima convened this week to discuss the government's failures turned into a boomerang; in the part aired on television, Livni's rival Shaul Mofaz insulted her when he expressed support for the Shalit deal just a day after she had expressed opposition.

Thus, the Knesset winter session will be crucial not only for Netanyahu and his government and for Lieberman and his portfolio, but for Livni as well. The more she protects herself with the Kadima constitution, which grants her exclusive power to set the date for a party primary, the more she broadcasts weakness; Kadima members believe the primary will be next February.

In private conversations, Livni says she intends to put her faction in order; indeed, she still has majority support there. So far she has not weighed in on the bizarre phenomenon of Kadima MKs who quickly sign onto every racist and anti-democratic bill sponsored by Yisrael Beiteinu and Likud's right wing, other than saying that those MKs do not reflect the spirit of her party. Because of this behavior, it's not clear where the party stands on strategic questions, on legislation or vis-a-vis the concept of Israel as a democratic state. But maybe now Livni will enter the fray and assert her authority.

The message she intends to convey to activists in the field when the time comes is: "I will not remain in Kadima as Mofaz's deputy. Either you elect me again, or I'll disappear. I don't intend to stay in Kadima just to bring seats for Mofaz. I came to lead, to foment change. I can do that only from a position of leadership. Under Mofaz, Kadima will not be Kadima. I won't remain in the party because of some out-of-date rule. It's your choice, it's your decision."
Monday, August 1, 2011
Israel's Housing Crisis: How did we get here and where do we go next?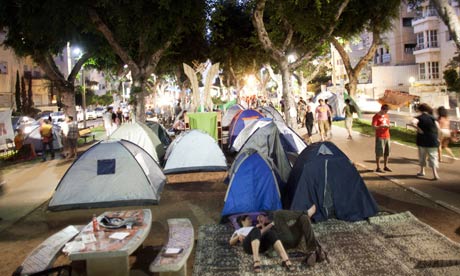 When the Knesset passed a most controversial and anti-democratic law banning all forms of boycott of Israeli produce, including those grown and manufactured in illegal West Bank settlements, leftist NGOs may have been a little irate, but amongst the Israeli populace no noises of disputation were heard.
It is all the more remarkable, then, that in the past couple of months, we have witnessed the emergence of two large protest movements, the second of which threatens to tear the coalition government apart. The first was somewhat trivial, at least to the outside observer, over steep increases in the price of dairy products, in particular cottage cheese. Most recently, a second and much bigger movement has begun, in the form of tent cities and large marches, voicing anger at the exclusionary nature of house prices in Israeli cities, in particular Tel Aviv.
Principally this is a youth driven movement, a generation of graduates and young workers who cannot afford to break out on their own and set up home in Tel Aviv. In normal circumstances, and in larger nation-states, this particular demographic would arguably move away from the more expensive neighbourhoods and take up residence in the outer boroughs or in a different city altogether.
But Israel suffers from the reality that Tel Aviv is in many ways a nation unto itself, with its own unique liberal social atmosphere and way of life, one which many young people who have grown up in the city have imbibed, find attractive and difficult to leave. Tel Aviv is a magnet in many ways: a 24 hour pleasure palace, a hub of business and innovation with a pleasant climate, above-par infrastructure and beautiful beaches. The greater metropolitan area has a population of 3.3 million people, in a nation whose total population amounts to 7.7 million.
Thus it is dangerously overpopulated, but it is so out of necessity. The folks camping out in tent cities do so because they have nowhere else to go. Employment prospects in Jerusalem, for example, are bleak – it's a city where you either take a government job or have nothing at all. Moreover, there is little incentive to branch out to locales in the more hostile northern or southern areas of the country, with less open, cosmopolitan social atmospheres. And, of course, these hubs are at greater risk of bombardment from forces hostile to the state's very existence: Hezbollah in the north; Hamas in the south.
This precarious imbalance within Israeli is nothing new, so that Tel Aviv's unhappy campers are without a roof is largely the responsibility of the state itself. A Forward editorial notes that between 1994 and 2009, the government constructed only around 20pc of the housing units built in Israel. The situation is all the worse in Tel Aviv, where from 2006 to 2009, not one of public housing was put up. Compare this with the fact that over the same time period, 48.4pc of all new homes in settlements in the occupied territories were erected by the Israeli government, and a picture of neglect and wilful ignorance begins to materialise.
The pain inflicted by an absence of a large subsidised housing stock in the Israeli métropole is felt all the more fiercely in Tel Aviv, which is presently experiencing a housing bubble. Globes reports that the average price of a four-room apartment rose 28pc in Tel Aviv to NIS 2.74 million ($800,000) in December 2010 from NIS 2.5 million ($730,000) a year earlier. In 2006, the average price was NIS 1.1 million ($320,000). The average income across all employment sectors is NIS 86,000 ($25,000) per annum gross (compared to $42,000 gross in the United States).
This price explosion coincides with an expanding gap between rich and poor – a scenario all too familiar to those of us residing in, for better or worse, Reaganised or Thatcherised societies. Israel in now on a par with the United States in this respect: in the latter, the poorest 10pc share 1.9pc of the nation's income, compared to 29.9pc for the wealthiest 10pc. In Israel – a state founded on socialist and Labour Zionist principles – the poorest 10pc share 2.1pc of the nation's income, in contrast to 28.8 for the richest 10pc. Whilst it must be taken into account that these statistics are skewed by the increase in the numbers of Orthodox Haredi Jews who often do not work and rely on welfare in order to maintain their pious lifestyles, this obviously represents a disturbing trend in such a tiny and compact country.
All of this taken into account, that protests have arisen at this juncture is not without good cause, yet in a nation so averse to the very idea of mass protest for so many years, these tent cities remain a pleasant surprise. The consequences of the most important movement so far in twenty-first century Israel are not yet clear, though writing in Haaretz, Gideon Levy is pretty adamant. "As of Saturday, Benjamin Netanyahu is a lame duck," he wrote over the weekend. "Netanyahu will stay in office for a time, but his time is up. Finished. He will squirm and make promises, make declarations and turn tail, he will trot out a few more tricks, but it won't help him an iota."
For all the discussions about the occupation, the two state solution and the future of the Arab-Israeli conflict, Netanyahu may end up being brought down first by cottage cheese, and then by a housing shortage. In Israel as in the rest of the world, when it comes to politics, the economy trumps all.
Monday, July 25, 2011
Netanyahu and Lieberman: It's Not Me, It's You
Of course, it was only a marriage of convenience to begin with. Likud and Yisrael Beiteinu share very little of an affinity ideologically (though they are both on the right of the Israeli political spectrum). And, there never really has been and certainly isn't now any kind of special, tender relationship between Benjamin Netanyahu and Avigdor Lieberman.
When the Prime Minister appointed Lieberman to head up the Foreign Ministry in February 2009, it was a means to an end, a way of locking Israel's third largest party into his coalition as to cement Netanyahu's position at the zenith of Israeli politics. That the relationship functioned so agreeably until recently is a testament to how little the current government has attempted to achieve in the way of domestic policy and, need it be said, finding a solution to the Palestinian conundrum.
Now, Netanyahu and Lieberman are rapidly drifting apart. The collapse of the axis most central to the stability of the current government has accelerated, in only the past couple of weeks, due to the collision of a number of events which have exposed the ideological gap that exists between them both.
It began with Netanyahu's decision to implore his own party to vote against a Bill his coalition sponsored, that would have initiated investigations into left-leaning NGOs such as Peace Now. This proposal, pioneered by Lieberman's party under their "citizenship and loyalty" umbrella, was described by MK Ahmed Tibi as having the potential to bring Israel "one step closer to 1984", and was defeated by a vote of 28-57 in the Knesset.
Following Netanyahu's volte-face, he was subsequently blasted by Lieberman. "What changed since the preliminary vote in the Knesset?" the Foreign Minister asked of those gathered. "There was pressure from the media and the international arena. All of a sudden Israeli leaders cannot withstand the pressure and are changing their position dramatically".
This is by no means the only occasion when Lieberman has deemed it necessary to openly query and undermine his Prime Minister in a public forum. For, the Likud and Yisrael Beiteinu leaders have also separated on the issue of the first Gaza flotilla. Senior figures within the cabinet are discussing the possibility, or perhaps necessity, of apologising to the Turkish government for their handling of the takeover of Mavi Marmara last May in order to repair bilateral relations.
Likud Deputy Prime Minister Dan Meridor is said to support such a move, as does the Defence Minister Ehud Barak. At once, Avigdor Lieberman vehemently opposes issuing an apology, arguing that doing so would mean Israel showing "weakness, embarrassment, and an inability to withstand pressure". In the same breath, Lieberman labelled Israel's political elites – meaning, of course, his colleagues – "irresponsible".
Tensions within the coalition have also come to light amidst protests in Israeli cities over access to accommodation. In Tel Aviv, Jerusalem and elsewhere, tent villages have sprung up in public spaces, challenging the Netanyahu government over its inability to provide any answers to the country's high rent prices and limited housing stock. Netanyahu is reported to have demanded of his ministers "give me ideas for a solution", after but a handful of MKs seemed willing to cooperate on this matter, or indeed defend the government in media interviews.
Such policy disagreements come within a wider context of Netanyahu, if not drifting back towards the centre-right and into the arms of his former colleagues in Kadima, then certainly distancing himself from far-right elements like Lieberman who he has been in cahoots with since the last election.
With September ebbing nearer, Netanyahu has decided to return to the matter of peace. In a rare interview with al-Arabiya, Netanyahu made clear to the Palestinians and the Arab world that "everything is on the table", including the right of return and Jerusalem, "but we need to get to the table". He emphasised repeatedly that Israel, and indeed he in particular, was open to talking again: "We can do it here in my home in Jerusalem, we can do it in Ramallah, and we can do it anywhere".
Though Lieberman ostensibly supports the two-state solution, even uttering the words "everything is on the table" will only hasten the demise of their political bond. We bear witness, then, to the beginning of the end, to the conclusion of the union between Likud and Yisrael Beiteinu that has for two-and-a-half protracted and agonising years suffocated the country at home and irrevocably damaged the standing of the State of Israel within the international community.
Lieberman and Netanyahu are breaking up. It's a mutual thing, but an instance when both parties seem to be saying: "It's not me, it's you".
(Source: theurbn.com)