Tuesday, September 25, 2012
Aside from the latent anti-Semitism that motivates the European political fringe, there are two possible explanations for why Marine Le Pen felt it necessary to explain that if France is to proscribe the hijab or chador in the public square as she favours, "it is obvious that we must ban the kippa." She added that both kosher and halal meat must be outlawed together, since the greater good of the republic must be placed above the wants and needs of any one community.

The first was unwittingly alluded to by Le Pen herself, in an interview given to French television. "Jewish skullcaps are obviously not a problem in our country," she said, but France has to "ban them in the name of equality." Tellingly, she concluded, "What would people say if I'd only asked to ban Muslim clothing? They'd burn me as a Muslim hater." French Jewry is innocent of any offence against the republic, but Le Pen has to offer up the kippa ban, lest she be suspected of only hating Muslims.

The other is that Le Pen made another outrageous and inflammatory statement in a sad bid to sustain her already overly-augmented national profile. Le Pen managed to finish third in the first round of the presidential election in April, and missed out on a seat in the National Assembly by only 118 votes in June by exploiting fears of rising crime and socio-cultural change amongst white working class voters. It is not coincidental, then, that this interview was given just before the start of the Front National's summer conference, and at a time of cultural conflict between secularism and Islam regarding the cartoons mocking the prophet Muhammad that were published in a French satire magazine.
Thursday, March 22, 2012
After Toulouse, Reviewing the Politics of Hate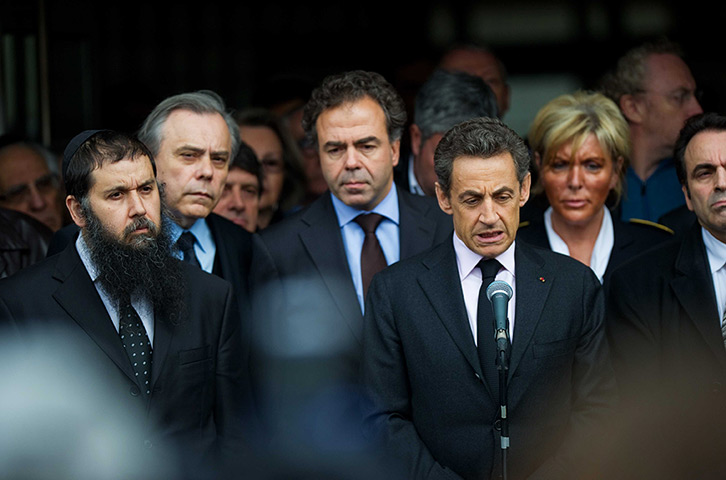 The slaughter of Jewish schoolchildren in Toulouse, and the emergence of a Muslim suspect who claims ties to al-Qaeda, has focused a piercing light on the temporarily halted presidential campaign, and specifically the heated rhetoric that has characterised the argument over immigration.
Nicolas Sarkozy, in order to win over disgruntled Front National voters, has moved decidedly rightward on this subject. Appearing on France 2's Des paroles et des actes, he proclaimed that integration in France was failing since there are "too many foreigners on our territory". He proposed to "divide by two the number of people that we welcome". In the same vein, in a later campaign speech Sarkozy threatened to pull France out of the Schengen zone.
The President even engaged in a debate with Le Pen over kosher and halal meat, following her assertion that "all the abattoirs of the Paris region have succumbed to the rules of a minority". After initially dismissing her claims, Sarkozy flip-flopped, calling for all meat sold in France to have labels outlining the method of slaughter.
The Prime Minister, François Fillon, was promptly dispatched to repair relations with the Jewish and Muslim communities, yet the damage is already self-evident. In a campaign marked for its lack of ideas or substance, racial and religious minorities became the subject of demonisation and delegitimisation. Sarkozy's Interior Minister, Claude Gueant, went so far as to openly use the old nationalist axiom, "les Français ne se sentent plus chez eux" – "the French no longer feel at home".
Wednesday, March 7, 2012
"
Our system of integration is working more and more badly, because we have too many foreigners on our territory and we can no longer manage to find them accommodation, a job, a school. …Over the five-year term I think that to restart the process of integration in good conditions, we must divide by two the number of people we welcome, that's to say to pass from 180,000 per year to 100,000.
"
Nicolas Sarkozy, appearing on national television last night, attempted to solidify his elderly, right-wing base and appeal to wavering Front National supporters by raising the subject of immigration.
Sarkozy did not go as far as previous Gaullist leaders in his rhetoric — nowhere near as far, in fact, as Jacques Chirac, who referred in one awful address to a straw-man Maghrebi with a handful of wives and a dozen children living in a council-run tenement on benefits (…the noise and the smell…).
But, such language is disappointing from a leader of which I expect a lot more. There is enough material on Hollande (Monsieur 75%), Bayrou, and Le Pen to conduct a thorough and fair campaign, using their own policies and rhetoric against them, without going slumming or using godawful dog-whistles.
(Source: google.com)
Thursday, February 23, 2012
On January 27, premiers, community leaders, and survivors gathered across Europe to mark Holocaust Memorial Day and the liberation of Auschwitz-Birkenau. That same evening, the continent's far-right leaders gathered in Vienna for an unrelated gala dinner and dance. Among them was Marine Le Pen of France's Front National, the country's prominent and often controversial nationalist party. Accused of having "danced on the graves of Auschwitz", her appearance was incongruous to the new image she is offering France's Jewish voters, having previously called the Holocaust the "epitome of human barbarism."

Much has been made of the dauphine's attempts to reform the party she inherited, moving it away from Jean-Marie and his legacy of Holocaust minimisation, with the apparent hope even of winning over a few Jewish voters. She is attempting to appeal to two of the French Jewish community's principal concerns — insecurity and Israel — by speaking of the need for Islam to become compatible with French secular principles, and adopting a pro-Israeli posture, arguing her party has "always been Zionistic and always defended Israel's right to exist."

Her overtures to the Jewish community are part of a wider effort, aimed at building upon the 10% of the vote her father attracted in 2007 by and making the party more broadly attractive. With the European economy struggling, President Nicolas Sarkozy is the least popular right-wing incumbent in the history of the Republic. There is a sense then, in the party at least, of opportunity — that Le Pen could propel herself into the second round by picking up enough disgruntled swing voters.

In reality, Le Pen will likely struggle to elicit any actual Jewish support for her party. Jewish leaders at a recent dinner for the Representative Council of French Jewish Institutions, a prominent group in the country, made clear that a vote for Le Pen would be unacceptable. The organization's president, Richard Prasquier, told a reporter, "We won't vote for the Front National."
Read more: http://www.theatlantic.com/international/archive/2012/02/the-french-far-rights-unlikely-bizarre-effort-to-court-jews/253498/
Friday, February 3, 2012
Upon suggesting that Yom Kippur ought to be made a national holiday in France last month, Eva Joly - candidate for Les Verts - was briskly condemned by the left, the right and the far-right. Marine le Pen went so far as wonder aloud: "I have to ask myself if Eva Joly finds anything good in France, our people, traditions, history and life morals".

François Hollande's just-published campaign manifesto - his 60 "engagements" or pledges - reinforced what his spokesman called "the great French principle of secularism", laïcité, by proposing the constitutionalisation of the 1905 law on separation of church and state. Nicolas Sarkozy shot this down as a "fundamentalist vision of laïcité", arguing that codification would "exclude from the public sphere references to the cultural or intellectual elements of religion".

At present, laïcité demands the total exclusion of the church, synagogue or mosque from the affairs of state, treating all religions equally and granting none special rights or privileges above any other. Elevating Yom Kippur to the status of a public holiday would directly challenge this secular status quo.
Read more: http://www.thejc.com/comment-and-debate/analysis/62994/will-french-greens-get-yom-kippur-be-a-national-holiday-not-so-fas
Thursday, February 2, 2012
Le Meilleur Homme: Sarkozy in Light and Shade
There is no perfect candidate running for the French presidency. Then again, putting it mildly, since the inculcation of the Fifth Republic France has never had a perfect President.
The first, Charles de Gaulle, was a quasi-fascist military ruler with a nasty prejudice towards the non-French and Anglo-Saxons in particular. He took power under the cloud of a coup d'etat led by Jacques Massu and other fifth columnists in Algeria, and clung to power by bullying other nations and over-egging the narrative of French resistance during the Second World War. De Gaulle, it should be noted, led this so-called effort from a palatial structure on Carlton Terrace in St. James's, and subsequently spent the better part of his presidency deriding the very peoples and nations who liberated France not once but twice from foreign aggression during the twentieth century — he was, then, the very epitome of an armchair general.
Those who followed de Gaulle could hardly be as pompous, but the French hardly witnessed a great deal of improvement in the calibre or moral fortitude of their leaders. François Mitterrand was a Petainist sympathiser who laid flowers annually on Armistice Day on the grave of the leader of the Vichy government, a puppet regime which collaborated with the Nazis and was complicit in the Shoah. Mitterrand also hid a secret daughter whom he had fathered with his long-time mistress, opposed German unification following the fall of the Berlin Wall, and presided over such disasters as the genocide in Rwanda (a former French colony and the most Catholic country in Africa), the sinking of the Rainbow Warrior, and the HIV contaminated blood scandal.
He was succeeded by Jacques Chirac, a neo-Gaullist race-baiter with ideas above his station, who lead the effort in by-proxy support of Saddam Hussein, in opposition to the long-postponed liberation of Iraq. A French court convicted him late last year of "diverting public funds and abusing public trust" during his tenure as Mayor of Paris — Chirac used the city government as a platform to construct a powerful political and electoral organisation with himself at the centre, using public funds to pay members of his party for jobs which did not exist.
I say all this not just out of a combination of glee and disgust, but to put into some sort of context the competency which marked the Sarkozy presidency above all others, relatively speaking of course. This is not say to that he hasn't been a little embarrassing, at times seeming as if he was stumbling from one comedic incident to the next: from his drunken post-lunch press conference after meeting Vladimir Putin, to a contretemps out on the stump where he castigated a citizen for neglecting to shake his hand.
The problem for Sarkozy is that these moments which should be considered trifling and ethereal have been blown up, as to make seem more monumental than they truly are, and paint a portrait of Sarkozy as an aloof, bumbling fool, not fit to inhabit the Élysée Palace. This goes some way to explaining why, based upon the most recent survey conducted by French polling organisation CSA, Sarkozy would lose in a runoff with the PS candidate François Hollande by 20 points.