Thursday, December 20, 2012
Selections from The Paris Review
Then there is the business of surprise. I never know what is coming next. The phrase that sounds in the head changes when it appears on the page. Then I start probing it with a pen, finding new meanings. Sometimes I burst out laughing at what is happening as I twist and turn sentences. Strange business, all in all. One never gets to the end of it. That's why I go on, I suppose. To see what the next sentences I write will be.
— Gore Vidal, on the pleasure of writing: (Autumn 1974)
Another thing I need to do, when I'm near the end of the book, is sleep in the same room with it. That's one reason I go home to Sacramento to finish things. Somehow the book doesn't leave you when you're asleep right next to it. In Sacramento nobody cares if I appear or not. I can just get up and start typing.
— Joan Didion, on the rituals of writing: (Fall/Winter 1978)
Productivity is a relative matter. And it's really insignificant: What is ultimately important is a writer's strongest books. It may be the case that we all must write many books in order to achieve a few lasting ones—just as a young writer or poet might have to write hundreds of poems before writing his first significant one.
— Joyce Carol Oates, on productivity: (Fall/Winter 1978)
I type out beginnings and they're awful, more of an unconscious parody of my previous book than the breakaway from it that I want. I often have to write a hundred pages or more before there's a paragraph that's alive. Okay, I say to myself, that's your beginning, start there; that's the first paragraph of the book.
— Philip Roth, on beginning a new novel: (Fall, 1984)
Born in 1927, in Germany, I was twelve years old when the war started and seventeen years old when it was over. I am overloaded with this German past. I'm not the only one; there are other authors who feel this. If I had been a Swedish or a Swiss author I might have played around much more, told a few jokes and all that. That hasn't been possible; given my background, I have had no other choice.
— Guenter Grass, on the role of literature in Germany's coming to terms with its past: (Summer 1991)
Thursday, December 13, 2012
Friday, November 16, 2012
Tuesday, October 30, 2012
by James Wolcott, The New Republic, October 19, 2012
Amis was never the sort of cozy writer who could settle into a plummy mellow maturity—as in Time's Arrow and The Information, his mature voice bears the mortal freight of history's horrors and of personal extinction—and as he keeps sharp watch on the chipping away of body and mind by aging's cruel elves, going full curmudgeon isn't really an option. His father beat him to it with his fussing about language and his reactionary effusions, and the son is too adventurous to revive that crusty vaudeville act. Another model offers itself: his hero and mentor Saul Bellow, who managed to maintain up to the end a sly, clued-in voice that had an octopus reach of everything around it—a confidential monologue at the service of Bellow's wraparound curiosity and cagey parsing of others' motives, which became so embracing that his later novellas turned into conversational suites. But dialogue in Amis's novels, which certainly is plentiful, stays stuck on the platform, since he is less interested in the intimacies of characters than in the ideas or the conceits that they envelop, and there is no dialectic between his cut-out dolls, no Shavian jousting. Lionel Asbo ends with a domestic note of renewal, of new life coming into the world, but it is an unconvincing, hackneyed exit, because Amis is not really engaged in new life coming in but in old life going out, the twilight shimmer before the curtain drop. He hasn't found a way to voyage into it yet, as Bellow did and Philip Roth ragingly has. He's got time, but the hour is late.
by James Parker, The Atlantic, November 2012
Unfresh usage upsets Amis. (That sounds like a crossword clue.) "Herd writing, herd thinking." Be vigilant, young word-slinger. Be moral. The journo-clunker, the stale mandarinism—root them out! In this regard, I have to say, I think he has improved me. He's the reason I won't write woefully inadequate or use any form of the verb limn; why I will never describe a person as drug-addled, a biography as magisterial, or a piece of high-tempo music as hyperkinetic.

Here's the thing, though. The refusal to use drug-addled brings with it—entrains, as Amis would say—an obligation to come up with something else, something better. Drug-demented? Drug-bespattered? Burning heretically on his/her pyre of drugs? For me, a non-genius, this obligation is something of a strain. I tend to think in lumps, not in language. I have to translate my thoughts. And this word isn't good enough, and that word isn't good enough, and round and round we go … In this state, it can be hazardous to read Martin Amis—to suffer the thrills of envy (I want it!), larceny (Can I steal it?), resentment (Bastard!), all leading where? Ah, you know where: into a writer's dark night, the meat-locker chill of professional despair. The ego, inverted. I might as well give up. Pete Townshend and Eric Clapton, watching Jimi Hendrix at The Scotch of St James in London, were (according to Townshend) so harrowed with fear and wonder that they found themselves meekly holding hands. The apprentice writer reads Martin Amis, and whose hand can he hold but his own? A circuit, a misery loop—down you go, in sobbing spirals. You'll never be able to write "As the horses now nobly loomed …"
Wednesday, October 17, 2012
Monday, September 24, 2012
Wednesday, August 29, 2012
Friday, August 24, 2012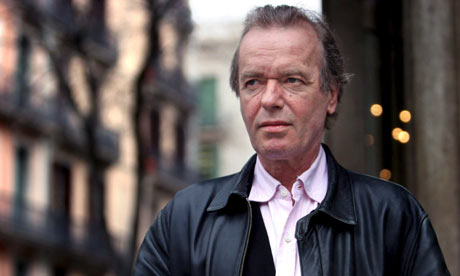 "The subtitle is there for those who want it," Martin Amis told New York last month. And, by God, when his novel Lionel Asbo: State of England was published in the Mother Country in June, the British press took the bait. Critical of aspects of contemporary English culture, and starring a lager lout debt collector who wins £140 million on the lottery and is catapulted to stardom, Lionel Asbo triggered a kind of reflexive, nativist hostility that in part Amis must have expected.

Amis was accused of thumbing his nose at the country and at the working class by creating a "cartoonish riot of snide prole stereotypes", "a cardboard cut-out of broken Britain", and a "pornotheological farce" that is "persistently wrong in jarring ways." The latter condemnation came from Theo Tait's review in The Guardian, one which could not help but note that Lionel Asbo's publication came "soon after Amis's departure for America." Tait seems to insinuate for all media that it would be better if Amis never came back.

There are legitimate criticisms to be made of Lionel Asbo, as when Michiko Kakutani suggests in The New York Times that perhaps it "lacks the kinetic energy and raw, edgy poetry of Amis' finest work." But in England, the antagonism displayed towards Amis, and in particular the charge that he as an upper-middle class novelist displays unbelievable snobbishness, lacks nuance, and is based upon a fundamental misreading of the novel.
Wednesday, August 8, 2012
by Martin Amis, The New Republic, August 3, 2012
Conspicuous persons, in my motherland, are most seriously advised to lead a private life denuded of all color and complication. They should also, if they are prudent, have as little as possible to do with America—seen as the world HQ of arrogance and glitz. When I and my wife, who is a New Yorker, entrained the epic project of moving house, from Camden Town in London to Cobble Hill in Brooklyn, I took every public opportunity to make it clear that our reasons for doing so were exclusively personal and familial, and had nothing to do with any supposed dissatisfaction with England or the English people (whom, as I truthfully stressed, I have always admired for their tolerance, generosity, and wit). Backed up by lavish misquotes together with satirical impersonations ("cod" interviews and the like), the impression given was that I was leaving because of a vicious hatred of my native land and because I could no longer bear the well-aimed barbs of patriotic journalists.

"I wish I weren't English": Of all the fake tags affixed to my name, this is the one I greet with the deepest moan of inanition. I suggest that the remark—and its equivalent in any language or any alphabet—is unutterable by anyone whose IQ reaches double figures. "I wish I weren't North Korean" might make a bit of sense, assuming the existence of a North Korean sufficiently well-informed and intrepid to give voice to it. Otherwise and elsewhere, the sentiment is inconceivably null. And to say it of England—the country of Dickens, George Eliot, Blake, Milton, and, yes, William Shakespeare—isn't even perverse. It is merely whimsical.