Friday, August 31, 2012
The Final Day: Romney, Rubio, and the Rambling Man
Mitt Romney's general agenda has been revealed. In a speech delivered well and composed entirely of fluff and lies, Romney pledged to create 12 million new jobs, though over what time period he didn't say: four years? eight years? He will do this via: energy independence; education reform; free trade; deficit reduction; tax cuts; and repealing Obamacare. He actually said "repealing and replacing Obamacare", though again with what I have no idea. He also promised to "preserve a military that is so strong, no nation would ever dare to test it", which doesn't made a lick of sense given he wishes to reduce the national debt.
If there was one line which sums Romney up, it is this: "As President, I will honor the institution of marriage." When running for office in Massachusetts in 1994, Romney promised to be better on the issue of gay rights than Ted Kennedy. Now, in 2012, running as the head of a party bigoted on this issue, he is pledging to pass a federal marriage amendment, proscribing the bond as a purely heterosexual institution.
Marco Rubio actually managed to do what Chris Christie failed to do on Tuesday: endorse Mitt Romney while discussing his own story, a lot. Never mind that Romney's current spokesman once called Rubio a "wheeling and dealing Miami lobbyist and politician, always trying to scam the system for his personal benefit". Rubio has a very strong religious identity — ergo, parts of his speech were contemptuous and ahistorical. Case in point: "Our national motto is "In God we Trust," reminding us that faith in our Creator is the most important American value of all." If Rubio wishes to be President one day — and clearly he does — then he needs to stop talking like a theologian.
Clint Eastwood looked and sounded like a shambling old man who the Republicans found on the street eating baked beans from an old shoe and stuffed into a suit for primetime. The guy was talking to an empty chair a lot of the time, and what he said didn't make any sense, principally because he was either advocating Democratic positions or mumbling about student loans. I don't think he endorsed Mitt Romney either — in fact, he did everything possible not to do so. It was wonderful.
I was glad that Jeb Bush raised the question of education reform. The American education system has been unsatisfactory for the public at-large for decades, and as Bush said, the failure to give every child in America an equal opportunity is "the great moral and economic issue of our time". But when Bush proposes "school choice" as one of the solutions, we must be extremely careful. Giving parents a choice, on the right at least, is code for instituting a school voucher programme, handing education over the private sector, resulting in the undermining of state education. The aim should be to improve public schools, not gut them.
Newt and Callista Gingrich gave one of the most boring and downright queer speeches ever addressed to a national convention. Even though for Newt, lying is akin to a past-time, he is normally at least an engaging and free-flowing speaker on the stage, on the stump, and in debates. But for their tribute to President Reagan and Gov. Romney, he and Callista read from a prepared text, alternating paragraphs as if they were, to steal Chris Hayes' joke, presenting an Oscar for Best Departed President.
Tuesday, August 28, 2012
Sunday, June 24, 2012
The (Partial) Rehabilitation of Newt Gingrich
Newt Gingrich's recent appearance on MSNBC's Hardball with Chris Matthews, complete with an odd line of questioning regarding his favourite zoological creatures, commenced another attempt at a very public rehabilitation. Given the depths to which his failed presidential campaign sunk, including the frequent use of racist and anti-Semitic dog-whistles, this is something that this time around probably ought to be discouraged.
He ought, however, to be forgiven for one, ill-shaped if fairly lucid remark that at its re-airing during the Florida primary was pilloried from the left and right, but in retrospect was more salient that it first seemed. Addressing the National Federation of Republican Women in 2007, Gingrich proposed that since "the American people believe English should be the official language of government", bilingual education should be replaced "with immersion in English so people learn the common language of the country and the language of prosperity, not the language of living in a ghetto".
At the time, his comments were interpreted as to show that Gingrich called Spanish specifically a ghettoising language, given the locale of the primary in question. Both the Democratic Party and the Romney campaign thus cried racism and prejudice, and in doing so associated the word 'ghetto' with the more seedy aspects of that term, namely poverty, ignorance, and crime. Certainly, on initial reading, it is difficult not to flinch at the way in which Gingrich's tongue, once more, got the better of him, using unnecessarily provocative in order to make what otherwise might have been seen as a perfectly legitimate argument.
Yet when 'ghetto' is taken to mean a condition of isolation, self-imposed or otherwise, then Gingrich was in a sense correct in his remarks. Without the use of English in the United States, Spanish or indeed any other tongue used exclusively does in fact become in effect a language of the ghetto. It becomes a language of solitude and community insularity, one that prevents ascension out of one's present condition via the normal channels including higher education and employment where a firm grasp of English is necessary.
Monday, March 12, 2012
by Ryan Lizza,The New Yorker, March 12, 2012
At the back of the room, Maria Sullivan, who is ninety-one, made a gagging sound. "Romney is like a wilted flower," she shouted. Her daughter Phyllis tried to silence her with an elbow—"Don't start that!"—but Sullivan wouldn't be quieted: "He's just like a wilted flower. Unless you give him some water, he's just like—" Sullivan, who is originally from the Lower East Side of Manhattan, and still sounds like it, stuck out her tongue and gagged again. "I like Gingrich, because he fights," she said.

The Gingrich faction was emboldened. "Look at the ads that are on television about Gingrich," one man said. "Romney hasn't taken them off, and I think they're despicable. They're only geared for a non-thinking-type person. And the non-thinking-type person has a lot of votes, especially in this town."

The Romney backers, who had largely remained silent, started to speak up. A woman raised her hand and asked politely if she could speak negatively about Gingrich. "I agree with one thing you said," she continued. "Washington is full of slimeballs, and we need to get rid of them. But we don't need to put them in the White House."

Romney won twenty-four votes to Gingrich's eight, Santorum's three, and Ron Paul's three. Phyllis, who backed Santorum, told me that Romney won because of his religion. "This is L.D.S. territory, and Romney is L.D.S.," she said. "They'll support their own no matter what."

It was just the sort of caucus that critics of the system, including the late Polsby, feared. It had broken down into factions, based partly on religion. It had devolved into name-calling.
Wednesday, February 29, 2012
Notes on the Exit Polls
What can we learn from the exit polling data out of Michigan and Arizona? about Santorum, Romney, Paul, and that other guy who I guess is still running, you know Shelly Adelson's friend… No, it's gone. But, to our findings:
In spite of his attempts to alienate women voters via his views on abortion, gay marriage, and contraception, Santorum did not lose out in this demographic. In Michigan, 38pc of men and 38pc of women voted for him — an even split. In Arizona, more women than men voted for him in fact, 29-23pc.
People with a college degree were more likely to vote for Romney than Santorum, with the former winning graduates 45-37, indicating perhaps that Santorum's "snob" remarks had some impact, if not a great deal.
On income, Romney kills it amongst those who earn $100,000 or more per annum — no surprise there!
In Michigan, Santorum won in unionised households, 45-30pc — a margin of 15 pts. This would indicate perhaps that the robo-calls against Romney worked, and those who operate in the manufacturing sector were not willing to forgive him for the line, "Let Detroit Go Bankrupt".
Michigan held an open primary, meaning Democrats and Independents could vote. This resulted in somewhat of a spoiler effect: amongst people who self-identified as Democrats (9pc of the electorate), Santorum beat Romney 53-18pc. Let the show go on, was the message…
Santorum's bizarre and, it might be asserted, downright un-American interpretation of the First Amendment enabled him to hang onto the born-again evangelical vote, in spite of his Catholicism. In Michigan, his win over Romney in this demographic was pronounced, 51-33pc. He also won 63-21 over Romney, amongst individuals who said that it was very important that their nominee share in their religious beliefs, and 60-25pc, amongst those who said that abortion should illegal in all cases.
Interestingly, Santorum also won 51-22 over Romney, amongst voters who said they were voting for him because they disliked all the other candidates. Romney, by contrast, won amongst those who said that they strongly favoured their candidate. Santorum, then, is gaining traction merely because of who he isn't, rather than who he is.
A final thought, speaking of Adelson, it would be tempting to conclude that, having won Michigan and Arizona, Romney is once again inevitable. Don't be fooled. Santorum remains a threat amongst social conservatives who are motivated only by the issues of abortion, gay marriages, and now contraception apparently. Moreover, Gingrich — that's his name! — has been waiting down in Georgia in the manner of a stalking horse, holding onto Super Tuesday for the larger Southern states. Given that Adelson recently cut his SuperPAC a cheque for a cool $10 million, the narrative of Super Tuesday may just be the third or fourth re-birth of Newton Leroy Gingrich.
Thursday, February 9, 2012
The Future for Newton Leroy Gingrich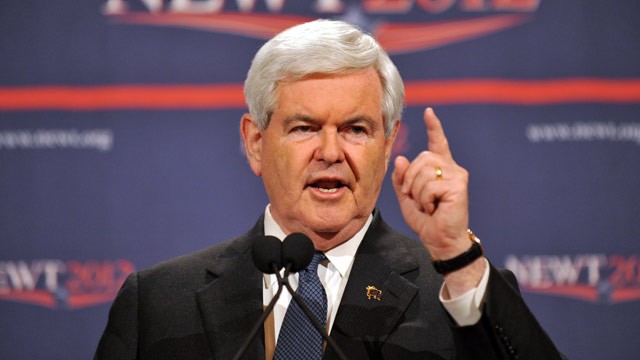 The punditocracy has spoken: Rick Santorum, by winning Colorado and Minnesota, has a fantastic night and may just be the new non-Romney. Romney had a setback, and Paul continues to do well in caucus states. But what of Newton Leroy Gingrich? The man who Joe Scarborough once said was "destined to survive a nuclear holocaust", along with cockroaches and Cher.
Well, Gingrich's professional life has been lived according to Gore Vidal's maxim, "Never pass up a chance to have sex or appear on television". Of late, Gingrich has spent more time on the latter than the former, popping up on the cable networks and Sunday shows, in order to denounce Romney as a "Massachusetts moderate", and launch ever more fantastical campaign appeals.
The more he speaks, the more it reinforces the view that the man is a megalomaniac, prone to bombast and grandiosity. Just yesterday, Gingrich published a draft executive order permitting the construction of the Keystone pipeline, as if he were in fact the President of the United States, or at least the Republican nominee. It takes an individual of incredible steel, self-delusion, and little-to-no social awareness to commit such an act.
Monday, February 6, 2012
by Maureen Dowd,The New York Times, February 4, 2012
The Republican establishment is chasing Newt around the country with a butterfly net. But when he looks into Callista's bright blue eyes, he's reminded of his adolescent dreams of exploring galaxies and saving civilization.

When Barack is cocky and looks at Michelle, he might see her thinking: "You're no messiah. Pick up your socks." But when Newt is cocky and looks at Callista, he sees her thinking: "You are the messiah. We'll have your socks bronzed."

Where Michelle sees herself as the puncturer of delusions, "the Department of 'Let's Get Real,' " as an aide called her, Callista reinforces Newt's delusion that he can be president — even when the staff quit en masse last June because he put pampering her above campaigning.

In business, the Transformational Wife is less complicated. In politics, she's a double-edged spouse. She feeds his ego like a goose destined for pâté, but drains support among some women and some evangelicals who disapprove of a man who keeps trading in wives, even sick ones.
Thursday, February 2, 2012
"
Jackie calls Newt at home just before she goes into surgery. "Newt, I'm more certain than ever that I want a divorce."
"But, honey, you're about to undergo cancer surgery! You don't know what you're saying!"
"Newt, please. When you bring the girls today, I also want you to bring a legal pad with terms for a divorce."
"For godsakes! You're having cancer surgery!"
"Would you stop it?! This is what I want. What I don't want is for you to blame yourself. You're too good a person for that.
"
It could have been like that. And to assume otherwise would be unfair.

Of course, what we do know is that after the divorce, he was late with his alimony payments, and she had to take him to court twice to provide adequate support for her and the girls and that her church took up a collection to help them get by. That we do know.
Al Franken imagines the conversation between Newt Gingrich and his first wife regarding their divorce, from Rush Limbaugh is a Big Fat Idiot. With thanks to Marc Tracy at Tablet Magazine for reminding myself and his readers of Franken when he was funny.
Monday, January 30, 2012
The Paul Doctrine, or What I Learned in Cuba
Competing visions of Republican foreign policy during an election cycle often manifest themselves as feats and tests of machismo and gloria. Candidates attempt to one-up each other, as to see who can suggest the most strident and altogether sweeping attitudes towards other nations, noted typically for their breathtaking ignorance and sabre-rattling militarism.
On Monday evening, Mitt Romney, Newt Gingrich, and in particular Rick Santorum expressed support for even harsher measures towards Iran (as so they should) at the NBC/National Journal debate. Curiously, and almost certainly because the debate was taking place in Florida, the same three candidates called for the tightening of the blockade on the emerald isle of Cuba – a nation which has been under siege for over fifty years, and objectively-speaking is no longer a real and present danger to the national or homeland security of the United States.
The only candidate to dissent from the apparent Republican orthodoxy on this subject was Ron Paul (who, I should add, for a candidate whose been campaigning on the same issue of liberty for many decades, is surprisingly illiterate when it comes to domestic and international history, as well as the Constitution). Paul made an excellent when told Gingrich, "The cold war is over. I think we propped up [Fidel] Castro for 40 plus years with sanctions. All he did was use us as a scapegoat". He concluded: "It's not 1962 anymore".
In the summer of 2009, a little over a year since Fidel Castro retired from office to be succeeded by his brother, Raúl, I had the opportunity to spend some weeks travelling Cuba from west and east and back again, taking in cities and towns from Havana to Santiago de Cuba and points in between. I bore witness to the crippling impact of both a near-command economic model, operating in tandem with total commercial, economic, and financial embargo instituted and maintained solely by the United States.
by Joe Scarborough, Politico, January 27, 2012
Newt did not take the rebellion lying down. He immediately summoned the sergeant of arms to drag the 11 rebels down to a Republican caucus meeting in the bowels of the Capitol basement, where Newt lined us up in front of a packed room of seething House members who were now missing the first day of their Easter recess because of our insurgency. Gingrich then began screaming and demanded that the 11 of us account for our behavior.

He then taught me a political lesson I will always remember: Never willingly hand the microphone over to your enemies. Especially when the first rebel to speak was elected to the NFL Hall of Fame and one of People Magazine's Most Beautiful Men Alive.

As Steve Largent grabbed the microphone, the crowd of GOP members was still shouting insults. But by the time he stood behind the podium, even our most hostile opponents grew quiet.

Steve spoke softly about how he signed a contract with the Seattle Seahawks and remembered shaking the hand of the team's owner after the deal was done. A few years later, the NFL Players Association went on strike. But Largent told the mob, who were now transfixed, that he crossed those picket lines because he signed a contract and gave his word. Largent told the group that a few years later, the NFL players went on strike a second time and he was once again one of the few NFL players to keep reporting for work. For Steve, it was a matter of principle.

The beautiful NFL Hall of Famer then quietly moved in for the kill.

Turning to the Speaker, who a year earlier had been named Time Magazine's person of the year, Largent said, "Newt, you were the one who drafted the contract and then told us to sign it. Now, you're the one pressuring us to break it. But Newt, if I wasn't intimidated by the thought of 250 pound linebackers who wanted to kill me every time I crossed the field, why would I be intimidated by you?"

And with that, the speakership of Newt Gingrich was over. A year later, he would be driven from power and sent into a political wilderness from which he emerged 14 years later on a Saturday night in South Carolina.
(Source: politico.com)