Monday, October 13, 2014
Friday, June 28, 2013
LONGREADS OF THE YEAR: April-June 2013
"Forget Marriage Equality; Israeli Gays Want Surrogacy Rights", by Zvika Krieger, The Atlantic, April 4, 2013
Having children in Israel carries a certain nationalist resonance, as well. Israel struggles to retain a Jewish majority in the land it controls between the Mediterranean Sea and the Jordan River. According to some estimates, however, the Arab and Jewish populations are coming precariously close to parity. This is part of the reason why Israel's policies on in-vitro fertilization (IVF) are among the world's most liberal, and why IVF is generously subsidized through the national healthcare system. (Israel leads the world in most IVF treatments administered per resident, with a ratio that is 13 times that of the United States.) "In my conversations, I hear having children described as the queer contribution to the building of the Jewish state," says Frederick Hertz. "I don't think an American gay dad would talk about having kids as building the American state."
"Losing a Friend at the Front", by Tal Kra-Oz, Tablet, April 12, 2013
Alex was older than me when he died and now he is years younger. As the rest of us grow older and have children of our own, the tragedy and loss will only deepen, as will the guilt. Alex was better than most of us; he certainly worked much harder in life than most of us. Yet his potential, which should have grown larger every year, remains increasingly unfulfilled. Like so many of the other fallen soldiers we honor in Israel today, Alex died "before his time, his life's song in mid-bar stopped," to quote H.N. Bialik, Israel's national poet. But Alex has a legacy far richer than that of many who outlive him, one of decency and kindness and friendship beyond measure. He died a completely unnecessary death, but his meaningful life, short as it was, surely outweighs that.
"The Outsider", by Debra Kamin, Foreign Policy, April 12, 2013
"Sayed wouldn't accept my saying it, but I think that the series made a great change in Israel society," says Shai Capon, director of Avoda Aravit and one of Kashua's closest confidants and drinking buddies. "It's the first time that you see an Arab as a vulnerable human on Israeli television. Not as a terrorist and not as a victim. It took the first fear out of the title 'Arab,' and the audience, the Jews, could see … someone who just wants to be loved."
Thursday, March 28, 2013
LONGREADS OF THE YEAR: January-March 2013
But for all that Yachimovich does, it is what she doesn't do that has garnered so much ill will, particularly in the run-up to the Jan. 22 election. During this campaign, she has given no major speeches or comments about the occupation, about Iran, about the Arab Spring, about the future of the settlements, and so on. Unless she is asked, she has practically nothing to say about any of these issues. In her political manifesto titled Us she remarkably makes no mention of the issues that have been at the heart of Israeli politics since the country's founding. It is the most startling element of her rise to power: She is the head of a party long associated with the vision of a two-state solution and yet has nothing to say about the existential questions that will shape Israel's future. When asked about how she would bring about peace with the Palestinians, Yachimovich regularly mouths the platitude that she supports the Clinton Parameters from more than 12 years ago—but not much else.
Much of Naftali Bennett's support comes from mild-mannered religious suburbanites on both sides of the Green Line, but he has also been blessed by some of the more vehement fundamentalists on the scene. Avichai Rontzki, from 2006 to 2010 the chief rabbi of the I.D.F. and now the head of a yeshiva in the West Bank settlement of Itamar, helped Bennett form the Jewish Home Party. Rontzki has said that soldiers who show their enemies mercy will be "damned," and, after a prisoner exchange with the Palestinians that he opposed, he said that the I.D.F. should no longer arrest terrorists but, rather, "kill them in their beds." Dov Lior, the chief rabbi of the settlement of Kiryat Arba and Hebron, once called Baruch Goldstein "holier than all the martyrs of the Holocaust"; he endorsed Bennett before moving on to a smaller, more reactionary party.
Khallas and his wife Michal – they get along far better than their biblical namesakes – settled in the Golan Heights in the summer of 2006. When they arrived there was still talk of land for peace. Both of them moved knowing there was a certain chance they would be uprooted. Since then, they have brought two children into the world and acquired a dog. They have built their house with their own hands. They have helped invigorate a wizened HaShomer HaTzair kibbutz, creating a thriving secular and religious community in its place. And so, when it came time to choose their 30-dunam plot for agriculture, a gift of the government, they considered the virtues of tangerines over olives and of different soil types but never gave any thought at all to Syria.

"I didn't think about the border at all. There were 40 years of absolute quiet here," said Khallas. "It was the quietest place in the country."
Wednesday, March 20, 2013
by Jeffrey Goldberg, The Atlantic, March 18, 2013
Though he acknowledges the role Netanyahu plays in maintaining Jordanian stability, he is not optimistic about Israel's future. King Abdullah is known as an advocate of two states for two peoples—Israel secure in its pre-1967 borders, Palestine to be established in Gaza and the West Bank—but when I asked him in January how much time he thought was left to implement this idea, his answer surprised me. "It could be too late already for the two-state solution," he said. "I don't know. Part of me is worried that is already past us."

If it were too late, what would that mean?

He responded with a single word: "Isratine." That's a neologism popularized by the late Muammar Qaddafi to describe his vision of a joint Arab-Jewish state. If Israel doesn't agree to a Palestinian state quickly, Abdullah said, "apartheid or democracy" will be its choice. "The practical question is, can Israel exert permanent control over Palestinians who are disenfranchised ad infinitum, or does it eventually become a South Africa, which couldn't survive as a pariah state?"

There are some Israelis, I said, who value Israel more as a Jewish state than as a democratic state. "The only way you're going to have a Jewish part is if you have a two-state solution. That's the Jewish part," he said.

I asked him whether he believed President Obama wants to work on Middle East peace. "That's the million-dollar question," he said. He added that John Kerry clearly does. "We have a second-term president," Abdullah said, suggesting that only a president in his second term has the maneuverability, and the experience, to oversee an effective peace process. "This is the last moment. Can it be achieved in four years? Are we too late? After four years, it's over."
Friday, March 1, 2013
by Dylan Bergeson, The Atlantic, February 28, 2013
Today, Greenberg estimates the majority of funding for excavations in Israel and Palestine comes from religious sources. As a result, he said, researchers are plagued by financial pressure to produce religiously significant discoveries. Recent years have seen multiple claims of finding Noah's Ark, the secret location of the Ark of the Covenant, and most recently, a fraudulent ossuary that was claimed to contain the bones of Jesus' family.

…Price believes that DNA from charred goat bones he discovered at Qumran will prove a genetic match for the leather skins of the Dead Sea Scrolls. He theorizes that the bone deposits are in fact evidence of an ancient ritualized feast that anticipated the coming messiah. Many of his supporters take the claim further, saying Price has hit on evidence of the Last Supper—an interpretation he is careful to distance himself from, though he won't deny the possibility. "You can see where this is heading," Greenberg said. "There is no way he can set up a scientific structure of proof. If you find bones you can say anything about that."

As he spoke, Greenberg set down his empty mug. "Somebody could find this coffee cup and say the Prime Minister of Israel was here." He listed off proofs: "He drinks coffee. We're in Israel. Maybe he is known to come to this cafe."

"Science doesn't work by building up a house of cards and trying to prove it," Greenberg said. "Science works by ruling out all possibilities until only one is left."
Thursday, February 21, 2013
"The Republic of Kosovo is an irrefutable reality," the nascent country's President Atifete Jahjaga declared on Sunday, the fifth anniversary of the Balkan nation's independence from Serbia. "We, the people of Kosovo, have begun a new chapter in our history, the chapter of peace, understanding, cooperation and mutual respect."
As noteworthy as this universal and fraternal message is the person who delivered it. Atifete Jahjaga — the former Deputy General Director of the Police of Kosovo — is the country's first female President, elected by the Parliament in April 2011 as a consensus candidate supported by the center-left Democratic Party, center-right Democratic League, and centrist New Kosovo Alliance. President Jahjaga is Western-educated, a speaker of three languages (including Serbian), and a Muslim with a secular appearance. Politically, she is very much pro-American and in favor of European Union membership.
President Jahjaga is wholly representative of the sort of nation the Kosovar resistance movement stood for and international involvement has helped to foster. NATO military intervention helped to secure Kosovo, and a continued international presence in the form of KFOR, UNMIK, and EULEX has aided the creation of a secular, pluralistic, democratic, and unabashedly pro-Western constitutional republic with a majority Muslim population.
This might not seem like much, but consider the situation in the months after the liberation of Kosovo from Serbian president Slobodan Milošević's grasp. The rape and ethnic cleansing of Kosovo had meant the deaths of several thousand Kosovar Albanians, as well as the organized and systematic rape of women, the forced deportation or displacement of over 90 percent of Kosovars, and the physical destruction of property, including the flattening of entire villages. The sole of aim of Milošević's campaign was to rid Kosovo entire of its Albanian identity, secure the territory as part of Greater Serbia, and, as a consequence, re-secure his bloody and absolute control of his country.
Read on: http://www.theatlantic.com/international/archive/2013/02/why-kosovo-still-matters/273341/
Thursday, February 14, 2013
by Jack Hamilton, The Atlantic, February 14, 2013
Mitchell had made great music before Blue. Ladies of the Canyon, released the previous year, was a gorgeous document of the late-'60s Laurel Canyon music scene that yielded the biggest hit of her young career, "Big Yellow Taxi." But Blue was nonetheless a breakthrough: For all its personal moments—and it's worth noting that the album's most "personal" song, "Little Green," isn't about a man at all, but rather Mitchell's own daughter—Blue was Mitchell's way into music that transcended her life to become about yours and everyone else's. "Songs are like tattoos," sings Mitchell on the title track, an alluringly haunting statement on the relation of music and audience, who draws the tattoo and who is made to wear it.

There's something generous and a little tragic to this, and for all its moments of desire and joy that are symptoms of being in love, Blue is gripped by that dull and abiding sense of fucking up that's often a symptom of the same. In a 1979 interview Mitchell said of Blue, "I came to another turning point—the terrible opportunity that people are given in their lives. The day that they discover to the tips of their toes that they're assholes. And you have to work on from there. And decide what your values are. Which parts of you are no longer really necessary. They belong to childhood's end." "River," the darkest holiday song this side of "White Christmas," exemplifies this. Caroling, Christmas trees and ice skating—embodiments of innocence all—become the remnants of loss, the kind that comes when someone finally sees us for who we are, every time except once, maybe, if we're lucky.

Blue is a confessional that implicates us in its crimes, and in doing so ever so slightly absolves us of our own. And if at times it holds a brutal mirror to our collective inadequacy, it's not without its fairy tales. Immediately after "River," as if from some other world, comes the album's most unabashedly joyous song, "A Case of You." It's one of Mitchell's most beloved compositions, covered by artists ranging from Diana Krall to Prince. There's a moment at the top of its second verse, the one that begins "I'm a lonely painter / I live in a box of paints," when the entire track seems to suddenly swell and almost burst, a beautiful shock of intensity that recedes almost as soon as it appears. And in that one heart-racing, vanishing instant everything makes sense, because if we can only find our way back to that, that moment, that feeling—to find that would mean to be happy forever.
Monday, February 11, 2013
by Armin Rosen, The Atlantic, February 11, 2013
Palestinians have long understood that a western-style standard of living was possible in their part of the world. They knew that places like Rawabi already existed minutes from their own homes, but didn't think that the quality of life epitomized by hilltop settlements and cities in Israel — places they weren't allowed to visit without an official permit from the military — was accessible to them. 

During our phone interview, Masri talked about the astonishment that Palestinians feel when they visit the construction site. "When [Palestinians] come to Rawabi, and they go through the showroom and they see what we have planned for them, and they see it actually being built, they say, 'Wow, this can't be for us. This is not for us. This is too high of a standard for us because we are supposed to live miserably under the occupation'. Then they come to the other side of the showroom and see the city being built, and reality starts sinking in."

It's a type of living closely associated with the Palestinians' neighbors in Israel. "They know very well that just a 20-minute drive away, there's a community with a much higher standard of living. And that community happened to be one representing the occupier, quote-unquote the 'enemy.' But they would love to live like that. And that's why when they come to Rawabi some of them don't believe this is for them initially. The first thing that goes through their mind is that this could be for the Israelis."

But it is for them. Rawabi's significance could lie in something more mundane than basic issues of sovereignty and control in the West Bank. It lies in the common, human desire — powerful on either side of the Green Line — for a comfortable and dignified existence.
Tuesday, January 29, 2013
The writing was on the wall when David Cameron opened his pitch for European Union reform by generously describing the United Kingdom as an "argumentative and rather strong-minded member of the family of European nations." "We have the character of an island nation — independent, forthright, passionate in defence of our sovereignty," the Prime Minister continued. "We can no more change this British sensibility than we can drain the English Channel."

After essentially calling his country an awkward boor forever separated from the continent, there was only one direction his speech could go. Cameron demanded a full and complete E.U. treaty renegotiation, one which would create a "more flexible, more adaptable, more open" Europe, "fit for the challenges of the modern age." British membership in the E.U. would then be put to the people in a referendum in 2017. If the outcome of these pan-European talks were favorable to the United Kingdom, Cameron would campaign for staying in. If not, he would have no choice but to "think very carefully" but whether to vote in favor of withdrawal.

Cameron's threat to European solidarity and brotherhood could not have been more ill-timed, the speech coming one day after the 50th anniversary of the signing of the historic Élysée Treaty between France and Germany. The rude interruption to celebrations of European unity was a product of the pressure the prime minister has been put under by forces outside of his control: rebellious Euroskeptic backbenchers in his own party on the one hand; and the rise of the downright Europhobic (and, one might add, xenophobic) United Kingdom Independence Party (UKIP) on the other, which threatens to pick away at his party's base of support during the upcoming elections.
Read more: http://www.theatlantic.com/international/archive/2013/01/wait-the-sun-hasnt-set-yet-british-conservatives-great-power-delusion/272609/
Monday, January 14, 2013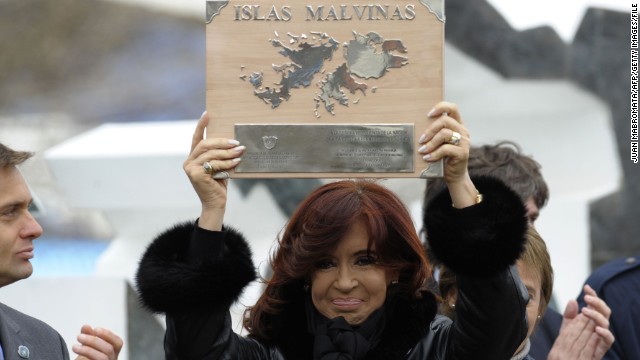 The Argentine economy is struggling. The government is locked in a dispute with the IMF over the accuracy of its inflation and growth figures, the latter of which is reported to be as high as 25 percent. Protectionism and populism in the form of tariffs, import restrictions, nationalization of industry, and price controls are discouraging foreign investment and capital. Argentinian bonds are currently rated by Fitch as being just slightly above junk status, while the peso has plummeted in value against the dollar.

With growth slowing, inflation soaring, and crime on the rise, President Cristina Fernández de Kirchner is bearing the brunt of the people's ire. Re-elected in a landslide in October 2011 without the need for a runoff, Kirchner saw her approval rating bottom out at a meager 30 percent last November. In October, 200,000 people marched through Buenos Aires protesting economic failings and systemic corruption, while in November the trades union — traditional allies of her faction, the Peronist Front for Victory — organized a 24-hour general strike and instituted road blocks across the city.

It is hardly surprising, then, that against this backdrop of economic and social tumult and strife that Kirchner would seek to bring up the Falkland Islands. Having once fought with Britain over that rocky archipelago of fishermen and sheep farmers in 1982, Argentina's issues of sovereignty and self-determination have come to the fore again in a series of public confrontations with London.
Read more: http://www.theatlantic.com/international/archive/2013/01/falklands-redux-is-president-kirchner-south-americas-biggest-troll/267067/