Monday, March 4, 2013
Friday, January 18, 2013
by Roger Cohen, The New York Times, January 17, 2013
Pursuit of all of the land, with its accompanying "right of return," is a form of perennial victimhood, one that has spawned some 4.7 million Palestinian refugees, several times the number who were driven from their homes in the war of 1948. The right of return would be better named the blight of return. It is a damaging illusion that distracts from an achievable peace in the name of Palestinian children and grandchildren nursed on hope. There is the possibility of compensation, but there is in history no right of return. Ask the Greeks of Asia Minor, the Turks of Greece, the Germans of Danzig and Breslau (today Gdansk and Wroclaw) — and the Jews of the Arab world.
Thursday, January 10, 2013
Shimon Peres talks to The New York Times
Shimon Peres, the President of Israel and de-facto leader of the dovish wing of Israeli society (arguably), recently gave an extensive interview to Ronen Bergman of The New York Times. It ranged in subject from his disagreements with Benjamin Netanyahu, to Middle East peace and the Arab Spring, his relationship with Yasser Arafat ("Peres does a fairly convincing imitation of Arafat saying 'no' in Arabic", Bergman writes), and to personal topics like his marriage, his legacy, and death. Here are extracts from that interview.
On the importance of the relationship with the United States:
We must not lose the support of the United States. What gives Israel bargaining power in the international arena is the support of the United States. Even if the Americans do not take part in the negotiations, they are present at them. If Israel were to stand alone, its enemies would swallow it up. Without U.S. support, it would be very difficult for us. We would be like a lone tree in the desert.
On whether the settlement enterprise is an obstacle to peace:
The settlers have not eliminated the chance for the establishment of a Palestinian state. The settlements today cover 2 percent of the entire area. The Palestinians have already accepted the Clinton parameters, which include leaving three blocs of Jewish settlements and exchanging other territory for them. In my opinion, many of the rest will leave of their own free will.
On the civil war in Syria and the threat of chemical weapons:
Assad knows that using chemical weapons will immediately invite an attack by outside elements. The whole world would mobilize against him. It would be a suicidal act. On the other hand, it's obvious that his days are numbered. A situation in which, let's say, his palace comes under fire, could put him in an irrational state and lead him to act out of despair. If the Syrians dare to touch their chemical weapons and aim them at us or at innocent civilians, I have no doubt that the world as well as Israel will take decisive and immediate action. No less important, Assad is liable to transfer the chemical weapons to Hezbollah, which from our point of view will constitute crossing a red line. It is incumbent upon Israel to prevent such a thing from happening, and it will take firm military action to do so.
On whether it is possible for Israel to negotiate with Hamas:
If Hamas accepts international demands, forsakes terror, stops firing missiles at us and recognizes the existence of the State of Israel, it will be possible to open negotiations. 
On his legacy:
My record is the only way to judge me honestly. I do not think there are many people in the world who can say they managed to bring down a 600 percent inflation rate, create a nuclear option in a small country, oversee the Entebbe operation, set up an aerospace industry and an arms-development authority, form deep diplomatic relations with France, launch a Sinai campaign to open the Straits of Tiran and put an end to terror from Gaza. I do not, perish the thought, claim to have done all this alone. I just think that perhaps without me it would not have happened. Yitzhak Shamir was prime minister for seven years. So what? I don't think my record is inferior to his.

…If I have another 10 years to live, I am sure that I will have the privilege of seeing peace come even to this dismal and wonderful and amazing part of the world.
Monday, November 26, 2012
by Thomas L. Friedman, The New York Times, November 24, 2012
Israel left all of Gaza in 2005, and Hamas had a choice: It could recognize Israel, have an open border and import computers, or it could continue to deny Israel's existence, keep the border sealed, and smuggle in rockets. It chose rockets over computers. With each rocket that lands near Tel Aviv or Jerusalem, another Israeli says, "How can we possibly let go of the West Bank and risk our airport being shut down?" That is just what Hamas and Iran want — a permanent, grinding, democracy-eroding, legitimacy-destroying, globally isolating Israeli occupation of the West Bank — and they are very happy to use the Palestinian people as a human sacrifice for that goal.

The best way for Israel to undercut Hamas is by empowering the secular Palestinian Authority, led by Mahmoud Abbas, in the West Bank to gain greater independence and build a thriving economy, so every Palestinian can compare which strategy works best: working with Israel or against Israel. This Israeli government has failed to do that. It is so shortsighted. But Hamas makes it easy for Israel to get away with that by ignoring what we know from history: that whoever makes the Israeli silent majority feel morally insecure about occupation, but strategically secure in Israel, wins. After Sadat flew to Jerusalem, Israelis knew there was no way morally that they could hold onto the Sinai and strategically they no longer felt the need. When King Hussein of Jordan and Yasir Arafat did the same, they each got land back. Today, nothing makes Israelis feel more strategically insecure and morally secure with occupation than Hamas's stupid rocket attacks, even after Israel has withdrawn.

So, as you can see, the unresolved Israeli-Palestinian conflict, the future of Egyptian democracy and the U.S.-Israel-Arab struggle with Iran and Syria are now all intertwined. Smart, courageous leadership today could defuse the Israeli-Palestinian conflict, advance Egyptian democracy and isolate the Iranian, Syrian and Hamas regimes. Weak or reckless leadership will empower all three. This is a big moment.
Monday, November 19, 2012
by Charles McGrath, The New York Times, November 17, 2012
As far as he knows, Mr. Roth said, the only other writer to retire when he still had something on his fastball, so to speak, was E. M. Forster, who stopped writing in his 40s. But Forster stopped largely because he felt that he couldn't publish books on the theme that most interested him: homosexual love. Mr. Roth stopped because he feels he has said what he has to say.

"I sat around for a month or two trying to think of something else and I thought, 'Maybe it's over, maybe it's over,' " he said. "I gave myself a dose of fictional juice by rereading writers I hadn't read in 50 years and who had meant quite a lot when I read them. I read Dostoevsky, I read Conrad — two or three books by each. I read Turgenev, two of the greatest short stories ever written, 'First Love' and 'The Torrents of Spring.' " He also reread Faulkner and Hemingway.

"And then I decided to reread my own books," Mr. Roth went on, "and I began from the last book forward, casting a cold eye. And I thought, 'You did all right.' But when I got to 'Portnoy' " — "Portnoy's Complaint," published in 1969 — "I had lost interest, and I didn't read the first four books."

"So I read all that great stuff," he added, "and then I read my own and I knew I wasn't going to get another good idea, or if I did, I'd have to slave over it."
Wednesday, October 31, 2012
by Colin Shindler, The New York Times, October 27, 2012
Such Israelophobia, enunciated by sections of the European left, dovetailed neatly with the rise of Islamism among Palestinians and throughout the Arab world. The Islamist obfuscation of "the Jew" mirrored the blindness of many a European Marxist. Despite the well-intentioned efforts of many Jews and Muslims to put aside their differing perspectives on the Israeli-Palestinian conflict, the offensive imagery of "the Jew" has persisted in many immigrant communities in Western Europe. Islamists were willing to share platforms with socialists and atheists, but not with Zionists.

The New Left's profound opposition to American power, and the convergence of reactionary Islamists and unquestioning leftists was reflected in the million-strong London protest against the invasion of Iraq in 2003. It was organized by the Muslim Association of Britain, the Trotskyist Socialist Workers Party and the Stalinist Communist Party of Britain. When some Muslims voiced apprehension about participating in the protest with non-Muslims, the M.A.B. leadership decreed that it was religiously permissible if halal food was provided and men and women were given separate areas. Such displays of "reactionary clericalism," as the early Bolsheviks would have called it, were happily glossed over.
Monday, September 3, 2012
by Timothy Garton Ash, The New York Times, September 1, 2012
While we Europeans should redouble our efforts to ensure that our continent does not forget its troubled past, the need for scale is the key to our shared future. The 21st-century world will be one of giants: weary old ones, like the United States and Russia, and hungry new ones, like China, India, Brazil and South Africa. You do not need to accept the most apocalyptic forecasts of European decline to acknowledge that Europe is unlikely to remain the world's largest economy for long. In such a world, even Germany will be a small- to medium-size power.

IF Europeans are to preserve the remarkable combination of prosperity, peace, relative social security and quality of life that they have achieved over the last 60 years, they need the scale that only the European Union can provide.

In a world of giants, you had better be a giant yourself: A trade negotiation between China and the European Union is a conversation between equals; one between China and France is an unequal affair.
Wednesday, August 1, 2012
Gore Vidal: From the Obituaries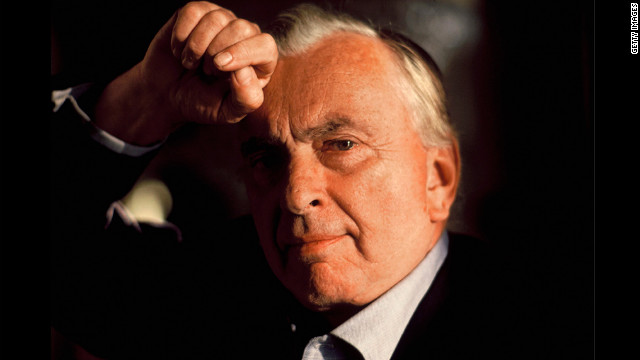 Novelist, essayist, and political commentator, Gore Vidal passed away at his home in Los Angeles on Tuesday evening, the cause of death believed to be complications from pneumonia. He was someone who meant and continues to mean a great deal to me because of his contribution to American letters as well as the novelistic form through Julian, Myra Breckinridge, and Lincoln, yet from whom I was frequently forced to distance myself from politically during his final years which were not kind to him.
There were few subjects for which he could not muster a bon mot, memorably dismissive phrase or cutting aside. Chat show hosts knew they could rely on him to be entertaining about almost anything – history, politics, art, journalism, theatre, sex, morals or celebrity. And for every problem, once diagnosed, Vidal had a simple remedy: "I am at heart a propagandist, a tremendous hater, a tiresome nag, complacently positive that there is no human problem which cannot be solved if people would simply do as I advise."

The breadth of his learning was impressive. Though he never attended university, his wide reading in Greek and Roman history showed in the allusions to the ancient world that peppered his novels on Washington, and in the parallels he liked to draw between political life in Classical times and in modern America. Indeed, Vidal combined the two worlds in his own life, spending much of his adult life in Italy, surveying the Aventine Hill from his flat in Rome, while writing about America.
Perhaps without intending it, Mr. Vidal had set a pattern. In the years to come his greatest successes came with historical novels, especially what became known as his American Chronicles sextet: "Washington, D.C.," "Burr" (1973), "1876" (1976), "Lincoln" (1984), "Hollywood" (1990) and "The Golden Age" (2000). He turned out to have a particular gift for this kind of writing. These novels were learned and scrupulously based on fact, but also witty and contemporary-feeling, full of gossip and shrewd asides. Harold Bloom wrote that Mr. Vidal's imagination of American politics "is so powerful as to compel awe." Writing in The Times, Christopher Lehmann-Haupt said, "Mr. Vidal gives us an interpretation of our early history that says in effect that all the old verities were never much to begin with."
Sunday, July 1, 2012
Yitzhak Shamir, former Israeli PM, dies aged 96
Yitzhak Shamir, who emerged from the militant wing of a Jewish militia and served as Israel's prime minister longer than anyone but David Ben-Gurion, promoting a muscular Zionism and expansive settlement in the occupied West Bank and Gaza Strip, died Saturday. He was 96 and had been living in a nursing home in Tel Aviv.

Mr. Shamir had had Alzheimer's disease for at least the last six years, an associate said. His death was announced by the prime minister's office.

…In a statement on Saturday, Prime Minister Benjamin Netanyahu said: "Yitzhak Shamir belonged to the generation of giants who founded the state of Israel and fought for the freedom of the Jewish people. As prime minister, Yitzhak Shamir took action to fortify Israel's security and ensure its future."
Read the full report and obituary crafted by The New York Times, here. Meanwhile, writing in Ha'aretz, David Landau says the following:
His long years in power did enormous damage. His shooting down of Shimon Peres' 'London Agreement' with King Hussein of Jordan was arguably the most disastrous decision an Israeli leader ever took.

And yet, on another plane, Yitzhak Shamir was a man whom Israelis can feel proud of having had as their prime minister. An upright man, a man untouched by corruption. A liar? Yes, but an honest liar.

Two great U.S. secretaries of state, George Shultz and James Baker, write with fond appreciation of Shamir's honesty. A stone-waller; endlessly frustrating. But at the end of the day a straight-shooter, a man of his word. In this, he brought honor to the Jewish state and the Jewish people, much more so than his predecessor, Menachem Begin, who double-talked an American president.

"For Eretz Yisrael it is permissible to lie," Shamir coined his own criteria of honesty. At the end of his term, whether by incaution or by design, he gave an honest accounting to the nation and to history. He had negotiated endlessly about negotiating, he said, and had intended the peace negotiations to go on endlessly, while he meanwhile went on building the settlements that made peace impossible.
Monday, April 2, 2012
by Jonathan Safran Foer, The New York Times, March 31, 2012
Our grandparents were immigrants to America, but natives to Judaism. We are the opposite: fluent in "American Idol," but unschooled in Jewish heroes. And so we act like immigrants around Judaism: cautious, rejecting, self-conscious, and feigning (or achieving) indifference. In the foreign country of our faith, our need for a good guidebook is urgent.

Though it means "the telling," the Haggadah does not merely tell a story: it is our book of living memory. It is not enough to retell the story: we must make the most radical leap of empathy into it. "In every generation a person is obligated to view himself as if he were the one who went out of Egypt," the Haggadah tells us. This leap has always been a daunting challenge, but is fraught for my generation in a way that it wasn't for the desperate assimilators of earlier generations — for now, in addition to a lack of education and knowledge of Jewish learning, there is the also the taint of collective complacency.

The integration of Jews and Jewish themes into our pop culture is so prevalent that we have become intoxicated by the ersatz images of ourselves. I, too, love "Seinfeld," but is there not a problem when the show is cited as a referent for one's Jewish identity? For many of us, being Jewish has become, above all things, funny. All that's left in the void of fluency and profundity is laughter.