Monday, July 4, 2011
Wednesday, June 1, 2011
On Memorial Day, a note on Afghanistan
For supporters and proponents of altruistic warfare – acts of liberation or humanitarian intervention – one of the hardest questions to grapple with and to answer is what one might say to the family of a service member who laid down their life in combat. It is a question that is, in the wake of Memorial Day, making a return to mainstream political and media debate in the United States, a nation involved as it is in three foreign mobilisations at a time when Congress is looking to tighten the national purse.
The national discussion at this juncture in particular revolves about the liberation of Afghanistan, a military operation that will be ten years old this October. To swathes of the American public, and in particular to those who have lost loved ones in the field, Afghanistan has an pungent whiff of Vietnam about it: a protected military engagement during which Americans have fought and died for a noble idea, but also for a system which claims to embody it but often fails to do so. Moreover, and like the war in Indochina, NATO allies are fighting an enemy which refuses to go away and has resorted to guerrilla warfare in order to achieve its goals.
On top of this climate of despondence, the assassination of Osama bin Laden has only augmented the calls for an acceleration of the draw-down process – to some, with the world's most wanted terrorist now sleeping with the fishes, the mission is complete. His death exposed that Afghanistan is no longer the safe haven for mass murders and Islamofascists. Rather, it is Pakistan that has become the Sarasota Springs for terrorists, a carefree retirement village where shady figures like bin Laden can rest their pegs, watch cable and read pornography in peace.
On that, it must be argued that said shift from Afghanistan to Pakistan is a signal of the success of the United States' mission in the former. Before October 2001, the Taliban harboured in their Islamic emirate a cabal of Muslim extremists who integrated themselves into their defence structures and used the legitimacy and protection of a nation-state to carry out the 1998 embassy assaults in east Africa, the bombing of the USS Cole in 2000 and, of course, the declaration of war upon the United States on September 11, 2001. Thanks to the endeavours of allied servicemen and women, Afghanistan is no longer a haven for al-Qaeda and the free world is winning the War on Terror.
Where the mission has failed those who have died is in the systems we have instituted in Afghanistan to replace those we dismantled. For, the Karzai government does a tremendous disservice to the advancement of notions of freedom, liberty, justice and an open society, and embodies all the evils the former seek to combat: cronyism, nepotism, corruption, autocracy, fraudulent electoral practices and tribalism. Whilst the Iraqi government is evolving (slowly) into a stable federal democracy, Afghanistan is stuck in infancy, falling back on old habits, practices and customs.
With regard to the question of the bereaved, the Karzai government makes Afghanistan all the more difficult to justify, but I might only say this: the death of your son or daughter, husband or wife, mother or father has not been in vain, for the difference between the country before and after October 2001 is one of night and day. Under the Taliban, women were banned from schooling and employment and forced to shroud themselves in fabric in a manner that only enforced their status as second-class citizens. Political and cultural pluralism was starved and violently eradicated, history and memory destroyed, and the most barbarous punishments were introduced for those who did not wish to live in accordance in a fascistic state with an Islamic face. The Taliban would, for instance, slowly murder lawbreakers by tying a noose around their necks, which would be attached to a tank as the barrel was gradually elevated. The overall effect was not hanging, but rather a most painful suffocation.
The Afghani people now live in a condition incomparable to life during the Islamic Emirate, for which they and we should be thankful. Freedom, however, isn't something that be obtained with ease or without struggle. Often it is something people have to die for. Thomas Jefferson famously said that "the tree of liberty must be refreshed from time to time with the blood of patriots and tyrants". Since September 11, 2011, when 3,000 citizens perished in a most monstrous act of mass murder in New York, Washington and Pennsylvania, the United States has responded militarily in the most correct and honourable fashion: by going after those who committed the crime, and by shining liberty's lovely light in territories that had until then existed in total darkness.
Since that clear September morning, the United States and her allies have rid the world of two tyrannies, and are in the process of eradicating a third. In Afghanistan and Iraq, coalitions not only liberated the people who lived within those boundaries, but spared the world of two regimes that harboured terrorists and as such represented not just a threat to their citizenries, but their neighbours and the international community. To the families, all that can be said it that those who fell in pursuit of tyrants, in pursuit of liberty for those who did not yet possess it, fell as patriots, and as a reminder to people across the globe that freedom, as the United States expresses it, is a most beautiful and precious thing, but that Jefferson's words, as curdling as they are, have a chilling air of truth to them.
As a final note, to all those who have enlisted and to the Congressman, Senators and indeed to the Commander-in-Chief who will ultimately decide their fate, I must make an appeal. It is understandable that, in the wake of bin Laden's demise, the urge to withdraw from Afghanistan will become ever stronger. However, were the United States to withdraw now, all NATO have fought for over the past ten years will be lost. 1,500 Americans did not die for the country to return to a state of barbarity and feudalism under Taliban control. In order to honour the fallen, and protect the values for which the United States of America stands, NATO must remain and fight the good fight, and withdraw with care only when we are sure that Afghanistan will never again fall into the hands of fascists and terrorists.
Saturday, March 26, 2011
International Ineptitude
The international community is bickering over Libya like a dysfunctional family. Charles Krauthammer summarised the situation neatly in his column on Friday: "Britain wants the operation to be led by NATO. France adamantly disagrees. Germany wants no part of anything. Italy hints it might deny the allies the use of its air bases. Norway had planes in Crete ready to go but refused to let them fly until it had some idea who the hell is running the operation."
And then there's Turkey! Prime Minister Recep Tayyip Erdoğan is behaving like Charlie Sheen coming off a crack high after banging 7-gram rocks. His policy on Libya is reactionary and bipolar. One moment the government is condemning outright the use of force and French airstrikes on Gaddafi's ground troops. The next, Erdoğan's calling for NATO to lead the mission.
Then again, Erdoğan is a thug and a low-life, who's flirted shamelessly with al-Assad and Ahmadinejad and, four months ago, even accepted the Al-Gaddafi Prize for Human Rights (akin to accepting a Medal of Liberty from Josef Stalin). Previous recipients include such luminaries as the anti-Semite and religious bigot Louis Farrakhan, and dictators Fidel Castro and Hugo Chavez. 
Germany too has thoroughly disgraced itself throughout the negotiations over a resolution and during subsequent talks with regard to NATO involvement. Merkel persistently blocked EU action in Libya, and aligned herself with Russia and China to abstain on the Security Council over the use of force. Now, Germany has pulled four of her ships out of the NATO command structure in the Mediterranean. Such decisions should, as Daniel Brossler has asserted, eliminate Germany as a serious candidate for permanent Security Council membership.
The chaos inside the coalition is only made worse by the mixed messages that are coming out not only of the United States government, but also the media talking shop too. Conservative politicians and commentators are chauvinistically declaring that America is (to quote Sean Hannity) the "greatest best country God has ever given man in the face of this Earth," and that intervention in Libya is correct. But at the same time the fact it's happening under Obama makes everything ipso facto a disaster.
Take the brazen volte-face Newt Gingrich has undertaken. Speaking on March 7, he declared: "Exercise a no-fly zone this evening. This is a moment to get rid of [Gaddafi]. Do it." Fast forward to March 23, after the United Nations approved a resolution and the bombing had begun: "I would not have intervened," Gingrich said, adding the next day that, "We are not in a position to go around the world every time there's a local problem and intervene." Suddenly what was all right for Iraq is all wrong for Libya.
President Obama, to counter this conservative bluster, should own this humanitarian intervention and help organise the family of nations into a cooperative, nuclear unit. Frustratingly however, he is trying to back away from the mission. On Monday, Obama announced that "there is going to be a transition taking place in which we have a range of coalition partners – the Europeans, members of the Arab league – who will then be participating in establishing a no-fly zone there." In other words, the United States is looking to cut and run.
The operation should indeed by executed by a coalition, but events of the past week within the EU and NATO have exposed the leadership vacuum that exists once the United States stops taking command. "At a time when the world is hungry for America to lead," Krauthammer states, "America is led by a man determined that it should not." President Obama needs to recognise that, at a time when European states are slashing their defence budgets, in military terms America is still first among many. The United States has the world's first and second largest air forces: he should start behaving like it.
Sunday, February 27, 2011
The Fall of Tripoli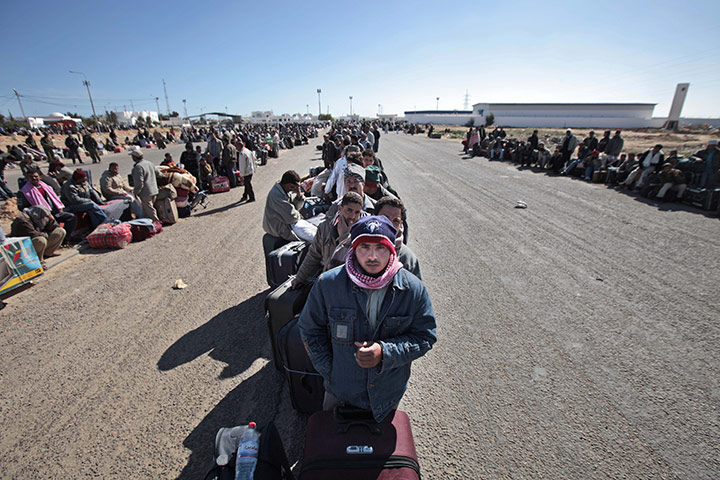 The international community have been valiant in their efforts as far to rescue their respective citizenries from Libya, the hostile desertscape whose sand-strewn dunes will soon be dyed a deepest crimson with the blood of martyrs. Just in the most recent hours, more than 150 oil workers were 'dramatically rescued' as "two RAF Hercules aircraft – backed by the SAS – pulled off a high-risk evacuation of British and other citizens." This follows the chartering of ferries, aircraft and military vessels by European governments to rescue the marooned around the clock.
But what of those left behind? the brave and embattled Libyans. Previously, I have called on either the United Nations or, if they prove to be as sloth-like and impotent as ever, an arranged coalition such as NATO to "seriously consider the possibility of using pre-emptive hard power against the Libyan administration – up to and including the use of targeted air strikes – in order to hasten Gaffadi's demise," and prevent a 'Tiananmen in Tripoli'.
In piecemeal, leading lights in global politics are taking steps to suffocate the regime. The United States has frozen "all Libyan assets in the US that belong to Gaddafi, his government and four of his children," in addition to a suspension of defence trade and a call for his resignation. Further, Britain and France have circulated a draft resolution at the United Nations that would "impose an arms embargo on Libya and refer reported violence to the International Criminal Court in The Hague."
Yet, as Zvi Bar'el has noted, "freezing Gaddafi's accounts, enforcing a weapons embargo and not granting visas to his officials will not deter him from continuing his war against his civilians." Gaffadi is in preparation for his war to end all wars, and sanctions which seek to undermine his legitimacy will not stop this from happening.
Already, several witnesses in Tripoli said forces loyal to Gaddafi had shot people from ambulances and used antiaircraft guns against crowds. Witnesses to the violence also said the government had removed dead bodies from hospitals to try to obscure the death toll.
As far, the United Nations route to a definitive solution is proving futile, as slugs and slimeballs like Turkish Prime Minister Recep Tayyip Erdogan continue to oppose even sanctions. Moreover, if we continue to mount gallant military operations in order to rescue own our people, whilst the Libyans are left to defend themselves from Gaffadi's ruthless mercenaries, we risk creating another 'fall of Saigon moment,' complete with similar scenes of abandonment and betrayal.
I can only restate my original proposal, and stress it firmly once again. Gaffadi must be removed, he must be removed with haste, and if necessary he must be removed with force.
(Photograph: Lefteris Pitarakis/AP)
Thursday, February 24, 2011
The Party of Woe: an Essay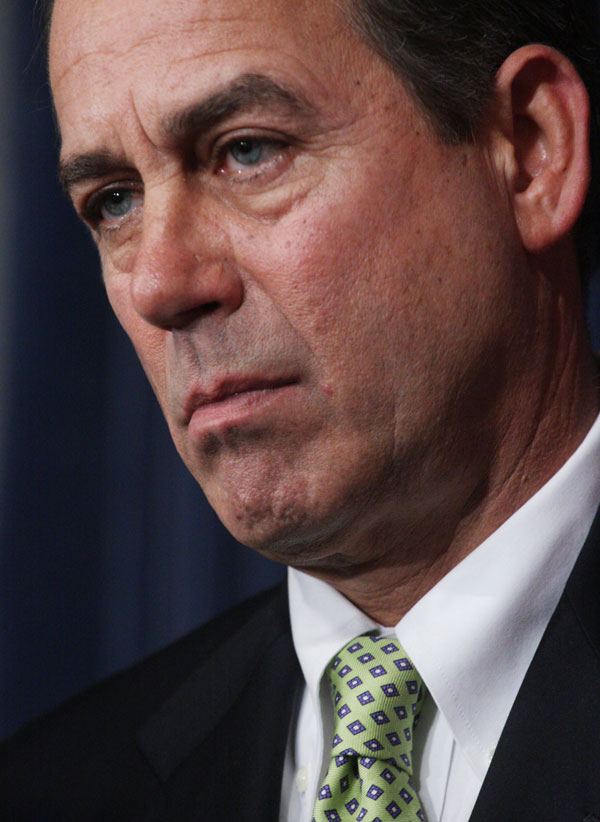 "I've spent my whole life chasing the American dream," Speaker of the House John Boehner told ABC News shortly before his accession to the third-highest office of state. "What unites us as Republicans will be the agenda of the American people. They want us to cut spending and focus on creating jobs in America."
Yet the only thing which seems to be uniting the Republican Party at this time is their grand project to tear apart and rip to shreds the delicately-woven fabric of American civil society. Backed by their masters and benefactors in the corporate sector – in banking, insurance and the military-industrial complex – the 112th Congress and the 'new breed' of GOP governor are piece by piece removing what is left of the measly, miserly U.S. social contract.
In sickness and in health
The first step in this direction came with one of the first acts of the 112th Congress: a 245 to 189 vote to repeal the 'job-killing' (or rather 'job-crushing') healthcare bill. The Patient Protection and Affordable Care Act, among other things, extends the scope of Medicaid, makes illegal the denial of insurance for pre-existing conditions, and institutes an individual and business community mandate on purchasing insurance. In all, some 32 millions will now gain healthcare coverage as a result of this bill.
Some Republicans have argued in debate in the House that the law is unconstitutional because "the federal government is overstepping its powers in requiring Americans to buy health insurance". Such claims have been dismissed by the Obama administration, but have been supported in a landmark ruling by U.S. District Judge Roger Vinson in Pensacola, Fla.
Republicans too have been defensive of their efforts, stating that this repeal is anything but symbolic. "It respects the will of the American people and it paves the way to reform our healthcare," so argues Rep. Nan Hayworth. But, given that this attempt at a rollback was voted down in the Senate, and would have surely been vetoed by President Obama, it is hard to see it as anything other.
More importantly, the repeal of healthcare legislation is, needless to say, completely unrelated to Boehner's definition of the agenda of the American people: to 'cut spending' and focus on job creation. The Congressional Budget Office, which notes that the Affordable Healthcare Act would save the federal government $124 billion over ten years, announced that the bill's repeal would add $210 billion to the deficit.
Rather, the repeal of what has been dubbed 'Obamacare' as an attempt at slander is motivated entirely by a desire to preserve the status quo in American healthcare: where those who can afford skyrocketing insurance premiums receive good coverage, whilst the rest either bankrupt themselves forking out for treatment, or simply turn up at the emergency room and pass on the costs of their care onto others (which, in turn, drives up the cost of premiums).
Back to the future
Their other budgetary proposals are no less dogmatic, and can in no regard be taken any more seriously. Instead of focusing on where the real money is spent in Washington, Republicans have gone back to the future with a resumption of the culture wars. For, no senior Republican, with any clout at least, has put forward serious proposals to tackle the three great bulwarks of federal expenditure: Medicare/Medicaid; social security; and Defence.
Instead, the Republican budget seeks to reduce the deficit by defunding institutions that are precious to certain constituencies: namely the poor, women, minorities, the educated and those in need; in short: those that don't vote for them. The House has voted to eliminate monies for public broadcasting (including NPR and PBS) for the rest of the fiscal year, an act labelled a "death sentence for stations serving rural and small-town America." (Currently, the Corporation for Public Broadcasting receives a paltry $420 million of federal funding.)
In this vein, Republicans have also gone after the National Endowment for the Arts and the National Endowment for the Humanities, in addition to cutting 29pc from projects related to climate change. The Legal Services Corporation would be eliminated, saving $420 million but axing a service that predominately aided poorer females. The Republican budget also "dramatically reduces food aid for low-income women with children and women who are pregnant."
But perhaps the most heinous of all Republican measures was an amendment tabled by Rep. Mike Pence to cut off all federal funding for Planned Parenthood, which passed by a vote of 240-185. Planned Parenthood is an organisation which provides family planning and sexual health services, including contraception and abortion. The latter is a legal procedure, for which the organisation receives no federal funding. Planned Parenthood also offers women essential medical examinations including screenings for breast cancer.
Rep. Pence has over the past few weeks conducted a one-man commando-style operation against this mandated and well-intentioned organisation. He has used hidden camera 'gotcha' video tapes to accuse Planned Parenthood of "facilitating the abuse of a minor and sex trafficking," since tapes purport to show clinic employees offering advice to a 'pimp' and services for underage prostitutes[1]. "What is becoming more evident," Pence trumps, "is that [federal funding of Planned Parenthood] has to stop."
As Rep. Jackie Speier noted in an emotional and affective speech on the floor of the House, this has nothing to do with workers finding jobs or reducing the deficit. It is part of a vendetta against Planned Parenthood, and the right of the American woman to choose whether or not she must go through the difficult procedure of terminating her pregnancy.
Trickle-down warfare
The war against anti-conservative causes has now spread from the federal to the state level. In Wisconsin, previously a bastion of liberalism, rookie Republican governor Scott Walker has announced that he wants to "remove all collective bargaining rights, except for salary, for roughly 175,000 public employees starting July 1." Moreover, he wants to "force state employees to contribute 5.8 percent of their salaries to cover pension costs and more than double their health insurance contributions." This, at the same time as he seeks to provide millions of dollars in tax breaks to corporations that will add about $117 million to the state's budget problem over the next two years.
Wisconsin has a serious deficit problem: The state has a $137 million shortfall in the current fiscal year, and has a $3.6 billion shortfall in the upcoming 2011-13 biennium (the two-year period that starts July 1, 2011). Gov. Walker has argued that without cuts, he would be required to begin massive lay offs. Public service workers, to their credit, have already declared their willingness to give back to the state some of the benefits won through collective bargaining.
What they will not sacrifice, and what you should not sacrifice, is that right to organise and collectively bargain. It would render the union movement in the state meaningless, a capon among the roosters in corporate America. Moreover, it would set a dangerous precedent, especially as similar bills have already been tabled in Indiana and Ohio.
Conservative pundits are practically foaming at the mouth like retarded, feral horses at Gov. Scott Walker's budgetary proposals in Wisconsin. Sean Hannity spoke of the "unholy relationship between the unions and politicians," and became moist recalling how Ronald Reagan broke the air-traffic control strike by sacking all those who did not return to work within 48 hours. Glenn Beck, who has become more unhinged in his doom bunker as the days go by, proposed that these unions are seeking to bring down the Republic, as part of a communist-socialist-jihadist alliance that, in partnership with Hugo Chavez, Fidel Castro and Van Jones wants to construct a New World Order.
Again, Gov. Walker's proposals are demonstrably utterly unrelated to the serious issue of tackling the state deficit. If that were the case, a compromise would already have been reached. Also, the state would in fact lose $46.6 in federal transportation funding if collective bargaining rights are stripped for these unions. To put it simply, Walker wants to bust the unions in his state for the benefit of his billionaire backers. This has become a crusade for the governor, above and beyond the safety, security and future of Wisconsin.
"A plague o' both your houses"
This is not to say that Democrats are innocent, either: They too are in bed with corporate America. The Obama administration has achieved next to nothing in the way of regulating reckless and illegal practice on Wall Street. Moreover, they haven't done anything to prosecute those who brought the world's economy to its knees via credit-default swaps and bound-to-fail sub-prime mortgages.
President Obama received the following in campaign donations during the 2008 election cycle: $994,795 from Goldman Sachs (the second biggest contributor after the University of California); $701,290 from Citigroup; $695,132 from JPMorgan Chase; and $514,881 from Morgan Stanley. (The Citizens United case, incidentally, will only entrench the influence of big business in political activity.)
It it is patently evident that, over the course of the past fifty years, the Democrats have done more the advancement of America and the American Dream than the Republican Party, in spite of this weighty outside influence. President Johnson passed the Civil Rights Act and Voting Rights Act; Clinton created 22.5 million jobs and three consecutive budget surpluses; Obama has attempted to extend healthcare to 32 million uninsured citizens and repealed "Don't Ask, Don't Tell."
Conclusions
Across the aisle, the Republican Party has since the election of Ronald Reagan driven up huge budget deficits by increasing government outlay at the same time as handing out generous tax cuts for the nation's elite. As a percentage of GDP, Reagan exploded the national debt from 32.5pc in 1981 to 53.1pc in 1989. Bush 43, by way slashing taxes on the top bracket twice in three years turned Clinton's surpluses into huge negatives, again increasing the national debt from 56.4pc (2001) to 83.4pc (2009)[2].
The GOP, thus, has come to serve only the needs of America's top 1pc, at the expense of the health of national body. The Republican Party has raped the United States of America. It is a corrupt, exclusive and morally-bankrupt organisation, which has now been co-opted by the Tea Party: a rag-tag coalition of morons, bigots and prudes.
Now the Republicans have set out once more to shove its primordial values down America's collective throat. Already, it has succeeded in sustaining the Bush tax cuts, and has, as has been outlined, begun to unleash hell upon the social contract.
In this perpetual war, the GOP never seems to emerge defeated however: time after time, enough voters return slavishly for another bout of punishment from their gun-loving, abortion-hating, evolution-doubting dominatrixes. Rather, the biggest loser is always the United States of America, and the people who live in this most free and liberal of nations.
And with every day, the American Dream dies a little more.
---
[1] This is not the first time conservatives have used candid camera footage to bring down organisations which aid those in need. Activist James O'Keefe recorded low-level employees at ACORN "sounding eager to assist with tax evasion, human smuggling and child prostitution". Its federal funding was removed, and the group collapsed. O'Keefe was later arrested in New Orleans on January 25, 2010 on federal felony charges of attempting to maliciously interfere with the office telephone system of Sen. Mary Landrieu.
[2] President Clinton indeed reduced the size of the national debt as a percentage of GDP, from 66.1pc (inherited from Bush 41) in 1993 to 56.4pc by 2001. The debt decreased by 9pc in his second term. By contrast, it increased 20pc in Bush 43's second term. President Kennedy, Johnson and Carter all reduced the size of the federal debt, too.
Wednesday, February 23, 2011
Friday, February 4, 2011
"Judge Edward is waiting at the dock. With him are a doctor and (to the Colonel's horror) the Reverend P.J. Van Pelt.
I walk beside the Colonel's litter as we cross the landing to Winant's Hotel.
En route the Colonel whispered, "If you should hear that I have died in the bosom of the Dutch Reformed Church, you will know that either a noble mind was entirely overturned at the end or a man of the cloth has committed perjury."" Gore Vidal, Burr (London: Abacus, 1994), 472.
Sunday, January 30, 2011
by Kai Bird, Slate, January 30, 2011.
The 30-year regime of Gen. Hosni Mubarak is finished. Last week's events show that Mubarak has lost even the veneer of legitimacy. As in Tehran in 1978, a consensus has emerged from the Egyptian street that this pharaoh must go. A broad coalition of liberal human rights activists, genuine social democrats, old Nasserites, and Muslim Brotherhood advocates are supporting the spontaneous but politically inchoate street uprisings across the country. It was a similar coalition of secular liberals and religiously inspired political activists that brought down the Shah in February 1979—and only months later did Ayatollah Khomeini and his Shi'ite clerics forge a theocratic dictatorship.

This must be the Obama administration's fear: that after Mubarak an anti-Western, Islamist regime will come to power, most probably through the popular election of the Muslim Brotherhood. If elections are held, this outcome is not merely a probability; it is a near certainty. After decades of repressing the secular opposition, the Brotherhood remains the only political movement with an organized membership capable of providing nongovernmental charitable services. This gives it a reliable political base in the slums of Cairo and Alexandria. Despite being banned as a political party, polls indicate that if genuine elections were held the Brotherhood would command at least a large plurality. The Brotherhood is actually a much more moderate political force than Tehran's Shi'ite clerics. But if and when it comes to power, it will not fail to remind the Egyptian people that it was billions of American military aid dollars that kept a bland, uncharismatic Mubarak in power for three decades.

…The end of the Mubarak era will also spell an end to Egypt's cold peace with Israel. No post-Mubarak government, and certainly not one populated with Muslim Brotherhood members, will tolerate the continued blockade of their Hamas cousins in Gaza. Israel will thus be faced with additional strategic incentives to end its occupation of the West Bank, dismantle its settlements and quickly recognize a Palestinian state based largely on its 1967 borders. But as the recent leak of Palestinian-Israeli negotiating transcripts demonstrates, the detailed contours of a final settlement are all in place.

Change is coming to the Arab world. It can no longer be held back. So the pragmatist and not just the idealist in Obama would be wise to make it clear that he really is on the side of the protesters in the streets of Cairo. It is time to stop hedging our bets.
Thursday, January 20, 2011
by Robert Dallek, Salon, January 20, 2011.
Every year since 1990, the Gallup poll has asked Americans to assess all the presidents since John F. Kennedy. And every year, Kennedy comes out on top. In the most recent survey measuring the popularity of the nine presidents since JFK, 85 percent said they approved of Kennedy's leadership; Ronald Reagan was second with a 74 percent rating. Predictably, Richard Nixon came last with only 29 percent; even George W. Bush, who rivaled Nixon for the dubious distinction of least popular, commanded 47 percent approval. And poor Lyndon Johnson, who did more to change the country for the better with his civil rights, Medicare and aid to education laws than any president since Franklin Roosevelt but who remains burdened by Vietnam, stood just ahead of Bush with 49 percent.

The great mystery is why Kennedy, who served for only a thousand days and failed to persuade the Congress to pass any of his major domestic initiatives on taxes, civil rights, health insurance for seniors, and aid to education, enjoys such extraordinary public regard. True, his brilliant handling of the Cuban Missile Crisis resolved the greatest Soviet-American confrontation threatening a nuclear disaster in the 45-year history of the Cold War. Moreover, his negotiation of a nuclear test ban in the atmosphere was a giant step forward in limiting the arms race. But his failed assault on Fidel Castro's Cuban government at the Bay of Pigs and his expansion of the U.S. military's advisory role in Vietnam and the toppling of the Ngo Dinh Diem government, which many see as the preludes to Johnson's war, add to the puzzle about Kennedy's high standing.