Friday, May 10, 2013
Church of Scotland Insults Jews With Denial of Claim to Israel
The injection of theology into the Israeli-Palestinian real estate dispute has rarely proved helpful, particularly in cases where one side seeks to make a claim to all the land at the expense of the other.
The Church of Scotland's laughably regressive new document, "The Inheritance of Abraham?: A Report on the 'Promised Land," which wilfully mischaracterises and then dismisses Jewish claims to a state in Palestine, is equally as unwelcome.
Its premise is that Zionism is not a national but a religious ideology, grounded in specific and unconditional biblical claims to the Land of Israel. The position of Zionism is that "God promises the land to the Israelites unconditionally," it says, adding that "Zionists think that Jewish people are serving God's special purpose." As such, "Christians should not be supporting exclusive or even privileged divine right" to any territory. "If Jesus is indeed the Yes to all God's promises, the promise to Abraham about land is fulfilled through the impact of Jesus, not by restoration of land to the Jewish people."
When it isn't promoting supersessionism — the notion that the truth of the New Testament renders irrelevant the claims of the Old — it's borderline anti-Semitic.
"It has to be recognized that the enormity of the Holocaust has often reinforced the belief that Israel is entitled to the land unconditionally," it states, but "Christians must not sacrifice the universalist, inclusive dimension of Christianity and revert to the particular exclusivism of the Jewish faith because we feel guilty about the Holocaust."
Rather, "the Jewish people have to repent of the ethnic cleansing of the Palestinians between 1947 and 1949. They must be challenged, too, to stop thinking of themselves as victims and special."
Friday, March 1, 2013
by Dylan Bergeson, The Atlantic, February 28, 2013
Today, Greenberg estimates the majority of funding for excavations in Israel and Palestine comes from religious sources. As a result, he said, researchers are plagued by financial pressure to produce religiously significant discoveries. Recent years have seen multiple claims of finding Noah's Ark, the secret location of the Ark of the Covenant, and most recently, a fraudulent ossuary that was claimed to contain the bones of Jesus' family.

…Price believes that DNA from charred goat bones he discovered at Qumran will prove a genetic match for the leather skins of the Dead Sea Scrolls. He theorizes that the bone deposits are in fact evidence of an ancient ritualized feast that anticipated the coming messiah. Many of his supporters take the claim further, saying Price has hit on evidence of the Last Supper—an interpretation he is careful to distance himself from, though he won't deny the possibility. "You can see where this is heading," Greenberg said. "There is no way he can set up a scientific structure of proof. If you find bones you can say anything about that."

As he spoke, Greenberg set down his empty mug. "Somebody could find this coffee cup and say the Prime Minister of Israel was here." He listed off proofs: "He drinks coffee. We're in Israel. Maybe he is known to come to this cafe."

"Science doesn't work by building up a house of cards and trying to prove it," Greenberg said. "Science works by ruling out all possibilities until only one is left."
Friday, October 19, 2012
The Law Must Not Permit Christian Homophobia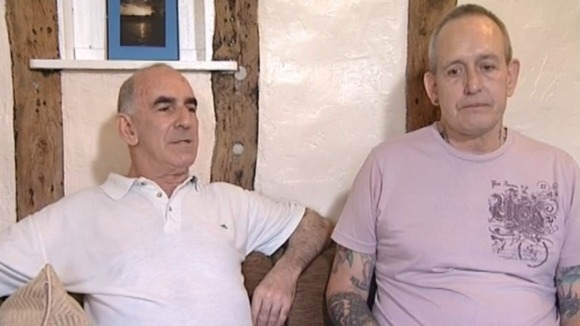 Closure, almost. The Christian owner of a bed and breakfast has, The Guardian reports, been ordered to pay £3,600 in damages after a court found Susanne Wilkinson's refusal to let Michael Black and John Morgan, a gay couple, stay in one of her double rooms. This act was deemed to have amounted to direct discrimination and a breach of equality law — and, rightly so.
I say closure, almost, because Ms Wilkinson and the good people at the Christian Institute — an organisation of charlatans and blaggards which seeks to send the United Kingdom back into the dark ages via "the furtherance and promotion of the Christian religion" and promotes the teaching of lies to children in schools — are considering an appeal, her religious rights supposedly having been infringed. And, their new found ally and BNP leader Mad Eye Griffin, the last crusader against the forces of heterophobia, has weighed in too, tweeting Mr Black and Mr Morgan's home address, threatening them with violence, and moaning, "Why don't left & gay activists confront Muslims instead of picking on meek & forgiving Christians?" That's always how I've thought of Mr Griffin — meek and forgiving.
This sort of nonsense has to stop. Liberty, an organisation I don't usually care for a great deal, had the right line on this issue. James Welch, legal director of Liberty, said in a statement the following:
Liberty defends the rights of religious groups to manifest their beliefs, even when we disagree with them. But it is simply unacceptable for people running a business to refuse to provide a service because of someone's sexual orientation. Hopefully today's ruling signals the death knell of such 'no gays' policies – policies that would never be tolerated if they referred to a person's race, gender or religion.
If Ms Wilkinson doesn't want to let homosexuals — or indeed blacks, Muslims, or atheists — into her home, then fine. Be prejudicial in private, for all I care. Indeed, if Ms Wilkinson wanted to stand out in the street, ranting and raving with a cardboard sign reading, "God Hates Fags", then she is well within her rights to do so. Her right to speak, in such an instance, would be and must be protected.
But as the legal proceedings concluded, Ms Wilkinson was exercising her free speech nor her right to religious freedom. She was operating a business, and under the law in this country as a service provider, she is not entitled to discriminate on grounds of sexual orientation. The law of the land is paramount and at unity, and all are equal under it. Ms Wilkinson is not entitled to an exemption nor to be bigoted in his manner merely because of the fantastical claims of holy books, and the aura of respectability believing in them seems to grant people.
Salman, The Messenger [September 13, 2012]
Protecting Free Inquiry from Religious Bullies [September 24, 2012]
Wednesday, April 4, 2012
A Note on Jewish Values
According to the most recent survey of Jewish values, a majority of American Jews:
Support the re-election of Barack Obama (62pc);
View President Clinton either very or somewhat favourably (77pc);
Believe Republican leaders are doing too little to compromise with President Obama (77pc);
Believe the government should do more to reduce the gap between rich and poor (64pc);
Favour the introduction of a new tax bracket for those earning over $1 million per annum (81pc);
Believe American Muslims are an important religious community within the United States (66pc);
Greatly distrust the Christian Right, ranking them 20.9 on a 1-100 unfavourable-favourable scale;
Think the Israeli-Palestinian conflict (90pc) and Iran (83pc) are the greatest threats to Israel's future and security;
Believe abortion should be legal in all or most cases (93pc);
Support same-sex marriage (81pc);
Favour tougher laws and regulations to protect the environment (69pc); and
Oppose the Supreme Court potentially overturning Obamacare (58pc).
American Jewry, thus, is one of the essential minority groups that prevent the United States from becoming a banana republic.
Tuesday, March 13, 2012
Yearning for Zion: Israelism in the Mormon Faith
Israelism, the idea of a nation or people's direct descent from one of the ten lost tribes of Israel, or the appropriation of Jewish ideas or texts for use in new belief systems, is not unique to the Mormon faith. At the height of British imperial power in the early twentieth century, notions of a lineage from King David to the House of Windsor were too at their zenith. The country's national canon is awash with Israelism and references to Jerusalem, ranging from the King James Bible to the poetry of William Blake.
But it is the recent spate of stories regarding Mormon posthumous baptism of deceased Jews – an activity, it should be noted, which is neither secretive nor obscure within the faith – including Anne Frank, Simon Wiesenthal, Daniel Pearl, and the not-yet-dead Elie Wiesel that has brought into question the peculiar relationship which exists between Mormonism and Judaism, one where feelings of love and admiration very much journey down a one day street.
On the one hand, as a branch of Christianity, there is nothing inherently unusual about the fact that 25,000 words of the Book of Mormon are taken directly from the Old Testament. Nor that, of the 350 names published in the text, more than 100 are lifted straight out of the Bible, and the same amount again are near matches.
Yet there is something inherently distinctive about the Latter Day Saints' origin story. For, Mormons believe themselves to be the spiritual descendants of the Nephites, a lost tribe of Israel who led by the prophet Lehi fled Jerusalem around 600 BC at the time of the Babylonian conquest, ending their journey in the New World by 586 BC.
(Source: blogs.forward.com)
Tuesday, February 21, 2012
Friday, February 10, 2012
Tuesday, February 7, 2012
Christianity and the Glorification of Poverty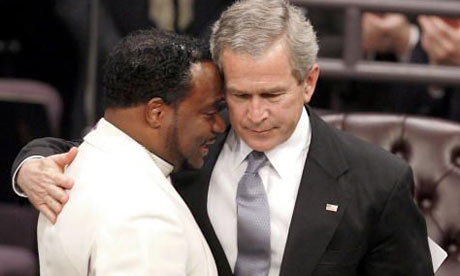 Presumably as part of a bid to win over a part of America which does not believe he is a Christian at all, President Obama evoked Genesis and the Gospel of Luke on Thursday in order to make the case once more for spending reductions in the tax code, for those who have benefitted most from economic deregulation and the Bush-era tax cuts.
Citing Luke 12:48 – "For unto whomsoever much is given, of him shall be much required" – as well as the fable of Cain and Abel – "Am I my brother's keeper?" – Obama told those assembled at the annual National Prayer Breakfast, "It's hard for me to ask seniors on a fixed income or young people with student loans or middle-class families who can barely pay the bills to shoulder the burden alone". To do so, Obama argued, would be opposite to the teachings of Jesus of Nazareth.
Obama is not the first person to attempt to argue that Jesus was a promoter of fairness, or indeed the redistribution of wealth. Mehdi Hasan, writing in the New Statesman, argued Jesus' teaching is marked for its "rhetorical attacks on the richest members of society". He notes Mark 10:21-25, where Jesus appeals, "Sell whatsoever thou hast, and give to the poor, and thou shalt have treasure in heaven". He ends with the infamous conclusion, "It is easier for a camel to go through the eye of a needle, than for a rich man to enter into the kingdom of God".
The British social democratic tradition – one which Harold Wilson once famously remarked owed more to Methodism than it did to Marx – is grounded in this sort of humble piety. Clement Attlee's new Jerusalem was to be constructed with the explicit aim of improving the lot of working-class Britons, inspired by such scripture as Deuteronomy 15:10 which states of those who give to the poor, "The Lord thy God shall bless thee in all thy works".
In the United States by contrast, the teachings of Jesus Christ are oft interpreted and preached by economic conservatives, who adhere to a strict, rugged individualist doctrine where man is his own keeper. This too, it should be argued, is not contrary to the word to the Bible either, for the Gospels actively sanctify and glorify poverty, and promote in its followers and flock-makers a great deal of selfishness and blindness.
Sunday, December 11, 2011