Saturday, September 10, 2011
Wednesday, August 10, 2011
Monday, August 8, 2011
Israel's revolution will not be televised
As the Netanyahu government continues to sit aside in a state of total inertia, the protests which threaten to topple his administration only continue to swell. "Tel Aviv was bursting at the seams on Saturday night," Gideon Levy wrote in his Haaretz op-ed. "It was not the mother of all protests – it was the grandmother of all protests. The city looked like one of the stormiest cities on earth."
All across Israel, whilst numbers vary at this moment, it can asserted that over 300,000 and possibly as many as 350,000 people marched to question the government, calling upon them to solve the nation's housing crisis which has left a whole generation unable to afford their own habitats in the country's major metropolises. Protest centred, as they have over the past few weeks, on Tel Aviv, where 200,000 took to the streets, all unified by the slogan, "The people demand social justice".
"We know that we cannot achieve everything," Itzik Shmuly, Chair of the Israeli National Union of Students told those assembled in Tel Aviv. "But living here has become impossible, and we will not accept it." The municipality's response so far has been meagre to say the least. Approval has been fast-tracked for 69 new apartments in Shapira, a disadvantaged neighbourhood in the south of the city, with the project's architect Orit Milbauer-Eyal saying that the project will "allow the middle class to buy an apartment at a reasonable price".
A national crisis of this magnitude however requires a proportionate response from Jerusalem. For, in a different, some might say apolitical guise, the Arab Spring has come to Israel. Although those in Tel Aviv and Jerusalem are not specifically calling for Netanyahu's head, when almost 5pc of the total population spills out onto the boulevards and avenues to openly query the government's competence, it must be recognised that we bear witness to a seismic event in the nation's short history; one which, even if indirectly, may signal the conclusion of this government.
Given this – the scale and significance of demonstrations not seen in Israel until now – it is all the more disappointing that Media has failed to match these dimensions with the appropriate amount of coverage. As far, the whole thing's been very patchy. The Daily Beast earns points for having it as their lead story, but in this age of breaking news, some four hours after the protests concluded, the BBC, Huffington Post, New York Times and Guardian had no coverage on their front pages.
The Guardian's early attempts at journalism on this matter were atrocious and inaccurate, with Tel Aviv cited as the capital of Israel in its movie-reel of previous housing protests. And, for most of Saturday evening, minimal reportage was buried below a story more akin to their typical agenda, on bias in Israeli textbooks. Even the morning after the night before, Arianna Huffingpo still couldn't find any room for the story, though there is ample space for hard-hitting pieces on invisible sharks, Lady Gaga in drag and Emma Watson's possible new beau.
The obvious problem with these rallies is that the cause just isn't sexy or titillating enough. After all, the people corralled on Rothschild Boulevard aren't talking about any of the things The Guardian usually finds so stimulating about the Land of Israel: the occupation, settlements, and boycotts.
Nor are they calling for the sorts of regime change seen in Tunis and Cairo which captivated the global imagination this past spring. Quite the opposite, organisers have deliberately sought to avoid party politics. "We are not asking to change the prime minister," Stav Shafir, a founder of the Tel Aviv tent city, told Israeli television. "We are asking to change the system".
Although Israel's housing crisis is linked into the wider conflict with the Palestinians (since in the same period as zero public housing projects were constructed in Tel Aviv, 48.4pc of new units built in West Bank settlements were paid for by Jerusalem), J14 is a domestic manner. It's about access to housing, income inequality, social justice, globalisation and the impact of market capitalism on a micro economy.
None of this is banner headline material, and thus we are felt with a void in our newspapers and on our television screens. "When Israelis protest the cost of living, as they do in Madrid and elsewhere – suddenly it's not a story?" Ami Kaufman appealed in +972. "When it comes to Israel, it's not interesting? We're only occupiers, right? What kind of news editors are you guys holding up there? Seriously, are you telling me this isn't a story?" Israelis will need to carry on regardless, then, for the revolution will not be televised. The collapse of the government will have to be live.
Sunday, August 7, 2011
Monday, August 1, 2011
Israel's Housing Crisis: How did we get here and where do we go next?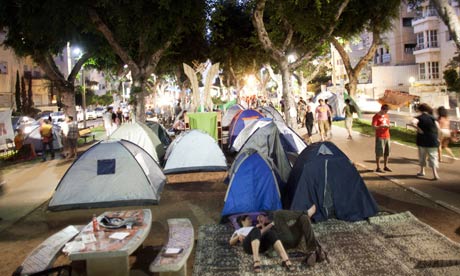 When the Knesset passed a most controversial and anti-democratic law banning all forms of boycott of Israeli produce, including those grown and manufactured in illegal West Bank settlements, leftist NGOs may have been a little irate, but amongst the Israeli populace no noises of disputation were heard.
It is all the more remarkable, then, that in the past couple of months, we have witnessed the emergence of two large protest movements, the second of which threatens to tear the coalition government apart. The first was somewhat trivial, at least to the outside observer, over steep increases in the price of dairy products, in particular cottage cheese. Most recently, a second and much bigger movement has begun, in the form of tent cities and large marches, voicing anger at the exclusionary nature of house prices in Israeli cities, in particular Tel Aviv.
Principally this is a youth driven movement, a generation of graduates and young workers who cannot afford to break out on their own and set up home in Tel Aviv. In normal circumstances, and in larger nation-states, this particular demographic would arguably move away from the more expensive neighbourhoods and take up residence in the outer boroughs or in a different city altogether.
But Israel suffers from the reality that Tel Aviv is in many ways a nation unto itself, with its own unique liberal social atmosphere and way of life, one which many young people who have grown up in the city have imbibed, find attractive and difficult to leave. Tel Aviv is a magnet in many ways: a 24 hour pleasure palace, a hub of business and innovation with a pleasant climate, above-par infrastructure and beautiful beaches. The greater metropolitan area has a population of 3.3 million people, in a nation whose total population amounts to 7.7 million.
Thus it is dangerously overpopulated, but it is so out of necessity. The folks camping out in tent cities do so because they have nowhere else to go. Employment prospects in Jerusalem, for example, are bleak – it's a city where you either take a government job or have nothing at all. Moreover, there is little incentive to branch out to locales in the more hostile northern or southern areas of the country, with less open, cosmopolitan social atmospheres. And, of course, these hubs are at greater risk of bombardment from forces hostile to the state's very existence: Hezbollah in the north; Hamas in the south.
This precarious imbalance within Israeli is nothing new, so that Tel Aviv's unhappy campers are without a roof is largely the responsibility of the state itself. A Forward editorial notes that between 1994 and 2009, the government constructed only around 20pc of the housing units built in Israel. The situation is all the worse in Tel Aviv, where from 2006 to 2009, not one of public housing was put up. Compare this with the fact that over the same time period, 48.4pc of all new homes in settlements in the occupied territories were erected by the Israeli government, and a picture of neglect and wilful ignorance begins to materialise.
The pain inflicted by an absence of a large subsidised housing stock in the Israeli métropole is felt all the more fiercely in Tel Aviv, which is presently experiencing a housing bubble. Globes reports that the average price of a four-room apartment rose 28pc in Tel Aviv to NIS 2.74 million ($800,000) in December 2010 from NIS 2.5 million ($730,000) a year earlier. In 2006, the average price was NIS 1.1 million ($320,000). The average income across all employment sectors is NIS 86,000 ($25,000) per annum gross (compared to $42,000 gross in the United States).
This price explosion coincides with an expanding gap between rich and poor – a scenario all too familiar to those of us residing in, for better or worse, Reaganised or Thatcherised societies. Israel in now on a par with the United States in this respect: in the latter, the poorest 10pc share 1.9pc of the nation's income, compared to 29.9pc for the wealthiest 10pc. In Israel – a state founded on socialist and Labour Zionist principles – the poorest 10pc share 2.1pc of the nation's income, in contrast to 28.8 for the richest 10pc. Whilst it must be taken into account that these statistics are skewed by the increase in the numbers of Orthodox Haredi Jews who often do not work and rely on welfare in order to maintain their pious lifestyles, this obviously represents a disturbing trend in such a tiny and compact country.
All of this taken into account, that protests have arisen at this juncture is not without good cause, yet in a nation so averse to the very idea of mass protest for so many years, these tent cities remain a pleasant surprise. The consequences of the most important movement so far in twenty-first century Israel are not yet clear, though writing in Haaretz, Gideon Levy is pretty adamant. "As of Saturday, Benjamin Netanyahu is a lame duck," he wrote over the weekend. "Netanyahu will stay in office for a time, but his time is up. Finished. He will squirm and make promises, make declarations and turn tail, he will trot out a few more tricks, but it won't help him an iota."
For all the discussions about the occupation, the two state solution and the future of the Arab-Israeli conflict, Netanyahu may end up being brought down first by cottage cheese, and then by a housing shortage. In Israel as in the rest of the world, when it comes to politics, the economy trumps all.
Monday, June 27, 2011
Freedom Flotilla II, testing Israel's legitimacy
The hour is imminent when Israel's right to exist will be tested once more. Some time this week or perhaps into the next, the second self-anointed "Freedom Flotilla" – consisting of ten boats from across Europe and North America – will set sail in convoy from the failing state of Greece to the Gaza Strip. Their aim is clear: it is to break the blockade which surrounds the Hamas-controlled territory as to force the hand of the Israeli government into preventing them from doing so by any means necessary.
What is clear from this method of protest (if you can call it that) is that their desire to see the establishment of some kind of Palestinian state has been superseded by a want to undermine the legitimacy of the one and only Jewish state. After all, if their aim was genuinely to relieve the people of Gaza, then there are various legal avenues solidarity campaigners might use.
Since June 2010, the State of Israel has liberalised the laws surrounding the import of goods into Gaza, allowing for the passage of civilian goods whilst preventing certain weapons and dual-use items from entering the enclave. Not only this, but in the wake of the revolution in Egypt, the Rafah border crossing between Gaza and the Sinai has been reopened, with a much larger number of Palestinians crossing back and forth between the two territories on a daily basis.
The flotilla, by contrast, is choosing to set sail directly for the port of Gaza with the sole aim of violating the sovereignty of the State of Israel. Moreover, they aim to provoke a forceful response from the Israel Defense Forces as a means to delegitimising them as an institution and the Israeli government as an authority. This rabble would appear to be another case of a group or organisation speaking for the Palestinians as a cover for promoting their own unhelpful, damaging causes.
Freedom Flotilla II, as with the original failed endeavour, is being sponsored by a coalition of shady figures who amount to nothing more than the Western arm of the Friends of Hamas, Hezbollah and Islamic Jihad. The umbrella group heading the whole thing is again IHH, a charity with links to international terrorism that masquerades as a humanitarian organisation. IHH boasts a history of involvement in Islamic extremism, having been connected with a failed plot to bomb Los Angeles International Airport.
Also involved are the Free Gaza Movement, who count amongst their patrons Lauren Booth, who far from being a journalist is a mouth-piece and propagandist for Ayatollah Khamenei and Mahmoud Ahmadinejad as a face of Press TV. Iran's Western media outlet, this network plays host to such bums and lowlifes as Yvonne Ridley and George Galloway, dear friend of, amongst others, Bashar al-Assad and the late Saddam Hussein.
Israel does not have to tolerate such tests of legitimacy from these sorts of thugs and slugs. If their aim truly is some kind of glorious martyrdom, then the IDF can be as sure as hell that those at sea will do whatever is possible to bring on such a fiery end. On the part of the Israeli authorities, three things ought to be requested. The first is obvious: any use of force must occur as a measure of last resort, applied proportionally only after it is certain that the convoy will not halt and have defied repeated warnings of what might occur should they continue onto Gaza. Moreover, the aim of such force must be to navigate the boats towards an Israeli port and detain the so-called activists there.
Second, the Israelis need to adopt a more lenient attitude towards journalists than they are at present. CNN, CBS and the New York Times are all dispatching hacks to board the flotilla, and the government needs to respect that their role is to report with neutrality and accuracy on the events at hand. Talk of barring journalists from Israel for up to ten years merely for being on the boats is not helpful to the State's image.
Third, after the progress of the first flotilla was halted, the IDF released audio evidence which demonstrated that the Mavi Marmara was indeed warned several times of the risk of breaking the blockade. Even with the presence of journalists aboard this time around, such steps will need to be taken again. The responsibility of the Israelis, then, is to be as fair, open and transparent as possible with regard to whatever action they take after the Freedom Flotilla passes the point of no return.
(Source: theurbn.com)
Sunday, April 10, 2011
The Arab Spring is Dying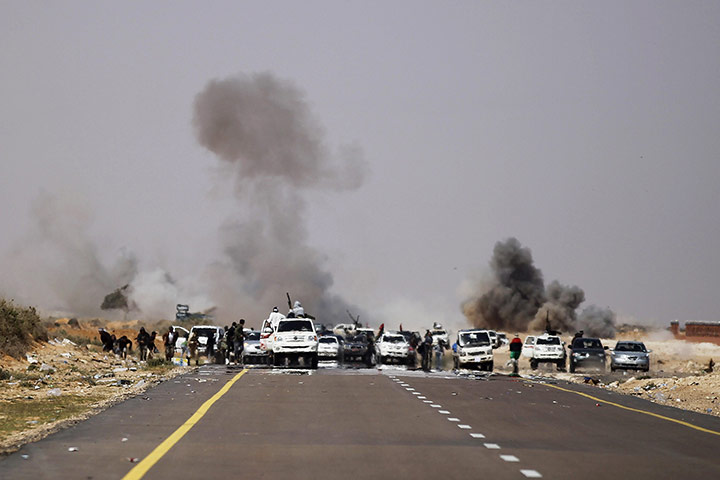 Government troops have fought their way back into Ajdabiya, just two weeks after rebels recaptured the city, under the protection of allied intervention. In swift fashion, the opposition swept across the eastern shoreline, to a position around 100km east of Sirte. However, in the absence of sustained Western assistance and a comprehensible military command structure, pro-Gaddafi forces have pushed them back to Ajdabiya. Should government troops again take said city, then they will have clear sight of the rebel capital, Benghazi.
The Arab Spring is dying, and the West is partly at fault. There is little military leaders can do with regard to the condition of the rebel army. They are, for the most part, little more than teenagers with Kalashnikovs, speeding about in converted Toyota pick-up trucks, playing at war. Geraldo Rivera was right to suggest that "if you give these people weapons more powerful than they have right now, they will be a grave danger to themselves and others." But the allies must recognise too that our lousy and pathetic piecemeal approach to intervention has contributed to a succession of rebel defeats.
What is more, the slow death of the revolution in Libya has emboldened similarly autocratic regimes in other parts of the Middle East who face their own internal crises. In Syria, tanks have been deployed by the Ba'athist regime in order to crush absolutely ferment in cities such as Baniyas, Homs, and Latakia in the Alawi heartland. Reports have also emerged of the ISF using live ammunition and tear gas to scatter thousands of mourners in Deraa, the epicentre of Syria's anti-regime movement. The al-Assad family has, it appears, doubled-down on absolutism and repression as Cyrenaica falls.
The future of the Jasmine Revolution depends on success in battle for the rebels in Libya, or, at a minimum, Gaddafi's ousting via other means. At this time, the Western laissez-faire military approach to the civil war – a bomb here; some light relief there – is not aiding the rebels. Rather, they are quickly marching toward defeat, and the kind of butchery in Benghazi we were supposed to be intervening to prevent. A rejuvenation of our intervention will save the revolution from extinction, and should stop the Mediterranean turning into a sea of blood.
Friday, April 1, 2011
by Charles Krauthammer, The Washington Post, March 31, 2011
During the worst days of the Iraq war, this regime funneled terrorists into Iraq to fight U.S. troops and Iraqi allies. It is dripping with Lebanese blood as well, being behind the murder of independent journalists and democrats, including former prime minister Rafiq al-Hariri. This year, it helped topple the pro-Western government of Hariri's son, Saad, and put Lebanon under the thumb of the virulently anti-Western Hezbollah. Syria is a partner in nuclear proliferation with North Korea. It is Iran's agent and closest Arab ally, granting it an outlet on the Mediterranean. Those two Iranian warships that went through the Suez Canal in February docked at the Syrian port of Latakia, a long-sought Iranian penetration of the Mediterranean.

Yet here was the secretary of state covering for the Syrian dictator against his own opposition. And it doesn't help that Clinton tried to walk it back two days later by saying she was simply quoting others. Rubbish. Of the myriad opinions of Assad, she chose to cite precisely one: reformer. That's an endorsement, no matter how much she later pretends otherwise.

…No one is asking for a Libya-style rescue. Just simple truth-telling. If Kerry wants to make a fool of himself by continuing to insist that Assad is an agent of change, well, it's a free country. But Clinton speaks for the nation.
Tuesday, March 29, 2011
Sunday, February 27, 2011
The Fall of Tripoli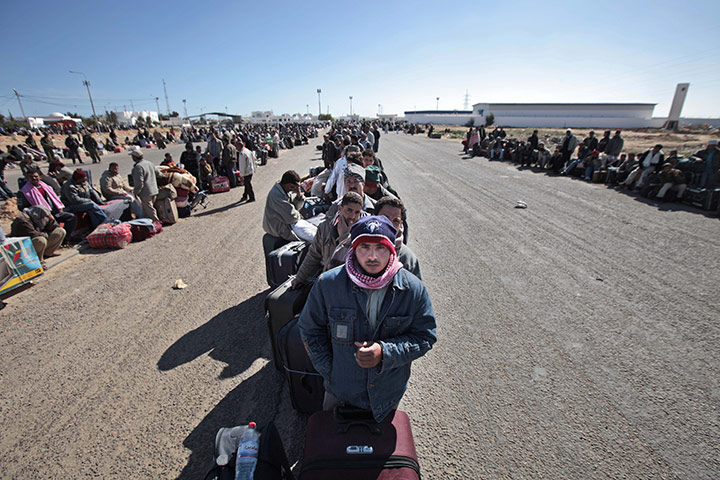 The international community have been valiant in their efforts as far to rescue their respective citizenries from Libya, the hostile desertscape whose sand-strewn dunes will soon be dyed a deepest crimson with the blood of martyrs. Just in the most recent hours, more than 150 oil workers were 'dramatically rescued' as "two RAF Hercules aircraft – backed by the SAS – pulled off a high-risk evacuation of British and other citizens." This follows the chartering of ferries, aircraft and military vessels by European governments to rescue the marooned around the clock.
But what of those left behind? the brave and embattled Libyans. Previously, I have called on either the United Nations or, if they prove to be as sloth-like and impotent as ever, an arranged coalition such as NATO to "seriously consider the possibility of using pre-emptive hard power against the Libyan administration – up to and including the use of targeted air strikes – in order to hasten Gaffadi's demise," and prevent a 'Tiananmen in Tripoli'.
In piecemeal, leading lights in global politics are taking steps to suffocate the regime. The United States has frozen "all Libyan assets in the US that belong to Gaddafi, his government and four of his children," in addition to a suspension of defence trade and a call for his resignation. Further, Britain and France have circulated a draft resolution at the United Nations that would "impose an arms embargo on Libya and refer reported violence to the International Criminal Court in The Hague."
Yet, as Zvi Bar'el has noted, "freezing Gaddafi's accounts, enforcing a weapons embargo and not granting visas to his officials will not deter him from continuing his war against his civilians." Gaffadi is in preparation for his war to end all wars, and sanctions which seek to undermine his legitimacy will not stop this from happening.
Already, several witnesses in Tripoli said forces loyal to Gaddafi had shot people from ambulances and used antiaircraft guns against crowds. Witnesses to the violence also said the government had removed dead bodies from hospitals to try to obscure the death toll.
As far, the United Nations route to a definitive solution is proving futile, as slugs and slimeballs like Turkish Prime Minister Recep Tayyip Erdogan continue to oppose even sanctions. Moreover, if we continue to mount gallant military operations in order to rescue own our people, whilst the Libyans are left to defend themselves from Gaffadi's ruthless mercenaries, we risk creating another 'fall of Saigon moment,' complete with similar scenes of abandonment and betrayal.
I can only restate my original proposal, and stress it firmly once again. Gaffadi must be removed, he must be removed with haste, and if necessary he must be removed with force.
(Photograph: Lefteris Pitarakis/AP)