Friday, April 5, 2013
by Zvika Krieger, The Tower, April 2013
So if marriage is not the Holy Grail for gays seeking equality and acceptance in Israel, what is? Increasingly the answer has to do with having children. "We Israelis chase heritage," Gelfand says. "When gay people come out of the closet here, the reaction of their parents is, 'Does this mean you won't have children?' They're obsessed with ancestry." As one Israeli gay activist put it, "We're a country full of Jewish mothers. What do you expect?"

Religion's heavy influence on Israel society, while it limits gays' ability to marry, also makes Israeli culture "very family-oriented," says Doron Mamet, who founded a surrogacy consulting firm in Tel Aviv for gay couples. "In Israel, if you don't have your family, you don't exist. In order to be part of normative society, you need a family." The recent Central Bureau of Statistics report found that 75 percent of Israeli couples have children.

Having children in Israel carries a certain nationalist resonance, as well. Israel struggles to retain a Jewish majority in the land it controls between the Mediterranean Sea and the Jordan River. According to some estimates, however, the Arab and Jewish populations are coming precariously close to parity. This is part of the reason why Israel's policies on in-vitro fertilization (IVF) are among the world's most liberal, and why IVF is generously subsidized through the national healthcare system. (Israel leads the world in most IVF treatments administered per resident, with a ratio that is 13 times that of the United States.) "In my conversations, I hear having children described as the queer contribution to the building of the Jewish state," says Frederick Hertz. "I don't think an American gay dad would talk about having kids as building the American state."

"To be parents and reproduce, to produce Jews, is part of the Zionist ethos and very important to Israel's demographics," comments Eyal Gross, a law professor at Tel Aviv University. "You're a good gay, you brought us nice new children, many children—this is the ticket to normalization, much more than marriage."
Friday, March 1, 2013
by Dylan Bergeson, The Atlantic, February 28, 2013
Today, Greenberg estimates the majority of funding for excavations in Israel and Palestine comes from religious sources. As a result, he said, researchers are plagued by financial pressure to produce religiously significant discoveries. Recent years have seen multiple claims of finding Noah's Ark, the secret location of the Ark of the Covenant, and most recently, a fraudulent ossuary that was claimed to contain the bones of Jesus' family.

…Price believes that DNA from charred goat bones he discovered at Qumran will prove a genetic match for the leather skins of the Dead Sea Scrolls. He theorizes that the bone deposits are in fact evidence of an ancient ritualized feast that anticipated the coming messiah. Many of his supporters take the claim further, saying Price has hit on evidence of the Last Supper—an interpretation he is careful to distance himself from, though he won't deny the possibility. "You can see where this is heading," Greenberg said. "There is no way he can set up a scientific structure of proof. If you find bones you can say anything about that."

As he spoke, Greenberg set down his empty mug. "Somebody could find this coffee cup and say the Prime Minister of Israel was here." He listed off proofs: "He drinks coffee. We're in Israel. Maybe he is known to come to this cafe."

"Science doesn't work by building up a house of cards and trying to prove it," Greenberg said. "Science works by ruling out all possibilities until only one is left."
Monday, December 17, 2012
Tuesday, December 11, 2012
Progressive Jews Spearhead UK Equal Marriage Push
UPDATE: An edited version of this post has been published in The Forward headlined, "Pushing for Gay Marriage Across The Pond".
David Cameron is setting himself up for the most almighty clash with the British religious establishment this week, as he prepares to amend the laws on marriage.
The leaders of all three main parties support government plans to afford same-sex couples the right to civil marriage, plus permission to wed in churches and other religious buildings. While the proposed law is designed to allow churches and congregations the flexibility of opting in or out of officiating same sex ceremonies, it is nonetheless opposed by the Church of England and the Roman Catholic Church.
Orthodox Chief Rabbi Lord Sacks and the London Beth Din also oppose any alterations to the traditional definition of marriage. The United Synagogue, of which Rabbi Sacks is the spiritual leader, maintains that "marriage from time immemorial has been that of a union between a man and a woman", and as such "any attempt to redefine this sacred institution would be to undermine the concept of marriage."
Yet progressive Jewish denominations – along with Congregationalists, Unitarians, and Quakers – have been leading the push to host same-sex weddings in their places of worship. Liberal Judaism was the first branch to back the Coalition for Equal Marriage – the umbrella organisation lobbying in favour of same-sex marriage – asserting that, "as Liberal Jews, we want to support positive celebrations of life that help the individual to revel in life's joys as well as to support them through life's difficulties."
Friday, October 19, 2012
The Law Must Not Permit Christian Homophobia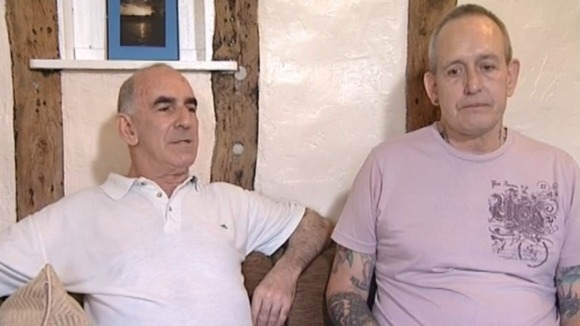 Closure, almost. The Christian owner of a bed and breakfast has, The Guardian reports, been ordered to pay £3,600 in damages after a court found Susanne Wilkinson's refusal to let Michael Black and John Morgan, a gay couple, stay in one of her double rooms. This act was deemed to have amounted to direct discrimination and a breach of equality law — and, rightly so.
I say closure, almost, because Ms Wilkinson and the good people at the Christian Institute — an organisation of charlatans and blaggards which seeks to send the United Kingdom back into the dark ages via "the furtherance and promotion of the Christian religion" and promotes the teaching of lies to children in schools — are considering an appeal, her religious rights supposedly having been infringed. And, their new found ally and BNP leader Mad Eye Griffin, the last crusader against the forces of heterophobia, has weighed in too, tweeting Mr Black and Mr Morgan's home address, threatening them with violence, and moaning, "Why don't left & gay activists confront Muslims instead of picking on meek & forgiving Christians?" That's always how I've thought of Mr Griffin — meek and forgiving.
This sort of nonsense has to stop. Liberty, an organisation I don't usually care for a great deal, had the right line on this issue. James Welch, legal director of Liberty, said in a statement the following:
Liberty defends the rights of religious groups to manifest their beliefs, even when we disagree with them. But it is simply unacceptable for people running a business to refuse to provide a service because of someone's sexual orientation. Hopefully today's ruling signals the death knell of such 'no gays' policies – policies that would never be tolerated if they referred to a person's race, gender or religion.
If Ms Wilkinson doesn't want to let homosexuals — or indeed blacks, Muslims, or atheists — into her home, then fine. Be prejudicial in private, for all I care. Indeed, if Ms Wilkinson wanted to stand out in the street, ranting and raving with a cardboard sign reading, "God Hates Fags", then she is well within her rights to do so. Her right to speak, in such an instance, would be and must be protected.
But as the legal proceedings concluded, Ms Wilkinson was exercising her free speech nor her right to religious freedom. She was operating a business, and under the law in this country as a service provider, she is not entitled to discriminate on grounds of sexual orientation. The law of the land is paramount and at unity, and all are equal under it. Ms Wilkinson is not entitled to an exemption nor to be bigoted in his manner merely because of the fantastical claims of holy books, and the aura of respectability believing in them seems to grant people.
Salman, The Messenger [September 13, 2012]
Protecting Free Inquiry from Religious Bullies [September 24, 2012]
Wednesday, August 22, 2012
Romney's Problem with the First Amendment
I always think it odd when any religious American starts up about the perils of having a strict separation of church and state. In spite of having a secular constitution, nowhere in the Western world — indeed, the world entire — are the rights of the religious afforded greater protection than in the United States. As a consequence, the inhabitants of the land between the Atlantic and the Pacific are far more religious, and overtly and militantly so, than in any European nation.
So, here's Mitt Romney on the role of faith in American political life:
Republican presidential candidate Mitt Romney believes that "some" Americans have taken the separation of church and state too far, "well beyond its original meaning."

In an interview released Tuesday with the Washington National Cathedral's magazine, Cathedral Age, Romney said those who "seek to remove from the public domain any acknowledgment of God" aren't acting in line with the Founders' intent.
Odd that such a keen constitutionalist should have such a problem with one particular passage. The First Amendment could not be more clear on this issue: "Congress shall make no law respecting an establishment of religion, or prohibiting the free exercise thereof". Thomas Jefferson expanded on this point in a letter of 1802 which assured the American people that there shall be a "a wall of separation between church and State", adding that "the legislative powers of government reach actions only, and not opinions". Nobody is stopping Gov. Romney or anybody else from discussing religion in the public square, then. Rather, it is the role of government to stay out of the religion business — thus, no prayer in public schools — unless there is the possibility of harm.
Wednesday, August 15, 2012
by Adam Gopnik, The New Yorker, August 13, 2012
Mormonism remained more or less theologically whole, with its holy book and its distinctive doctrines. But this sublimation of the energy of the faith into the energy of commerce seems always to have marked it afterward. Many faiths know a moment when a territorial practice gets pointed toward a symbolic and indoor activity: thus, most famously, the move from the Temple Judaism of ancient Israel to the Talmudic, rabbinical Judaism that arose after the destruction of the Temple. Less noted, perhaps, is the retrenchment of Roman Catholicism in France from the aggressive political role it played as recently as the Dreyfus affair toward the inward-turning N.G.O. it is today: the energy that produced Sacré Coeur in Montmartre now expresses itself in the number of water wells dug in Africa. For Mormonism, the intensity of the faith got sublimated into missionary zeal and commerce. Joanna Brooks explains this nicely: "Being Mormons we were taught never to go in for the bamboozle of mysterious sacraments of grace embraced by the rest of apostate Christendom… . No, no, we Mormons were taught that our works must carry us there." The emphasis on works is a Protestant standby, but in this case it is without the grim Calvinist suspicion that maybe the works won't get you to Heaven. Mormons know they will. Work and grace are not in tension but in neat accord. A mercantile church and a missionary church move in the same holy direction, and the vector that points both forward is the energy of enterprise.
Wednesday, July 25, 2012
by James Kirchick, Tablet Magazine, July 24, 2012
Around the world, a handful of politicians have urged their governments to prosecute Scientology as a criminal conspiracy. Three years ago, a Paris court found the Church guilty of fraud and fined it $900,000. That same year, a member of the Australian Senate, Nick Xenophon, delivered a speech in which he described Scientology as "criminal organization that hides behind its so-called religious beliefs." After calling for an investigation into the Church's tax-exempt status during a television interview, he began to receive letters from ex-Scientologists across Australia detailing what he described as "a worldwide pattern of abuse and criminality," including torture, forced confinement, and coerced abortions. (Xenophon's call for a parliamentary inquiry into the Church was ultimately rejected by the Australian government.) In 2007, following a 10-year investigation, a Belgian prosecutor called for the Church to be labeled a criminal organization and recommended that up to 12 Church officials face charges for the illegal practice of medicine, violation of privacy, and use of illegal contracts. The State Department criticized the move, stating that the United States would "oppose any effort to stigmatize an entire group based solely upon religious beliefs and would be concerned over infringement of any individual's rights because of religious affiliation."

But it was not long ago that the U.S. government came close to cracking down on Scientology. In a New Yorker profile last year of Paul Haggis, the Academy Award-winning director of Crash who recently defected from the Church, Lawrence Wright reported that the FBI was investigating Scientology on charges of human trafficking. According to Tony Ortega, the editor of the Village Voice who has long written about the Church, the bureau was preparing to raid Scientology's California international headquarters—using footage it had shot with drone aircraft—based upon evidence that a defector had given them about "an office-prison made up of two double-wide trailers where fallen officials were kept day and night, sleeping on the floor and being forced to take part in mass confessions." The probe was ultimately called off for unknown reasons.

…For obvious reasons—beginning with the Constitution, and the fact the United States was founded by Europeans seeking religious persecution—most Americans are loath to do anything that would appear to infringe upon someone else's religious liberty. Though some of us may find each other's religious convictions, or religion itself, strange, few believe that it should be the government's role to tell other people how, if at all, to pray. And so while the consensus in the United States may be that Scientology is a bit nutty, the general attitude, owing to Americans' dedication to individual liberty, seems to be: live and let live. The problem with Scientology is that it is not content to let other people "let live," certainly not those who join the Church or criticize it from the outside.

The differences in historical traditions of American individualism and European communalism should not be used to discourage a tougher American approach to dealing with the Church of Scientology. Revoking its ill-gotten tax-exempt status is the obvious first start, followed by an end to criticism of foreign governments, such as Germany's, for doing precisely what the U.S. government should be doing: investigating Scientology as a harmful enterprise, with the ultimate aim of shutting it down. Congress should establish a commission, as have many other governments, to investigate the Church and its activities and actively warn citizens about its dangers. Such policies should be seen as no different from a public-health measure, like long-existing, widely popular government campaigns to discourage smoking.
Thursday, July 19, 2012
by Walter Kirn, The New Republic, July 13, 2012
On down the river we drove, into Missouri. The buses pulled over in a parking lot overlooking a leafy summer cornfield bordered by a tangled hardwood forest. We filed out and were made to stand in silence before what one chaperone, balding, tall, and stern, declared to be Eden, man's childhood home. It was also the spot where Jesus would return to rally the elect, he said. We were shown the broad rock where, according to our guide, the Savior would stand and speak. We were encouraged to stand on it ourselves. The boy who preceded me in line was crying when he stepped down off the stone, one hand pressed on his stomach as though it ached. As Mormons, we'd learned that a burning in our bellies meant we were in the presence of the Spirit, whose job was to confirm for people in doubt the truth of propositions their minds resisted. This was one of those. Eden in a cornfield? It had to be planted in something, I supposed, but then there was the matter of its size. For Adam and Eve it was spacious enough, perhaps, but could it hold all the Mormons who'd be left after the tribulations of the Last Days? Only if they packed in awfully tight.

As Carla and the others watched me, I mounted the rock in my untied tennis shoes and awaited intestinal confirmation of a story I suddenly found preposterous. Other tales from the trip had strained belief, but I'd strained back and managed to accept them. This one was different, though. This one hurt to think about.

What happened next surprised me. As I gazed at the field and struggled to imagine a sea of faithful saints gathered to take instruction from God's son as nuclear mushroom clouds billowed on the horizon and vultures circled above the woods, my stomach cramped. Not a strong cramp, but a cramp. Was this the same as a "burning"? Well, say it was. What prompted it, though? I feared I knew: pure tension. The tension of glancing over at my friends and wondering if I could conceal the look of emptiness that comes from finally losing one's spiritual innocence.
Monday, July 9, 2012
by Jamie Doward, The Observer, July 8, 2012
Once it was the case that the church could rely on its internal disciplinary mechanism to ensure negative publicity was kept to a minimum. According to lawsuits, contested by the church, followers were threatened with manual labour if they spoke out about harsh treatment. The ever-present threat of being rejected by the church and having all links with it broken off, was enough to make even sceptical Scientologists stay silent.

But this fear no longer holds sway – even among Miscavige's own family. "My experience in growing up in Scientology is that it is both mentally and at times physically abusive," his niece, Jenna Miscavige Hill, told the Hollywood Reporter. "We got a lousy education from unqualified teachers, forced labour… not to mention the mental anguish of trying to figure out all of the conflicting information they force upon you as a young child… As a mother myself, I offer my support to Katie and wish for her all the strength she will need to do what is best for her and her daughter."

Even those who are supportive of the church are tired of Miscavige's influence. Last New Year's Eve, Debbie Cook, a high-profile Scientologist, emailed the church's followers, urging them to reject its demands for money. Under Miscavige, Cook said, Scientology had become too focused on luxury buildings and was holding more than $1bn in reserve instead of spending it on spreading the religion, claims denied by the church. Miscavige, Cook claimed, had dismantled the internal checks that were supposed to prevent the church from being led by a single person.

There are claims that several of Scientology's former followers have briefed the FBI on Miscavige's lifestyle. It is alleged that he owns numerous vehicles, flies in corporate jets and has five stewards and two chefs at his disposal – claims denied by the church.