Tuesday, June 26, 2012
by Carlo Strenger, Ha'aretz, June 24, 2012
I believe that it is time for Israel's liberal seculars to learn from Dawkins and Hitchens, counter-attack and show that our position is intellectually and morally superior to that of our latter-day theocrats. We must show that modern science is vastly superior to any alternative attempt to understand the universe. We must not be afraid to say out loud that archaeology shows that the famed kingdom of David and Solomon was nothing but a small tribal state with no relevance to running a modern state.

We must replace timid political correctness with an attitude of civilized disdain and expose the incoherence of a modern theocratic state. We must show that liberalism has always been the condition for scientific, technological and social innovation, and make clear that all theocratic regimes in modernity end up as primitive backwaters, no matter what the religion.

We must expose the theocrat's ignorance of deep thought grounded in modern political philosophy - from Spinoza, Hobbes and Locke, to Kant to John Stuart Mill - which is the foundation of liberal democracy. We must show that liberal democracy is the only framework that allows peaceful coexistence between groups with different beliefs; and that, with all its failings, it is vastly superior to any other form of political organization that has so far been attempted.

If they say that most modern political philosophers are not Jews, we must tell them that they think in tribal terms that are totally anachronistic today. We should say that we are proud that Jews have contributed enormously to world culture in the sciences, arts and technology. But we believe that our children and students should know the best of human thought - from everywhere - and that far from emptying our cart, our openness makes it much richer than theirs.

If we don't forcefully defend liberal values, including the separation of religion and state, now, we will soon lose the right to voice them at all.
Wednesday, April 18, 2012
by Gabriel Arana,The American Prospect, April 11, 2012
The ex-gay movement has relied on the Spitzer study as the single piece of objective evidence that therapy can work. The need for that evidence became more pressing in the early 2000s, when a cadre of gay-rights bloggers began to scrutinize the movement, ready to expose any hint of hypocrisy. There was plenty of material. 

John Paulk, Love Won Out founder, chair of the board of Exodus International, and husband of Anne Paulk, was spotted and photographed at a Washington, D.C., gay bar. Richard Cohen, the founder of PFOX (Parents and Friends of Ex-Gays and Gays)—intended as the ex-gay counterpart to PFLAG (Parents, Families, and Friends of Lesbians and Gays)—was expelled from the American Counseling Association for ethics violations. Michael Johnston, the founder of "National Coming Out of Homosexuality Day," was revealed to have infected men he'd met on the Internet with HIV through unprotected sex. 

A member of NARTH's scientific advisory board ignited controversy by suggesting that blacks were better off having been enslaved, which allowed them to escape the "savage" continent of Africa. Shortly thereafter, the board of NARTH removed Nicolosi, who was still president. In 2010 it was revealed that NARTH's executive secretary, Abba Goldberg, was a con man who had served 18 months in prison.

Therapists associated with NARTH and Exodus were accused of sexually assaulting clients or engaging in questionable therapy practices. Among them were Alan Downing, the lead therapist of JONAH (Jews Offering New Alternatives to Homosexuality), who made his patients strip and touch themselves in front of a mirror; NARTH member Christopher Austin, who was convicted of "unlawfully, intentionally and knowingly caus[ing] penetration of" a client; and Exodus-affiliated Mike Jones, who asked a patient to take off his shirt and do push-ups for him.
Friday, April 6, 2012
An American Education, or Why Peter Beinart is Wrong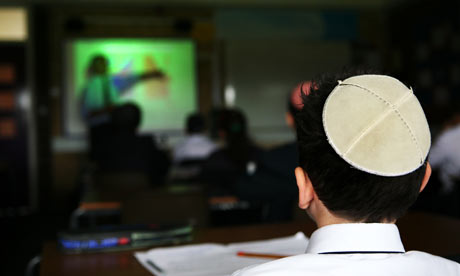 I choose to believe, given Peter Beinart sends his own children to a Jewish day school, that his recent op-ed in The Wall Street Journal is well-meaning. Beinart's angst seems heartfelt and altogether sincere when he observes that parents who elect to send their offspring to privately-funded Jewish schools in the United States "are often asked to pay top dollar for schools with makeshift gymnasiums and antiquated science labs".
In order to plug the funding gap which philanthropy alone cannot fill so that religious schools might "flourish", Beinart's solution is for the federal government to provide "substantial aid to religious schools", picking up "pick up part of the tab" for those who wish to give their children a Jewish or indeed any sort of religious education. This approach strikes me has highly irregular, counterproductive, and in the longer term a grave threat to the unique American separation between church and state.
Beinart praises the Jewish schools of Canada, Australia, and the United Kingdom. Indeed, here in the United Kingdom we do possess many first-rate Jewish schools, such as the Jews' Free School in north London or Beis Yaakov High School in Manchester, which receive government monies (38 in number as of 2011, or 0.19% of all state-funded schools in the country). The schools cited are labelled as voluntary aided schools, where the state employs the staff and sets admissions criteria, but the buildings are owned by the charitable foundation which has a great deal of influence regarding how the institution is run – a model I sense Beinart may favour.
In the United Kingdom, faith schools are largely Christian in character: 22.88% of state schools for run by the Church of England; 10% by the Roman Catholic Church. Places in these schools are oft in great demand in catchment areas across the country. Regarded for their academic attainment and educational rigour, the phenomenon of competitive secular parents appearing at Sunday Mass for the sake of their kids is sadly not uncommon.
But above-average levels of accomplishment or an ostensible sense of religious pluralism does not make the funding of faith schools by national governments correct or just. The very notion of state funding for religious schools is antithetical to the basic principles of public education, which ought to be accessible to and actively encourage interaction between children of different races, religions, and social strata. By their very nature, faith schools are exclusionary, since they discourage admission of those who do not share in the faith of that institution.
Wednesday, April 4, 2012
A Note on Jewish Values
According to the most recent survey of Jewish values, a majority of American Jews:
Support the re-election of Barack Obama (62pc);
View President Clinton either very or somewhat favourably (77pc);
Believe Republican leaders are doing too little to compromise with President Obama (77pc);
Believe the government should do more to reduce the gap between rich and poor (64pc);
Favour the introduction of a new tax bracket for those earning over $1 million per annum (81pc);
Believe American Muslims are an important religious community within the United States (66pc);
Greatly distrust the Christian Right, ranking them 20.9 on a 1-100 unfavourable-favourable scale;
Think the Israeli-Palestinian conflict (90pc) and Iran (83pc) are the greatest threats to Israel's future and security;
Believe abortion should be legal in all or most cases (93pc);
Support same-sex marriage (81pc);
Favour tougher laws and regulations to protect the environment (69pc); and
Oppose the Supreme Court potentially overturning Obamacare (58pc).
American Jewry, thus, is one of the essential minority groups that prevent the United States from becoming a banana republic.
Thursday, March 22, 2012
After Toulouse, Reviewing the Politics of Hate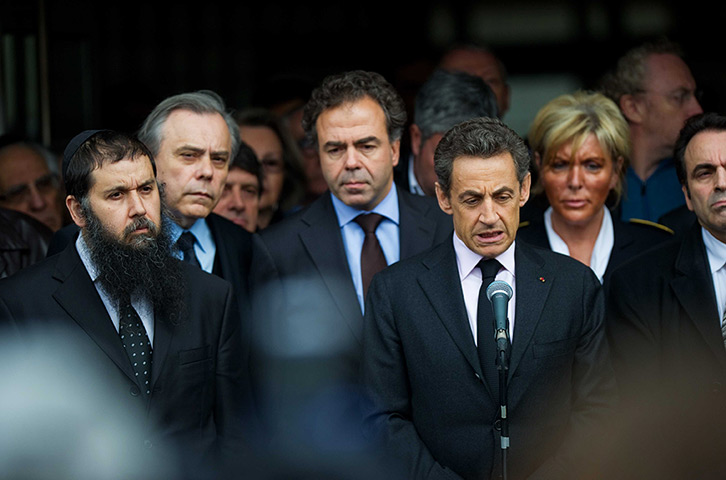 The slaughter of Jewish schoolchildren in Toulouse, and the emergence of a Muslim suspect who claims ties to al-Qaeda, has focused a piercing light on the temporarily halted presidential campaign, and specifically the heated rhetoric that has characterised the argument over immigration.
Nicolas Sarkozy, in order to win over disgruntled Front National voters, has moved decidedly rightward on this subject. Appearing on France 2's Des paroles et des actes, he proclaimed that integration in France was failing since there are "too many foreigners on our territory". He proposed to "divide by two the number of people that we welcome". In the same vein, in a later campaign speech Sarkozy threatened to pull France out of the Schengen zone.
The President even engaged in a debate with Le Pen over kosher and halal meat, following her assertion that "all the abattoirs of the Paris region have succumbed to the rules of a minority". After initially dismissing her claims, Sarkozy flip-flopped, calling for all meat sold in France to have labels outlining the method of slaughter.
The Prime Minister, François Fillon, was promptly dispatched to repair relations with the Jewish and Muslim communities, yet the damage is already self-evident. In a campaign marked for its lack of ideas or substance, racial and religious minorities became the subject of demonisation and delegitimisation. Sarkozy's Interior Minister, Claude Gueant, went so far as to openly use the old nationalist axiom, "les Français ne se sentent plus chez eux" – "the French no longer feel at home".
Tuesday, March 13, 2012
"
It was a common belief—reasonism, Kugel called it. They were a volatile bunch, the reasonists; all Christians, for example, are reasonists, but not all reasonists are Christian. Hannah was more of a general reasonist, not getting too specific about what the reason might be but certain above all that there was one—and it wouldn't irritate Kugel as much as it did if she were more honest, if she acknowledged, however briefly, that if there was indeed a reason for everything, it was as likely to be a bad reason as it was a good reason. But for reasonists, the reason was always positive: to teach us X, or so that we learn Y, to bring closer to Z. The reason was never because life's a bummer, or because whoever or whatever the Reason for Everything is, it finds our misery kind of funny.
"
from Hope: A Tragedy, by Shalom Auslander (London: Picador: 2012), 109.
Yearning for Zion: Israelism in the Mormon Faith
Israelism, the idea of a nation or people's direct descent from one of the ten lost tribes of Israel, or the appropriation of Jewish ideas or texts for use in new belief systems, is not unique to the Mormon faith. At the height of British imperial power in the early twentieth century, notions of a lineage from King David to the House of Windsor were too at their zenith. The country's national canon is awash with Israelism and references to Jerusalem, ranging from the King James Bible to the poetry of William Blake.
But it is the recent spate of stories regarding Mormon posthumous baptism of deceased Jews – an activity, it should be noted, which is neither secretive nor obscure within the faith – including Anne Frank, Simon Wiesenthal, Daniel Pearl, and the not-yet-dead Elie Wiesel that has brought into question the peculiar relationship which exists between Mormonism and Judaism, one where feelings of love and admiration very much journey down a one day street.
On the one hand, as a branch of Christianity, there is nothing inherently unusual about the fact that 25,000 words of the Book of Mormon are taken directly from the Old Testament. Nor that, of the 350 names published in the text, more than 100 are lifted straight out of the Bible, and the same amount again are near matches.
Yet there is something inherently distinctive about the Latter Day Saints' origin story. For, Mormons believe themselves to be the spiritual descendants of the Nephites, a lost tribe of Israel who led by the prophet Lehi fled Jerusalem around 600 BC at the time of the Babylonian conquest, ending their journey in the New World by 586 BC.
(Source: blogs.forward.com)
Monday, February 27, 2012
Thursday, February 23, 2012
Our Civil War Over Marriage Equality
It's been a while since this nation's engaged itself in a civil Kulturkampf. Not since the 1960s — when the issues of homosexuality, abortion, and the death penalty were settled for a time — have social issues had such a dominant place in the national discourse. I do not recall any rancour, at all, when civil partnerships entered into law in 2004, and homosexuals were granted at least some semblance of normality when it came to equal protection under the law.
But there's just something about the m-word — marriage — that has drawn all of society's squalid little bigots into one coalition against what it calls the disastrous consequences of "redefining marriage" to include same-sex unions. The main opposition organisation, the Coalition for Marriage, argues that if "traditional marriage" is eroded, "People's careers could be harmed, couples seeking to adopt or foster could be excluded, and schools would inevitably have to teach the new definition to children. If marriage is redefined once", they opine "what is to stop it being redefined to allow polygamy?"
What will stop this indeed?! I mean, who isn't calling for polygamous marriage in this country?! That they would even suggest this of course speaks to the moral foundations of those arguing against marriage equality. It is evident that they view homosexuality (or in some instances purely buggery) as being equivalent to polygamous relationships, or even incestuous bonds. The very notion of love between two peoples of the same gender seems to physically repulse them.
It is hardly surprising that these thoughts and feelings are being propagated by a coalition led by prominent members of the Church, both Anglican and Catholic. After all, why would god have done to the trouble of destroying Sodom and Gomorrah and turning Lot's wife into a pillar of salt, if not to prevent a minor adjustment to United Kingdom civil law? (I await the argument from the Catholic wing that Spain and Portugal's economic misfortunes have been brought on by them turning away from god and legalising same-sex marriage).
I worry for our collective condition if we allow the civil rights agenda to be set by people who wish to have the power to set the very definition of marriage, and turn gay couples away from the doors of private businesses (so much for militant secularism!). Our law is precious and it is blind to difference. I do not want it sullied in the name of a religious belief which demonises sexuality, something inherent to a person's nature, as possibly sinful or deviant.
It's high time that society and the law in this country recognised what many already understand fully, that as Christopher Hitchens has termed it, homosexuality is more than just a form of sex. It's a form of love. Equal marriage will not weaken us — it will reinforce one of our most essential bonds, in turn making our society stronger and fairer.
The Coalition for Equal Marriage has its own petition. It simply says that, "Marriage is unique. It is a union of two people in love, for life, to the exclusion of all others. A commitment upon which one can build a home and a family. We just think it should be available to all who want that commitment". I urge you to sign it today.
Wednesday, February 22, 2012
In Israel, Considering Life After The Tal Law
Everyone knows the old joke, right? In Israel, a third of the country works, a third pays taxes, and a third does military service. It just so happens that it's the same third.
The Tal Law — which has been ruled by the Israeli Supreme Court to be unconstitutional — was designed to correct at least part of this societal imbalance. Prior, Haredi men who entered into a yeshiva for religious instruction were exempt from military service. The Tal Law presented a pathway for the ultra-Orthodox to enter into the army. Torah students were permitted to take a year out for work or non-religious study. Following that year, haredim could then make the choice of whether to return to the yeshiva, or join the workforce and serve in the army in accordance with his marital status, or perform national service for a year and a half.
The number of haredim in service did in fact increase, but not to the extent hoped when the law was introduced some ten years ago. According to Israel Defense Forces figures, 1,282 haredi men enlisted in the army in 2011, up from 898 in 2010 and 729 in 2011.Of course, most of them served in special male haredi units, where the kashrut standards are higher and there is no mixing with women.
Nonetheless, the vast majority of young yeshiva student continue to receive exemptions without recourse, a situation widely deemed untenable given that the Haredi community is expected to double its numbers in the next decade. The Supreme Court ruled that "the wholesale exemption of yeshiva students from military service, authorized by the defense minister, did not conform with basic constitutional standards of equality".