Monday, March 12, 2012
Friday, March 9, 2012
At What Point Do We Say Enough?
I increasingly find myself entering into alliance with John McCain, Lindsey Graham, and Joe Lieberman, in order to advance my foreign policy interests in the United States Senate. It is an uncomfortable place to be, but it is one which is necessary, since they have often been correct on the major questions of our time since September 11, 2001.
I say this particularly with regard to Sen. McCain. Not only has he aligned himself with Barack Obama in order to oppose the use of torture (or what Dick Cheney so menacingly called "enhanced interrogation"), but he was one of the leading voices in favour of the exercise of force in order to liberate the people of Afghanistan and Iraq, and prevent a genocide in Benghazi, Libya.
Now, McCain finds himself at the tip of the spear (to use a Bachmann-ism), campaigning for U.S.-led airstrikes against Syrian President Bashar al-Assad's military forces, who are at this present time engaged in a civil war where, for the army, civilian and rebel as indistinguishable. On the Senate floor, McCain pleaded:
The time has come for a new policy. The United States should lead an international effort to protect key population centres in Syria, especially in the north, through airstrikes on Assad's forces. To be clear: This will require the United States to suppress enemy air defences in at least part of the country. If we stand on the sidelines, others will try to pick winners, and this will not always be to our liking or in our interest.
McCain is exactly right, but efforts to assist rebel forces in Syria, or least stop the bloody progress of the Assad regime, have been halted and blocked in the United Nations. Therein rests the problem. For, the Obama Doctrine (as I understand it) has a clear tenet which demands that, in order to exert force in accordance with the global "responsibility to protect", international coalitions must be constructed through multilateral bodies such as the United Nations and NATO. And, they must be legal under international law – this demands, more often than not, a UN Security Council resolution of some kind.
Monday, December 5, 2011
by James Harkin, Newsweek, November 28, 2011
The living stay at home. Everyone sits tight and waits. Many homes in the city are doing without gas, electricity, or hot water; even in the city center, where I stay, there is no hot water to be found. In the morning, people walk around the city center, as if stretching their legs after their hours of being cooped up indoors. But the claustrophobia, the feeling of everyone watching and being watched, is intense. When I venture outside—everyone cautions me against it—I feel like every Syrian is staring at me. There's shooting, I'm told, in an area just a few hundred yards away from the hotel where I'm staying. Demonstrations still take place in areas of the city, often after a funeral or Friday prayers. In a café I see two waiters racing to a window and leaning out of it excitedly; one of them thought he could hear chanting going on in a different part of the city. I follow them to the window but strain to hear anything. In the early afternoon, even the center of the city begins to shut down. By early evening an informal curfew is in place and an unnatural quiet descends on the entire, empty city. Staring out at the main square from an otherwise vacant hotel, the place looks haunted, as if all its residents have been stolen away.
Tuesday, November 29, 2011
by Gershom Gorenberg, The New York Times, November 25, 2011
In its current term, the Knesset has sought to turn parliamentary power against democratic principles and Israel's Arab minority. Foreign Minister Avigdor Lieberman's far-right Yisrael Beiteinu party has led the offensive, but other legislators have joined it. Members of Tzipi Livni's Kadima party co-wrote the community settlements law.

Another law makes it illegal to call for consumer boycotts of products from settlements. Other bills would require loyalty oaths to Israel as a Jewish and democratic state and to its flag and national anthem. They may never pass but they serve as political theater, labeling the Arab minority as disloyal.

Israel's courts, human rights groups and large parts of the public have fought back, seeking to preserve the principle of equality and the fragile sense of a shared society. The problem they face is that Israel remains tied to the West Bank and the settlement enterprise. And the ethnic struggle cannot be kept on one side of an unmarked border.

If and when Israel finally leaves the West Bank quagmire behind, it will face a further challenge: the settlers need to be brought home. But allowing them to apply their ideology inside Israel, or to transplant whole communities from the West Bank to the Galilee, will only make the situation worse in Israel proper.

The reason for Israel to reach a two-state solution and withdraw from the West Bank is not only to reach peace with the Palestinians living in what is now occupied territory. It is to ensure that Israel itself remains a democracy — one with a Jewish majority and a guarantee of equality for its Arab minority.

Israel does not need to bring the war from Samaria home. It needs to leave that war in the past.
Sunday, November 6, 2011
by Ed Vulliamy, The Guardian, November 5, 2011
There is no overestimating the phenomenon of Edin Džeko – whose first, magnificent, goal for Bosnia I saw at Sarajevo's Koševo stadium – in the team's success, in the importance of Friday's match and in the aspirations and lives of Bosnians at home and across the diaspora.

Asim Selimovic, who spent his childhood in besieged Srebrenica and was dressed as a girl by his mother to avoid the slaughter in 1995, now lives and studies in St Louis, Missouri. He speaks for fans the world over when he says: "Džeko is a national idol. He is our pride and joy. When Džeko scores, every Bosnian refugee in the world has scored. He is our example, our hope."

…With Džeko, Teplice won the Czech cup. In 2007, he moved to Wolfsburg, in Lower Saxony, Germany, for €4m, where he won a Bundesliga title and became top scorer in the club's history, then to Manchester City for £27m. Yet, unlike others, Džeko refused offers of both Czech and then German citizenship, which would have taken him to the World Cup finals, choosing Bosnia as his national side – partly his own personal commitment, but also because of the philosophy and counsel of Plíšek, a man of impressively thoughtful modesty. "These boys reach crossroads where they have to choose who they are, and some understand that glory and money are not everything", he says. "By choosing Bosnia, Džeko answered that crucial question, 'who am I?', and sent a message to his country, his parents and children. For me, this is how truly great players are made."
Monday, August 8, 2011
Friday, June 24, 2011
by David Brooks, The New York Times, June 20, 2011
Much of the aid effort was premised on the assumption that development would foster stability. Young men with jobs wouldn't plant roadside bombs. Communities with growing economies would reject the Taliban. This assumption was based on the modern prejudice that bad behavior has material roots. Give people money and jobs and you will improve their character and behavior.

In Afghanistan, as elsewhere, this assumption seems not to be true. A conference of experts brought together last year in Wilton Park in Britain concluded that there is a "surprisingly weak evidence base for the effectiveness of aid in promoting stabilization and security objectives" in Afghanistan.

Violence doesn't stem from poverty. It stems from grudges, tribal dynamics and religious fanaticism — none of which can be ameliorated by building new roads. The poorest parts of the country are not the most violent.

Meanwhile, the influx of aid has, in many cases, created dependency, fed corruption, contributed to insecurity and undermined the host government's capacity to oversee sustainable programs.
Friday, April 1, 2011
by Charles Krauthammer, The Washington Post, March 31, 2011
During the worst days of the Iraq war, this regime funneled terrorists into Iraq to fight U.S. troops and Iraqi allies. It is dripping with Lebanese blood as well, being behind the murder of independent journalists and democrats, including former prime minister Rafiq al-Hariri. This year, it helped topple the pro-Western government of Hariri's son, Saad, and put Lebanon under the thumb of the virulently anti-Western Hezbollah. Syria is a partner in nuclear proliferation with North Korea. It is Iran's agent and closest Arab ally, granting it an outlet on the Mediterranean. Those two Iranian warships that went through the Suez Canal in February docked at the Syrian port of Latakia, a long-sought Iranian penetration of the Mediterranean.

Yet here was the secretary of state covering for the Syrian dictator against his own opposition. And it doesn't help that Clinton tried to walk it back two days later by saying she was simply quoting others. Rubbish. Of the myriad opinions of Assad, she chose to cite precisely one: reformer. That's an endorsement, no matter how much she later pretends otherwise.

…No one is asking for a Libya-style rescue. Just simple truth-telling. If Kerry wants to make a fool of himself by continuing to insist that Assad is an agent of change, well, it's a free country. But Clinton speaks for the nation.
Sunday, February 27, 2011
The Fall of Tripoli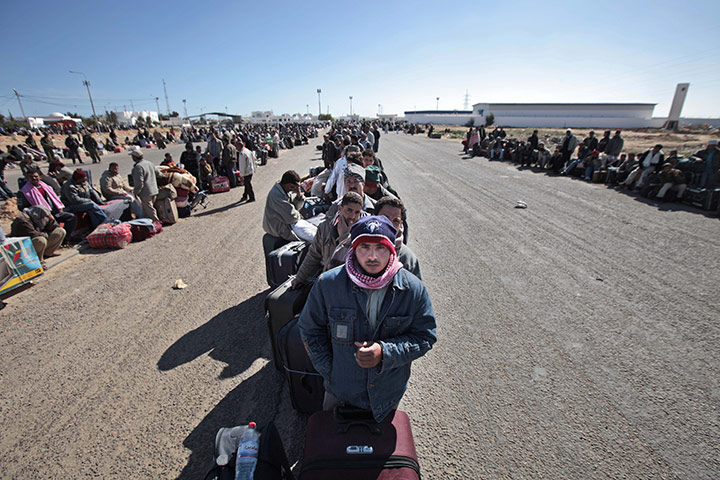 The international community have been valiant in their efforts as far to rescue their respective citizenries from Libya, the hostile desertscape whose sand-strewn dunes will soon be dyed a deepest crimson with the blood of martyrs. Just in the most recent hours, more than 150 oil workers were 'dramatically rescued' as "two RAF Hercules aircraft – backed by the SAS – pulled off a high-risk evacuation of British and other citizens." This follows the chartering of ferries, aircraft and military vessels by European governments to rescue the marooned around the clock.
But what of those left behind? the brave and embattled Libyans. Previously, I have called on either the United Nations or, if they prove to be as sloth-like and impotent as ever, an arranged coalition such as NATO to "seriously consider the possibility of using pre-emptive hard power against the Libyan administration – up to and including the use of targeted air strikes – in order to hasten Gaffadi's demise," and prevent a 'Tiananmen in Tripoli'.
In piecemeal, leading lights in global politics are taking steps to suffocate the regime. The United States has frozen "all Libyan assets in the US that belong to Gaddafi, his government and four of his children," in addition to a suspension of defence trade and a call for his resignation. Further, Britain and France have circulated a draft resolution at the United Nations that would "impose an arms embargo on Libya and refer reported violence to the International Criminal Court in The Hague."
Yet, as Zvi Bar'el has noted, "freezing Gaddafi's accounts, enforcing a weapons embargo and not granting visas to his officials will not deter him from continuing his war against his civilians." Gaffadi is in preparation for his war to end all wars, and sanctions which seek to undermine his legitimacy will not stop this from happening.
Already, several witnesses in Tripoli said forces loyal to Gaddafi had shot people from ambulances and used antiaircraft guns against crowds. Witnesses to the violence also said the government had removed dead bodies from hospitals to try to obscure the death toll.
As far, the United Nations route to a definitive solution is proving futile, as slugs and slimeballs like Turkish Prime Minister Recep Tayyip Erdogan continue to oppose even sanctions. Moreover, if we continue to mount gallant military operations in order to rescue own our people, whilst the Libyans are left to defend themselves from Gaffadi's ruthless mercenaries, we risk creating another 'fall of Saigon moment,' complete with similar scenes of abandonment and betrayal.
I can only restate my original proposal, and stress it firmly once again. Gaffadi must be removed, he must be removed with haste, and if necessary he must be removed with force.
(Photograph: Lefteris Pitarakis/AP)
Sunday, January 30, 2011