Monday, April 14, 2014
Jewish War Poet Finally Getting His Due
It was the slain generation of warrior-poets who, more than any others, captured the brutality and inhumanity of the First World War and cemented in the English imagination a perception of that conflict as pointless and futile.
As wave after wave of men were sent to their deaths at the Somme and comrades drowned in the mud at Passchendaele, English poetry from the front abandoned themes of patriotism, glory and valour for the pain and misery of trench warfare. Verse became soaked in blood as nearly 900,000 British troops fell in the fields of France and Belgium. "But the old man who not so, but slew his own," Wilfred Owen wrote in his twisted retelling of the binding of Isaac, "and half the seed of Europe, one by one."
The Great War's centennial has brought about a re-examination not only of the war itself but how it is remembered, what is emphasised and what is forgotten. In that spirit, the Jewish East End Celebration Society — whose aim is to raise awareness of the history and culture of London's Jewish East End — is fundraising to erect a statue of the war poet Isaac Rosenberg at Torrington Square in Bloomsbury. To be unveiled on April 1, 2018 – the hundredth anniversary of his passing – it would make Rosenberg the only Jewish literary figure other than Benjamin Disraeli to be afforded a monument.
In the canon of First World War poetry, the work of Isaac Rosenberg is sadly overlooked. And yet his life and verse are in many ways more compelling than most. John Sutherland, writing in The Times, notes that Rosenberg was a noteworthy counterbalance to the stereotypical war poets of England's elite officer class. In contrast, Rosenberg came from a working-class immigrant family, born in Bristol in November 1890 of Lithuanian Jews who fled persecution and pogroms.
After moving to the East End of London at a tender age, Rosenberg exhibited a talent for art and the English language in school but his education was cut short at 14 due to financial constraints, after which he became an engraver's apprentice. At 17, he took up artistic evening classes at Birkbeck College, and was in 1911 accepted into the prestigious Slade School of Fine Art. His first volume of poetry was published the following year.
Monday, July 15, 2013
Wednesday, July 10, 2013
"In Kosovo's Tiny 'Jerusalem,' a Struggle To Sustain Jewish Life in Corner of Balkans" was originally published in The Forward in English and its sister publication Forverts in Yiddish. Now, it has appeared at Telegrafi.com in Albanian:
Votim Demiri më drejtonte nëpër labirintin e rrugëve të ngushta e ndërtesave me kulme të pjerrëta të kuqe, deri tek shtëpia e tij në qytetin me 178 mijë banorë, në një kthesë në lumin Bistrica të Prizrenit. Në zyrën e tij, Demiri, kryetari i bashkësisë hebraike në Kosovë, me krenari tregon fotografitë e takimit të familjes së tij me liderë të ndryshëm, përfshirë edhe presidentin izraelit, Shimon Peres. Ai bëri me gisht tek kalendari që ia dha Komiteti i Përbashkët i Shpërndarjes Amerikano-Hebraike (JDC). JDC ka bërë punë të madhe në këtë ish-provincë të shkëputur të Serbisë, e cila shpalli pavarësinë në vitin 2008.
Shtëpia Demirit - "Shtëpia hebraike", siç i referohet ai - formon një pikë të trekëndëshit në lagjen e tij me dy vende të shenjta islame. Më vonë, ai më dërgoi në qendrën historike të Prizrenit, të vendosur rreth një ure guri të vjetër që shtrihet te Bistrica e Prizrenit. Ai theksoi se xhamia e Sinan Pashës gjendet afër kishës ortodokse serbe dhe shkollës katolike.
"Ky është Jerusalemi jonë", tha ai.
Prizreni është si Jerusalemi, më shumë se ç'mund të mendojë dikush - për të mirë e për të keq. Siç krenohet Demiri, qyteti në 40 milje në jug të kryeqytetit të Prishtinës, ka shumësi etnish, përfshirë shqiptarët e besimeve të ndryshme, islame dhe katolike, dhe një total prej 56 hebrenjve.
"Shqiptar sunitë, suni sufitë, katolikët dhe hebrenjtë gëzojnë një ndjenjë të ngrohtë të identitetit të përbashkët komunal në Prizren", thotë Stephen Suleyman Schwartz, drejtor ekzekutiv i Qendrës për Pluralizëm Islamik në Washington.
Megjithatë, qyteti nuk është i huaj për urrejtjet etnike që kanë shkatërruar Ballkanin për dy dekada, që prej shpërbërjes së ish-Jugosllavisë. Edhe pse ishte kursyer nga më e keqja e ekseseve të luftës në Kosovë, forcat serbe kanë spastruar në mënyrë sistematike disa zona shqiptare të qytetit. Shqiptarët përzunë shumicën e komunitetit të vogël serb pas fitores në vitin 1999, dhe detyruan pothuaj tërë të tjerët të largohen pas trazirave të vitit 2004
"Ndonëse qyteti është i bukur, i animuar dhe mikpritës", thotë Schwartz, "shqiptarët dhe serbët nuk kalojnë mirë këtu".
"Brenda kësaj përzierjeje të parehatshme, jetojnë pothuajse të gjithë hebrenjtë e Kosovës. Komuniteti i vogël nuk ka pasur prezencë të rëndësishme në jetën publike për një kohë të gjatë", shpjegon Noel Malcolm, ligjërues në All Souls College, Oxford. Komuniteti është tkurrur dukshëm, madje edhe nga 360 sa kanë mbijetuar Luftën e Dytë Botërore dhe Holokaustin.
Dhe, prapë në Prizren dhe në Kosovë si tërësi, ekzistenca e komunitetit është e vlefshme, sepse shërben si një shembull i fuqishëm në Evropë dhe në botë se si një pakicë hebraike mund të mbijetojë në mesin e myslimanëve.
"Ata gëzojnë historinë e vërtetë të bashkëjetesës pozitive dhe të pranimit të ndërsjellë në atë që është një shoqëri mbizotëruese myslimane", thotë Malcolm.
Kjo bashkëjetesë u shqua në tmerrin e Shoah. Në prill të vitit 1941 Kosova ishte aneksuar nga Shqipëria e kontrolluar nga italianët. Deri në shtator 1943, të dy territoret ishin nën pushtimin gjerman. Gjatë gjithë kësaj periudhe, në tentimet për të dorëzuar në masë hebrenjtë tek autoritetet naziste, shqiptarët refuzuan të bashkëpunojnë, duke fshehur hebrenjtë në shtëpitë e tyre, duke u siguruar atyre ushqim dhe veshmbathje, si dhe duke u dhënë atyre emra myslimanë dhe dokumentacione të rreme. Në Kosovë, 258 hebrenj u dëbuan në Bergen-Belsen, 92 nga të cilët u vranë. Por, më shumë se 2,000 hebrenj u shpëtuan në gjithë Shqipërinë dhe Kosovën.
Për të kuptuar heroizmin e shqiptarëve duhet njohur faktin se ata ishin të udhëhequr pjesërisht nga besa, një kod i lashtë dhe popullor i nderit që përcakton se ata duhet të sigurojnë mbrojtje për çdo person që vë këmbë në pronën e dikujt, madje edhe deri në masën e rrezikimit të jetës.
Schwartz shton se kjo gjithashtu reflekton "mungesën e paragjykimeve anti-hebraike në shoqërinë shqiptare" që ndërlidhet edhe me "kujtesën kulturore" të pozicionit tolerant të hebrenjve në shoqërinë otomane dhe për faktin se hebrenjtë kanë luajtur rol të rëndësishëm historik në lëvizjen kombëtare shqiptare.
Pavarësisht nga kjo histori, pozicioni hebrenjve sot në Kosovë është jashtëzakonisht i brishtë. Në një komb axhami me një normë papunësie prej të paktën 45 për qind, të varur nga ndihma e huaj dhe remitencat nga diaspora, hebrenjtë e Kosovës nuk janë të mbrojtur nga efektet e varfërisë dhe të papunësisë. Ndihma e JDC-së mbetet kritike edhe në nivelin më bazik. Çdo dimër, për shembull, çdo anëtar i komunitetit merr 150 dollarë nga JDC për karburant apo dru zjarri.
Në këto kushte ekonomike dhe me një numër të tillë, jeta e hebrenjve nuk mund të lulëzojë.
Demiri shpjegoi se dy familje hebraike u larguan në vitin 2001, për t'u vendosur në Izrael. Ata që mbeten janë kryesisht shumë të varfër për të kontribuar financiarisht, në formën e anëtarësisë, për komunitetin hebre. Disa mbijetojnë nga ndihma e donacioneve nga organizatat joqeveritare, si JDC apo shoqatat tjera bamirëse.
Komuniteti hebre i Prizrenit po ashtu nuk ka një hapësirë të përbashkët, apo sinagogë. Në kryeqytetin e Prishtinës, ish komuniteti hebre kishte mbajtur dy sinagoga dhe një jeshiva deri në Holokaust. Por, komuniteti atje u tret drejtë asgjëje pas lufte, dhe sinagoga e fundit u shemb më 1963. Në vendin e sinagogës së vjetër, në qendër të qytetit, qëndrojnë tani ndërtesat qeveritare, si dhe memoriali i sapo përuruar i Kosovës për Holokaustin.
Dëmshpërblimi për këtë pronë mund ta realizojë vizionin e Demirit për qendrën e komunitetit hebraik në Prizren, me një sinagogë të vogël të inkorporuar brenda. Por, ndonëse shumë ish republika jugosllave kanë miratuar ligje mbi kthimin, Kosova ende nuk e ka plotësisht të zgjidhur këtë çështje. Situata është e komplikuar nga fakti se kodi ligjor i Kosovës është një grumbull i ligjeve të vjetra jugosllave dhe rezolutave të Kombeve të Bashkuara, të miratuara gjatë kohës kur ky trup botëror shërbente de fakto si qeveri, dhe legjislacioni i miratuar nga Kuvendi i Kosovës.
Valët e vjedhjes së pronës nga ana e monarkisë jugosllave para Luftës së Dytë Botërore, nga qeveria komuniste gjatë periudhës së pasluftës, dhe regjimi serb i Slobodan Milosevicit, e ka ngatërruar edhe më shumë këtë aspekt.
Lufta për të mbështetur jetën hebraike nuk ka ndalur përpjekjet e hebrenjve të Kosovës dhe bamirësive hebraike për të vazhduar frymën e bashkëpunimit ndërkomunitar. Ndërmjet viteve 1999 dhe 2006, JDC ishte aktive në Kosovë në projekte josektare nga e cila ka përfituar popullata lokale shqiptare. Ndoshta më e rëndësishmja nga këto, së paku simbolikisht, ishte rindërtimi i xhamisë në Shqiponjë, një fshat kodrinor në perëndim të Kosovës.
Gjatë kasaphanës së Milosevicit kundër popullatës së Kosovës, xhamia në Shqiponjë ishte një prej 200 apo më shumë vendeve të tilla të kultit, të dëmtuara, të përdhosura ose të shkatërruara nga forcat serbe. Duke punuar së bashku me komunitetet islamike dhe katolike të Kosovës, JDC ndihmoi në financimin e restaurimit të një strukture që s'ishte gjë tjetër pos skelet, përfshirë rindërtimin e kupolës së praruar dhe minares.
Fondet e JDC-së për hebrenjtë e Prizrenit dhe komunitetet tjera hebraike në rajon "mbushin bateritë", thotë Demiri. Kohë pas kohe, JDC kujdeset që fëmijët të kenë mundësi të marrin pjesë në kampet verore hebraike të organizuara për të rinjtë në ish Jugosllavi, në Pirovac të Kroacisë.
Pavarësisht nga sfidat, bashkësia hebraike ia del të shënojë aq sa mundet çdo sabat dhe çdo ditë tjetër të shenjtë. Anëtarët organizojnë takime në shtëpitë e njëri-tjetrit, shpesh në atë që Demiri e quan "shtëpia hebraike", shumë pranë xhamive në rrugët e ngushta të qytetit të vjetër.
Për të tashmen dhe të ardhmen e parashikueshme, Demiri thotë: "Unë jam president, rabin dhe kantor".
Wednesday, July 3, 2013
In Kosovo's Tiny 'Jerusalem,' a Struggle To Sustain Jewish Life in Corner of Balkans
PRIZREN, Kosovo – Votim Demiri, President of the Jewish Community of Kosovo, took me to his house in Marash district of Prizren, located at a bend in the Prizrenska Bistrica river, an area of narrow streets and low, sloped red-tiled roofs. In his office, he showed photographs of his family meeting figures of great significance including Shimon Peres. He pointed towards a calendar given to him by the American Jewish Joint Jewish Distribution Committee, about whose work in Kosovo Demiri could not speak highly enough.
Demiri also noted that his house – "the Jewish house," as he referred to it – forms one point of a triangle in his neighbourhood with two Islamic holy places. Later, he took me into the historic centre of Prizren centred around the old stone bridge that crosses the Prizrenska Bistrica, and noted that the Sinan Pasha Mosque sits within walking distance of a Serb Orthodox church and a Catholic school. "This is our Jerusalem," he said.
Prizren is more like Jerusalem that one might think. Although it was spared the worst of the Kosovo War's excesses, Serb forces did systemically clear some Albanian areas of the city, while during Albanian-led riots in 2004 Serbs were burnt out of their homes. "While the town is lovely, animated, and hospitable," Stephen Schwartz, Executive Director of the Center for Islamic Pluralism, told The Forward, "Albanians and Serbs do not get along there." Yet still, "Albanian Sunnis, Sunni Sufis, Catholics, and Jews enjoy a warm sense of common municipal identity in Prizren."
And it is within this mixture that the Kosovo's Jewish community resides, who today number 56 in total. Kosovo's Jews "have not been a significant presence in public life for a long time," Dr Noel Malcolm, Senior Research Fellow at All Souls College, Oxford, explained to The Forward, their number having diminished even from the 360 or so who survived the Second World War. And yet in Prizren and Kosovo more widely, Jews have enjoyed "a real history of positive coexistence and mutual acceptance in what was a predominantly Muslim society."
Tuesday, July 2, 2013
Review: A Tale of Love and Darkness
When Amos Oz was eight, he was a witness to the birth of a new nation.
On November 29, 1947, the United Nations voted to partition Palestine, thus allowing for the possibility of a Jewish state there. As Oz describes in his poetic, wandering memoir, A Tale of Love and Darkness, it was after midnight when on Amos Street, his "faraway street on the edge of Kerem Avraham in northern Jerusalem," shouts first of terror then of unadulterated joy "tore through the darkness and the buildings and trees". Oz, who had been listening to the vote on the radio, ran out into the throng and sat upon his father's shoulders as they danced into the night, singing Zionist songs and weeping at the prospect of Israel's rebirth.
At around three or four in the morning, Oz crawled into bed fully dressed. His father lay beside him, and proceeded to tell him of life in the old country, how in Odessa and Vilna he and his brother were bullied, harassed, and attacked. Henceforth, Oz's father said to him in the dimness, "'From the moment we have our own state, you will never be bullied just because you are a Jew and because Jews are so-and-sos. Not that. Never again. From tonight that's finished here. For ever.'" This is the only time in Oz's life, not even when his mother passed, that he saw his father cry.
Then, at seven o'clock on November 30, just three hours after all of Jewish Jerusalem had emptied to celebrate partition, shots were fired at a Jewish ambulance that was transiting through an Arab neighbourhood. What commenced was what amounted to a civil war, running in the months between the UN vote and Israel's declaration of independence. Jerusalem became cut off from Tel Aviv: the schools closed; food and oil was rationed; and Oz recollects the stone houses in Kerem Avraham shaking as the shells landed around them.
Monday, October 8, 2012
The shame of Srebrenica and history repeated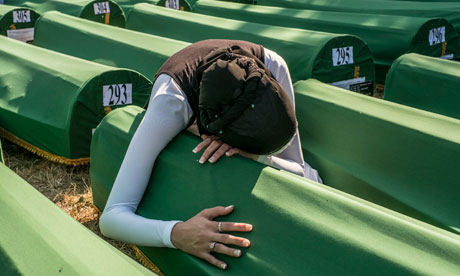 Unbeknownst to me, until now of course, back in July I had a letter published in The Guardian on the anniversary of the massacre at Srebrenica. I choose to republish this now not only because one's words should never go to waste, but because as the civil war in Syria continues the central point of the letter remains as timely as it did when it was first published:
This week marks the 17th anniversary of the beginning of the Srebrenica massacre, during which 8,000 Bosniak men and boys were slaughtered, and thousands of women were subjected to systemised rape and torture (Srebrenica: Britain's guilt, 13 July). The war by Serbs and Croats on Bosnia's Muslims, which saw the return of concentration camps and racially motivated genocide to European soil, resulted in the deaths of more than 30,000 Bosniak civilians deaths and the displacement of many more.

In watching with indifference as ethnic cleansing occurred in Bosnia, the west failed its first major test since the Holocaust, as the call to never again allow such atrocities to occur on our watch and with our knowledge fell victim to selective hearing. Now, as we witness a war in Syria where Bashar al-Assad is unable to distinguish civilian from militiaman, the consequence being the murder of more than 17,000 of his people and the flight of thousands to Turkey and Lebanon, I cannot help but conclude we are failing to learn from our past mistakes once more.
Monday, August 6, 2012
by Marie Brenner, Vanity Fair, August 2012
Two close friends encouraged her to get counseling, and she sought treatment at a military hospital by someone who understood PTSD. "When I look at you," one doctor told her, "no soldier has seen as much combat as you have." Sean Ryan recalled a lunch with her at about that time: "Marie gripped the table and said, 'Sean, I have PTSD. I am going to hospital to be treated.' " She seemed relieved by the specific diagnosis. According to Rosie Boycott, "While the PTSD was absolutely true, it was as well for Marie a way she did not have to confront her drinking." Bishop begged Colvin to stop; she refused.

For years in England, with its high tolerance of alcoholism and its reluctance to force confrontation, Colvin's friends and editors often resorted to evasion—Marie is feeling fragile. Marie does not sound like herself. When they tried to intervene, she would tell them, "I have no intention of not drinking. I never drink when I am covering a war." Her attempts to find help were always short-lived.

She would wake up drenched in sweat. The desperate reel of horrors that played over and over in her mind kept returning to the refugee camp in Beirut, where she saw the 22-year-old Palestinian woman lying in a heap with half her head blown off. As recently as last year, Colvin was staying with her nieces and nephews in East Norwich when the doorbell suddenly awakened her. The next morning Rosemarie discovered that Marie had gotten up and put a knife in her sleeping bag. When Rosemarie mentioned it, Marie said, "Oh, that," and changed the subject.
Sunday, June 17, 2012
by Ari Shavit, Ha'aretz, June 14, 2012
But the Iranians are rational, and the use of nuclear weapons is an irrational act. Like the Soviets, they will never do that.

"A Western individual observing the fantastic ambitions of the Iranian leadership scoffs: 'What do they think, that they will Islamize us?' The surprising answer is: Yes, they think they will Islamize us: The ambition of the present regime in Tehran is for the Western world to become Muslim at the end of a lengthy process. Accordingly, we have to understand that their rationality is completely different from our rationality. Their concepts are different and their considerations are different. They are completely unlike the former Soviet Union. They are not even like Pakistan or North Korea. If Iran enjoys a nuclear umbrella and the feeling of strength of a nuclear power, there is no knowing how it will behave. It will be impossible to accommodate a nuclear Iran and it will be impossible to attain stability. The consequences of a nuclear Iran will be catastrophic."
Tuesday, June 12, 2012
Friday, March 23, 2012
Holding Out in Afghanistan, Just a Little Longer
My fellow foreign policy brethren (or warmongers, I suppose) in the Senate — John McCain, Lindsey Graham, and Joe Lieberman — have published an op-ed in The Washington Post, outlining the case for staying the course in Afghanistan. In effect, they make the case against the current policy, one of effective withdrawal after 2014.
As a preface, what can be stated first of all is that, when it comes to Afghanistan, President Obama's policy has been less than successful. The original sin of his Af-Pak agenda was to at once announce the injection of 30,000 into the combat zone and that these troops and all other forces would be withdrawn during the year 2014. What his administration ended up saying to the Taliban was, you only have to hold on a few more years, then the nation is yours for the taking. The soldiers on the front line, and the people of Afghanistan, live and die by the consequences of this failed policy.
Rather, McCain, Graham, and Lieberman argue that since 2008, there has been some progress on the ground due to the troop surge. The authors note that, four years ago, "southern Afghanistan was overrun by the Taliban, and our coalition lacked the resources and the strategy necessary to break their momentum". Today, "that situation has been reversed, thanks to the president's surge of forces, the leadership of talented military commanders, and the courage and perseverance of our troops". They also praise the progress made by the the Afghan National Security Forces.
As such, the authors argue that in order to sustain this "fragile progress", it is critical that the Obama administration "resist the shortsighted calls for additional troop reductions". Instead, American troops should stay a little longer, and the proposed draw down to 68,000 troops by September should be paused. "It would be much better", the authors conclude, "to maintain the 68,000 forces through next year's fighting season, possibly longer".